Weekly Mailing Friday 31 March 2017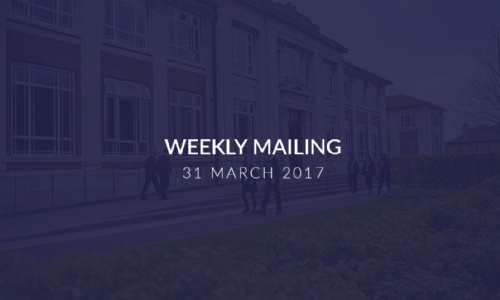 Dear Parents / Carers
Please find below my usual information, letters and updates on events that have taken place this week.
Ms Jo Butler
Headteacher
IMPORTANT NOTICE
School Funding Changes
Dear Parents and Carers
You may have seen or read about the on-going situation with school funding on the news recently so I am writing to update you on how these issues impact upon our school. The government is changing the way that money will be allocated per student (this is the new National Funding Formula).
It has become clear that the government does not have enough money in the system for this to happen without many schools losing out. Under current proposals, Cotham School, along with many other Bristol schools will lose a significant proportion of its per student funding over the next three years. The Senior Leadership Team has been working alongside Governors to look at ways to work within our budget, and plan to mitigate the negative impact of the proposed cuts, including a planned expansion in students which will come with a significant improvement and investment of facilities from the Local Authority. However, the financial pressures are likely to impact on:
The sustainability of existing school staffing structures - fewer staff employed and a reduction in leadership time and roles across the school
The curriculum, particularly at Key Stage 4 and Post 16. The numbers of students opting to study subjects will have to be higher than historically.
Class sizes - particularly at Key Stage 4 and Post 16. The numbers of students studying in each group in 'non-core' subjects will have to be higher than historically.
Additional support for vulnerable students
The level of support in school for the emotional well-being of the school community
The range of enrichment and extracurricular activities available to students
The school's costs are going up; National Insurance and pension contributions, utilities and services have all increased significantly. The school is facing significant financial challenges and I wanted to share this with you so that you begin to understand why things will inevitably have to change as a result.
In light of these financial pressures, the Senior Leadership Team and Governors are investigating additional ways to increase revenue to the school and we will be writing to you again in the near future about this.
In the interim we would be grateful if you could add your support to the petition which has been set up online at www.schoolcuts.org.uk.
You can also find more information at www.fairfundingforallschools.org, a parent-led website.
Finally, we would encourage you to get in touch with our local MP Thangam Debbonaire to ask her to lobby the government to protect Cotham and other schools in the area. We have provided a template letter here which you may choose to use for this purpose.
Cotham is a great, community- centred school which has a long history of all its constituencies working cooperatively to support the young people who come here to be educated. We are sure that the community will come together to ensure this continues and that we will, together, find innovative ways to ensure our young people continue to get the same great teaching and all round education that the school has provided for so many years.
Yours sincerely
Jim Bowyer (Chair of Governors)
Jo Butler (Headteacher)
GOOD NEWS!
Bristol Ideal Award
We are very proud to announce that we have been awarded the Bristol Ideal Award. The school has proved that it meets The Bristol Ideal standards which will make a lasting impact on preventing domestic and sexual abuse while supporting pupils and staff who might be victims. Click here for further information Our thanks to Mr Saunders, Ms Potter, Miss Aiken and Ms Webb-Dickin for the hard work in gaining this award for the school. Presentation by Police and Crime Commissioner Sue Mountstevens to take place in July.
Comic Relief - Non-Uniform Day
We are delighted to announce that our non uniform day raised £1,155.95 to support famine relief in South Sudan, Somalia, Ethiopia and Kenya. A huge thank you to everyone who donated.
Fundraising
11JBA raised £217 for Macmillan Cancer research and as a result were allowed to shave their form tutors head! Well done 11JBA and thank you for being such a good sport Mr Barber!
Connections Festival 2017
Connections is the National Theatre's annual festival of new plays for youth theatres and schools. It gives young people experience of professional theatre-making. Congratulations to our Year 10 drama students who took part in this event at the Bristol Old Vic last week. Be sure to read next week's end of term Newsletter for a full write up, reviews and photos of this exciting event!
Vocab Express Global Challenge
Last week Cotham took part in this exciting event, competing against schools all over the world. We had three fantastic winners from Cotham, who learnt the most vocabulary over the week.
Congratulations to...
1st Place - Jacob Thorn
2nd Place - Hafiza Bibi Hussein
3rd Place - Laurel Jelbert-Cook
Gold Medal winners!
On Friday 24 March Noah Okraffka-Hill (9EP) participated in 'The Scullery', an annual national rowing competition. The event was held on Eton Dorney Lake and Noah's quad won a Gold medal for their category over a distance of 3800m. Overall they came in 16th place within their age group. Noah is a junior member of City of Bristol Rowing Club.
Congratulations Noah!
Bristol French Drama Festival
On Saturday 25 March, Cotham School took part at the Bristol French Drama Festival, a fun event where schools in and around Bristol present their short scenes and creations at Bristol University. Seven Year 8/9 students presented their self - written piece "Une palme vers l'égalité". Since November they have been creating and rehearsing the piece and delivered an outstanding performance. They won first prize Excellence Award for "Creativity, great use of compulsory prop and an inspiring story" as well as little gifts and a big round of applause. Their French was astonishing and they made us very proud, we feel very lucky to have such stars in our school. Congratulations to all of the students! Click here for more information.
Talk to us
If you would like to tell us about any student achievements outside of school or to promote a community event etc via our weekly mailing please do not hesitate to contact us with details
SAFEGUARDING NOTICES
Drugs Information Evening - Tuesday 4 April
We will be hosting a parent information evening on Tuesday 4 April 6-7pm in the Main Hall at Cotham School on the topic of drugs, with support from Bristol Drugs Project (BDP) and the Developing Health and Independence (DHI) organisations. This is an opportunity for parents and carers who may be concerned about drug use to get advice and guidance in how to recognise the signs of drug use, information about common drugs used by young people today and where to get support for your child and the whole family if you suspect or know that your child is involved with drugs. You will also have the opportunity to ask questions. It is not necessary to book a space, please just come along.
Meningococcal ACWY (MenACWY) vaccination for all Year 13 students
Year 13 students are currently being offered a vaccine to protect them against meningococcal disease. It is being offered in response to a rapidly growing increase in cases of a highly aggressive strain of meningococcal W. This disease can cause meningitis (inflammation of the brain) and septicaemia (blood poisoning) Both diseases are very serious and can kill.
GPs are inviting all year 13 students for MenACWY vaccination and we have been asked to support our students by encouraging them to get vaccinated. If you'd like any further information please visit https://www.gov.uk/government/collections/meningococcal-acwy-menacwy-vaccination-programme or http://www.nhs.uk/Conditions/vaccinations/Pages/men-acwy-vaccine.aspx or contact the South West Screening and Immunisations Team by email to: england.bnsssg.imms@nhs.net
SCHOOL NEWS
Next week (Week commencing Monday 3 April) is a WEEK A.
Early Closure - Thursday 6 April
The school day will finish for students at 12.45pm on Thursday 6 April (the last day of term 4 for students) to allow for essential staff training to take place. Friday 7 April is an INSET DAY. We return to school on Monday 24 April.
Please be reminded that students' Tutor registration time is 8.40am. Therefore any student passing through the school gate after 8.35am (allowing them 5 minutes to get to their Tutor base) will be marked as "late". We thank you for making sure students arrive to school on time.
A History of Cotham School
Make sure you check out the new page on our school website.Click here for an interesting read. We will continue to develop this page and bring it right up to date but the information from 1856 to the 1990's I am sure you will agree is very interesting.
School Catering Menu and Pricing
The school operates a six week menu rotation. Please click here to view the menu and pricing for the week ahead. Next week (Week commencing Monday 3 April) is Week 3
Junk Food ban
We have become increasingly concerned about students bringing 'junk' food and drinks into school. The cheapness of large 'family size' bags of crisps, sweets and bars/ 4 packs of chocolate and large bottles/ cartons of sugary and fizzy drinks has led to an increase in such items being brought into school. It is recognised that the impact on children's long term health is considerable. In addition the increase in litter being created is phenomenal and represents a huge burden on our site team.
The bringing in and consumption of such items is to be completely banned at Cotham and we will be speaking to students about this over the next few weeks to complement the education work on healthy choices and care of the school environment already done as part of the curriculum.
To help students adapt to the rule changes, leading up to the Spring break, students who bring these items to school can expect staff to confiscate and keep them in the attendance office until the end of the day. From Term 5 they will be routinely disposed of.
In order to support the school with encouraging healthy eating in our young people, and to prevent the purchase of junk food on the way and from school; please provide a packed lunch or pre- pay their cards via WISEpay and please don't give them cash! The school catering facilities are unable to accept cash payment.
KEY STAGE 3 (KS3) INFORMATION
YEAR 7
Maths assessments
German side of year group - Monday 3 April
French side of year group - Wednesday 5 April
YEAR 8
Maths assessments
French and German side of the year group - 5 April
Year 8 Parents' Evening Wednesday 29 March 2017
The Year 8 Parents' Evening was exceptionally well attended. Lots of positive feedback from parents and carers, a number of whom asked me to pass on their thanks to staff.
Feedback from a parent:- "Just wanted to say thank you for having such committed, caring teachers. Amazing!"
YEAR 9
Maths assessments
Will be the last lesson in the first week back after Easter. Teachers will inform them the date of their test.
Year 9 Subject Exams
Exams will take place during the weeks commencing 3 April and 24 April. Please click here to view the content of the exams to assist students in focusing their revision.
Year 9 Science
When our current Year 9 students start year 10 they will be arranged into 10 groups with 8 groups following the combined science course (2 GCSEs) and 2 groups following the separate science course (3 GCSEs). In preparation for this there will be an exam on the afternoon on Monday 19 June in the main hall.
The separate science course will then be offered to the 30 highest scoring students on each side (French/German) of the year group.
The content of this exam will cover the GCSE topics B1, B2 / C1, C2 / P1, P2. These chapters refer to the textbooks we use in school and students can access via the Kerboodle website.
If students wish to purchase revision guides and workbooks to help their revision these are available from the science prep room. On the school science department website there is a page lookup table so students can see which pages of the revision guide and workbook to use.
KEY STAGE 4 (KS4) INFORMATION
YEAR 11
GCSE Independent Learning and Revision during Easter Break
Please click here to view subject specific tasks that students should be completing over the Easter holiday. All students should be engaged in completing lots of revision and independent learning over this period. Students should be reviewing content from both Year 10 and Year 11 to ensure that they prepared for their GCSE exams.
KEY STAGE 5 (KS5) INFORMATION
Click here to see our Post-16 Centre destinations and celebration of students' successes.
SUBJECT AREA NEWS
PE/SPORTS UPDATE
Please click here to view all of the results, congratulations and upcoming fixtures.
PERFORMING ARTS UPDATE
Drama Work of the Week
This weeks Drama WOW gies to Oskar Allerbrand in 8TS for his mask and makeup homework. Click here to view Oscar's mask work.
VISUAL ARTS UPDATE
There are only four weeks until the final GCSE Art, Textiles and Photography exams. This is the end of the course for visual arts students so the next few weeks, including the Easter holiday, is critical time for students to ensure they have completed the work expected and have a clear plan for their 10-hour exam. Individual feedback and tasks are recorded by teachers in sketchbooks and deadlines are set on Google Classroom. If you have any concerns or questions about the work expected, please contact the class teacher directly or Mrs Hand handh@cotham.bristol.sch.uk.
Students must attend a minimum of one catch up each week from 3:05 to 4:30. Teachers are available every day to support in the department.
Artwork of the Week
This week Art WOW goes to George Morgan (11CHO) with some pieces from his exam project. Click here to view.
EXTRA CURRICULAR ACTIVITIES
To view the timetables of extra curricular activities available to your child at Cotham please click on the links below:
CAREERS NEWS
We have created 2 places on our website where you can look for the following more easily, at any time:
To find useful sources of information on a wide range of different careers and help with making choices, go to Menu and select Students - Careers Information or click here
To find dates of Further Education and Higher Education Open Days, careers-related events and opportunities, apprenticeships and school-leaver schemes, go to Menu and select News, Events & Dates - School & Community News Updates - Careers News or click here
This week we have exciting opportunities for students who are interested in exploring careers in Film, Law, Recruitment and the Creative Industries.
Sports Coaching
Do you know anyone in your school who has completed the Introduction to Sport Coaching course and is looking to further their training? Please click here for more details on the upcoming training offered by Bristol Public Health, City Council. The courses are free and participants get a nationally recognised level 2 qualification.
CO-OP NEWS
Please click here to view the latest newsletter from the Co-operative College
COMMUNITY NEWS
Bloodhound Rocket Care Experience
Bloodhound SSC is holding open events over the Easter holidays. The Team invites you to design, build and race your own Rocket Car as part in an exciting family workshop at our Technical Centre in Avonmouth, Bristol. The workshop includes a tour of the workshop, including the 1,000mph Car itself! and is aimed at families with children aged 6 years and older. Click here to find out more.
Summer Camps in Bristol
Super Camps are running a programme of activities for children aged 4-12 during the Summer holidays. There are lots of exciting sports, arts and crafts and fun science sessions lined up to keep children entertained. The programme will take place from 31 July – 25 August at Fairfield High School.
Camp is open from 8am – 6pm, Monday – Friday. Super Camps is currently offering parents a 10% discount
Use discount code 'FSF17' when booking online or over the phone.
Find out more at www.supercamps.co.uk or call 01235 467300.
Whats happening in your local library?
Please click here to view the April newsletter