Weekly Mailing Friday 28 April 2017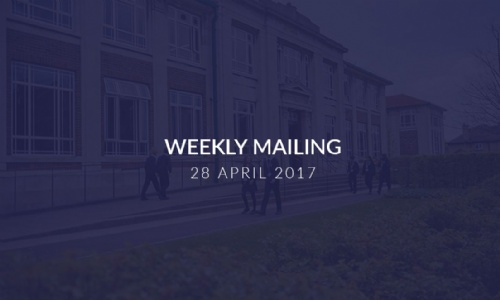 Dear Parents / Carers
Please find below my usual information, letters and updates on events that have taken place this week.
Ms Jo Butler
Headteacher
GOOD NEWS!
Sportshall Athletics
Well done to Kaylen Smith and Tye Thomas-Smith (Year 8) who were part of the U/13 Boys Avon Sportshall Athletics Team that came 2nd at the UK Championships during the Easter break in Manchester.
Dance department celebrates exceptional results!
A busy term for the Dance department has finished with some exceptional results for those students taking exams in the subject. Mrs Taylor, Ms Phillips and Miss Lloyd are very proud of the work they completed and the results they achieved. Click here to find out more.
Biology Challenge
Congratulations to the students who achieved an award in this prestigious nationwide competition with the Society of Biology. All students who took part in this year's Biology Challenge can now register for a free year of BioNet membership by completing a short online form via https://mysociety.rsb.org.uk/mysociety/join-now, choosing the BioNet grade and entering the discount code CHALLENGE17 when prompted.
International Rowing Success
Fran Funnell and her team did really well at the Ghent International Regatta and training camp. Fran trained Monday - Friday and competed against international teams on the Saturday. She took Gold in the double and Silver in the quad. According to a coach: " ... the quad was the most fantastic race! ... the French team went into a decent lead and our girls ran them down and were neck and neck right to the end!" Fran is competing again at Evesham this weekend and is in races both days. Congratulations! Click here to view.
London Marathon
Congratulations to Barney Johnson (Year 13) who completed the London Marathon in very impressive time of 3 hours 48 minutes! This was Barney's first marathon and so such a fantastic achievement! He ran for the charity 500 Miles, which supports the development and delivery of prosthetic limbs in Zambia, Malawi and Tanzania. Each limb costs around £300 and can change a life completely. If you would like to support Barney, his fundraising page is still active at http://uk.virginmoneygiving.com/BarneyJohnson
Talk to us
If you would like to tell us about any student achievements outside of school or to promote a community event etc via our weekly mailing please do not hesitate to contact us with details
SCHOOL NEWS
Next week (Week commencing Tuesday 2 May) is a WEEK A
KEY STAGE 3 (KS3) INFORMATION
Year 7
Exams take place during the weeks commencing 2 and 8 May 2017. Details of the content being covered in the exams can be found here.
KEY STAGE 4 (KS4) INFORMATION
Year 10
End of Year Exams will take place in the weeks commencing 19 June and 26 June. A timetable for the exams will be made available next week. We will also include a summary of the content being covered in each subject to help you support your child with their revision. Prior to this, students can prepare for their exams by reviewing the content taught since the start of the year.
Year 11
GCSE Exams started this week. A timetable of the exams can be found here. There are lots of subject catch-up sessions being offered in school, a list of these can be found here. Your child may also have been asked to attend a subject specific catch-up session to support them with their revision over the next few weeks. Please support us by speaking to your child about these sessions and encouraging them to attend.
SUBJECT AREA NEWS
PE/SPORTS UPDATE
Please click here to view all of the results, congratulations and upcoming fixtures.
Follow @CothamPE on Twitter for all the latest news and updates from the Cotham School PE department
It would be great if parents/carers could let the school/PE department know of any students achievements outside of school please. It is sometimes only at subject evenings that we find out what students are doing outside of school! Email us: info@cotham.bristol.sch.uk
VISUAL ARTS UPDATE
It's been a busy week in the Visual Arts department with students and staff preparing for the GCSE exams which take place next week. Please note: on the day of their exam, students should not attend registration, but should go straight to their exam room at 8.40am.
Cotham Visual Arts Instagram has now hit 500 followers. Find us at cotham_visual_arts.
Art Work of the Week
Art WOW this week goes to Robbie Tyler (13KS). Click here to view.
TECHNOLOGY UPDATE
Bristol Healthy Schools Competition 2017
Bristol Healthy Schools is to run again its competition to seek the best Bristol Young Chefs and Bristol Young Bakers and Young Gardeners of the Year. This exciting competition is in partnership with Bristol Food Connections and is open to all school aged children from across Bristol schools.
We have over several years, been very successful in this competition with students invited to the final at Bordeaux Quay at the Harbourside and the Square Food Foundation in Knowle. Previous students from Cotham who were in the final were even on television for the local news. We are very keen to ensure that Cotham continues with its success with this competition. Click here for more information.
EXTRA CURRICULAR ACTIVITIES
Extra Curricular activities for this term have now started. Click on the link below to find out more:
Sports/PE
Performing Arts
All Subjects
CO-OP NEWS
Please click here to view the latest newsletter from the Co-operative College
Parent and Carer Facebook Groups
Is your child joining Year 7 in September 2017? If so, the Cotham Co-operative Parent Reps have set up a Facebook group for parents of students joining Cotham in September: 2017 entry Cotham School Parents and Carers
It's run by parents themselves (not the school) and is an opportunity for parents and carers to introduce themselves to each other, ask questions, have a chat and share useful information. There are individual groups for all the other year groups too. Please email parentsforum@cotham.bristol.sch.uk if you'd like a direct link for the year your child is in.
COMMUNITY NEWS
Avon and Somerset Constabulary - Citizens' Academy course
Avon and Somerset Constabulary is offering a new and exciting opportunity for the public to learn about what the police do and see first-hand the day-to-day working of the local police force. The Citizens' Academy will provide a selected group of people an insight into policing in Avon and Somerset. Citizens' Academy will run for ten weeks 9 May 2017 to 11 July 2017 and take place every Tuesday from 18.30 to approximately 20.30.
The 10 week programme will offer a selected group of people an exceptional insight into policing in Avon and Somerset – from understanding different police roles such as forensic investigation, the use of firearms and Internet safety – to getting a glimpse into the challenges that the police face from different crimes, including domestic abuse and hate crime. Participants who complete the programme will 'graduate' from the Citizens' Academy with a ceremony. Click here for more information.
Be On a Show – CBBC Fantasy Game Show
CBBC is looking for applicants of all abilities to take part in a thrilling Fantasy Game Show – If you're super competitive and aged between 9-13 yrs, this is your chance to test your determination and bravery through a series of incredible physical and mental challenges. Click here to find out more.
What's happening in your local library?
Please click here to view the May newsletter for the East group Libraries.