Weekly Mailing Friday 30 September 2016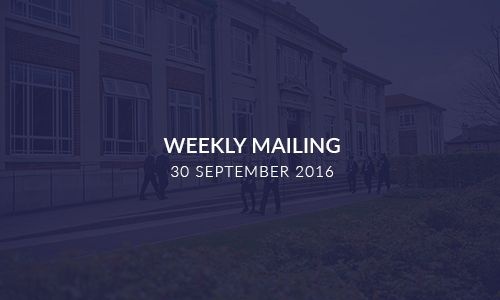 Dear Parents / Carers
I am pleased to update you on events that have taken place this week and to let you know about some of those that will take place in the near future. I would also like to take this opportunity to apologise to those of you who may not have been receiving the weekly mailing consistently each week, or indeed those who may have received it more than once! We have been experiencing some technical issues with our mailing system which has caused some disruption. We are currently working with the relevant external agencies to get this resolved as a matter of urgency. May I also remind you that the weekly mailing, along with all additional information related to the life of the school and a link to letters that have been sent home in the last week are available to view at any time on the school website: http://www.cotham.bristol.sch.uk
Ms Jo Butler
Headteacher
Driving and Parking on Cotham Lawn Road
Please could we remind all parents and carers to take great care when driving and parking on Cotham Lawn Road at peak times when dropping off and picking up your children. The road is a residential one as well as very narrow. School staff have become increasingly concerned for the safety of students at busy times at the start and the end of the day. Please respect the zigzag lines in front of the school that are there to protect all the school's students.
Please can we also ask you to be considerate and respect our neighbours by observing the residents only parking restrictions. We also ask that you refrain from beeping your horns where possible as this does cause a disturbance for our neighbours who are very supportive of the school.
---
Whole School Show 2016
This year's whole school show will be Macbeth. The show is open to students from all year groups.
We are currently looking for both Actors and Singers but no roles will combine the two skills. We are also looking for students to fill back stage roles including design, stage management and set/prop construction.
Auditions will take place Monday 17 October through to Thursday 20 October. There are both lunchtime and afterschool slots available.
You will be able to sign up for an audition slot, collect an audition extract and find out lots more information on the Extra Curricular board outside E108 (The old Music Office/Mrs Goddard-Jones' office) from Monday 3 October.
Show Rehearsals will take place on Tuesdays and Wednesdays afterschool from 3:15pm to 5:15pm. There will be an additional rehearsal 9:00am to 5:00pm on Saturday 18 Feb 2017 and Sunday 19 Feb 2017. The final Performances take place from Wednesday 22 Feb through to Friday 24 Feb 2017. Please ensure that your child is able to commit to ALL of these days and times before they sign up.
If you want to get an overview of the story of Macbeth you can click here to visit the sparknotes website
---
Open Mornings
The Open Morning Tours were a big success this week. All sessions were fully attended and there were lots of positive comments from parents as they left. The student helpers were fantastic, very professional and calm and great ambassadors for the school. Many thanks to everyone involved for all their support
---
Message from the Co-Operative Forum Parent / Carer rep Group
The Parent / Carer representatives held their first meeting of this academic year last week. Our minutes are here. It was great to have interest from several new year 7 parents. We communicate with Co-Operative members via email. If you'd like to hear about the Co-Operative Forum and the work that we are doing to support Cotham School, please sign up to become a member by clicking this link
The next Parent / Carer rep meeting will be on Tuesday 8 November at 7pm in the school library. Please do get in touch with a member of the group either by email to: parentsforum@cotham.bristol.sch.uk or by ringing 07952619763 if you'd like to come along. All welcome!
---
Reminders for Year 11 students
If your daughter or son is interested in a college course, they should try to get to a relevant Open Day. These two are happening during the next week:
South Glos. & Stroud College - all sites - Saturday 1 October 10.00am-1.00pm
City of Bristol College - College Green site - Tuesday 4 October 5.00-7.30pm
A good online source of information and advice to help Year 11 students who are considering Post-16 options is Careerpilot - www.careerpilot.org.uk
---
Bristol Junior Chef 2016 - Open to Year 10 and Year 11
The Bristol Junior Chef Competition is available for Year 10 and Year 11 students. The competition is in its 12th year and takes place from Tues 25 - Thurs 27 October, during the half term holiday. The competition is a 3 day cookery training course and competition, all expenses are paid, including travel. Students will visit local hotels and be involved in a cookery master class. This is a prestigious competition and will be of benefit to any student who has a passion for cooking, there are great prizes and all uniform is supplied.
We have regularly had Cotham Students being involved. Bristols' Top Chefs are actively involved alongside the City of Bristol College. We are promoting this competition to students who are studying GCSE Catering or GCSE Food Preparation and Nutrition, if your child is not studying these subjects and they are interested you are also able to apply please let Mrs Brock know asap. Please click here to access the application forms. It is also loaded onto Google Classroom for each teaching group. All applications have to be submitted to the organisers by the Friday 7 October.
---
Reading suggestions for KS3
Our English department have compiled a suggested reading list as a useful guide for our KS3 students. Please click here to view the list
---
Creative Writing Club
We are delighted to be able to offer our KS3 students the opportunity to have some fun whilst developing their creative writing skills. Please do encourage your child to join us for this activity on Wednesday lunch time in A212.
---
Black History Month
BHM is an annual commemoration throughout October that acknowledges the importance of African and African-Caribbean culture and history through a programme of events designed for all age groups.
In Bristol, the event is about bringing together the many different ethnicities that make up this multicultural city to display their Heritage using a variety of platforms such as dance, music, films, theatres, workshops, exhibitions and much more. Click here to access the full programme of events that will be taking place across the city.
---
Welcome to GCSE Evening
This information evening is for Year 10 parents and carers on Thursday 6 October at 6pm (prompt start). Please enter via reception where staff will be available to direct you. Please click here to view the Welcome letter. The evening will describe the new grading structure of GCSEs, give you an opportunity to get more details of each of the GCSE courses being offered, and their course structures. Core Curriculum representatives will also be there to give advice about supporting your child's progress over the next 2 years. All of the information available on the evening will be made available on the school website shortly after the event.
---
Year 10 Work Experience opportunity 3-7 July 2017
The University of Bristol, School of Earth Sciences, would like to invite applications now for Year 10 Cotham students to participate in their 2017 work experience programme. Further details including the application process are available to view on the Bristol University website.
---
Visual Arts
We are very pleased to be offering year 12 art, photography and textile students the opportunity to visit Vienna in February 2017. The trip will include visits to museums, galleries and a tour of Vienna's 'city beneath the city'. For more information please collect a letter from the Visual Arts Office. To secure a place, deposits must be paid by Monday 3 October
This weeks 'Artwork of the Week' goes to Rufus Iles (11ZC) for his self portrait drawn for his Identity project. Click here to view
---
PE Update
Student Awards – Outstanding Contribution to PE
Congratulations to Freya Rawlinson and Tom Brazier (year 7), Nadia Johns and Deondre Hylton(year 8) and Ishba Mahmood and Ollie Merry (year 9) who received the Year 7, 8 and 9 Awards for Outstanding Contribution to PE.
These students were awarded this award in recognition for their positive attitude to sport, their commitment to lessons and extra-curricular activities and their support to staff and other students throughout the last academic school year. This is a fantastic achievement and well done to all.
Extra- Curricular Clubs
Extra-curricular clubs and fixtures have now started. Clubs are open to all students no matter their ability and it is a great opportunity for students to develop their interests, social skills and practical skills in a variety of sports. Clubs run from 3:15 - 4:15. Please click here to view all of the extra curricular opportunities in PE for your child at Cotham School
Bristol Spartan Dodgeball Club run a junior session every Tuesday evening 5:30 - 6:30 at Cotham School. All students can attend for free if they bring their Cotham ID with them to the session.
Results
Year 9 Rugby Festival
vs Bristol Free School won 12-7
vs St Bedes lost 0-27
vs OAB lost 10-20
For the majority of the Year 9 rugby team this was their first game on a full sized pitch and for 5 of them their first game ever. Our opening game was against a far more experienced St Bedes side who took an early lead through their strong and direct running. Cotham never backed down from the challenge though and continued to make impressive cover tackles throughout despite conceding 4 more tries and ending up on the losing side.
The experience gained from that opening fixture proved vital in our next game against Oasis Brightstowe who again had a considerable size advantage. This did not deter the likes of D'andre Hylton and Will Lee Harvey however who put their bodies on the line to protect the Cotham try line. Cotham's strong defence eventually led to our first try of the day as Paulo Antonio scooped up a loose ball and sprinted clear to open our account for the day. This game saw the arrival of a new star of the team as Tazz Clarke Downer on debut terrified the opposition with ferocious hits in defence and got onto the score sheet from an excellent driving maul. Unfortunately the experience and size of Oasis proved too much and Cotham lost by 4 tries to 2.
The final match was against Bristol Free School and now that we had learned from our mistakes their was only ever going to be one winner. Cotham dominated the game from the very first kick, in particular their work at the breakdown was at an intensity that the opposition just could not live with. Despite the dominance, Bristol Free School got a late interception which meant Cotham required a try with only 1 minute to play. Cometh the hour cometh the man as a quick think D'andre Hylton took a tap penalty and fed Will Lee Harvey the ball who proceeded to dance his way around the defence to win the game in the dying moments.
Overall a huge positive for the team who are showing bags of potential and are getting better and better with each match they play. A special mention must go to the front row of Harry Roberts, Minhaz Ali and Charlie Haynes who never took a backward step and gave the backs a solid platform to work from.
Netball vs Oasis Brightstowe
Year 7 drew 6-6
Year 8 drew 2-2
Year 9 drew 16-16
Year 10 lost 2-10
Bristol Schools Swimming Gala
This year the Bristol Schools Swimming Gala will be taking place at Horfield Leisure Centre on Thursday 3rd November 5 -7:30pm.
Thank you to those students who have already signed up to compete. If students want to compete they need to see Mr Collin in the PE office to sign up. Also, they must either currently swim for a club or have swam for a club as all swimmers must be able to perform a race start dive from the blocks safely.
Fixtures
Tuesday 4th Oct - Year 9 rugby festival @ OAB. return 5:45pm; Year 7, 8 & 9 netball vs St Bedes (h)
Wednesday 5th Oct - Year 8 rugby festival @ OAB. Return 5:45pm; Year 10 rugby vs RGS (a) return 5:30pm; Years 9 & 11 Netball vs St Bedes (a) Return 5:30pm
Thursday 6th Oct - Year 7 rugby festival @ St Bedes. Return 545pm.
Click here to view all fixtures
Student Achievements outside of School
Well done to Fiontan Firth-Williams on receiving the Manager's Player of the Year award for cricket at Bedminster CC (Photo with his "proud" sister, Grania - Cotham post 16)
Fiontan was also part of the OBRFC team that was awarded team of the week during the first leg of his clubs Spanish rugby exchange with VRAC, from Valladolid.
It would be great if parents/carers could let the school/PE department know of any students achievements outside of school please. It is sometimes only at subject evenings that we find out what students are doing outside of school.
Please either send us an email info@cotham.bristol.sch.uk or if you're following the PE department on Twitter, you can tweet us @cothampe
---
Performing Arts Update
Cue Bristol - Monday 3 October
Cue Bristol is a lively, friendly drama company based out of the drama department, open to all pupils from any Bristol secondary school from Year 7 to Year 11. Our weekly sessions run in term-times, the first session is scheduled for Monday 3 October from 5.45pm-7.15pm (Years 7 and 8); and from 7.30-9pm (Years 9 to 11). Our directors are professionals with a wide range of experience in teaching and in the theatre. Please see below for a link to the Cue Bristol letter to parents for more information on fees etc.
Pulse Auditions - Monday 3 October
Pulse is a dance company for young people based out of the dance studio in the Performing Arts department, open to pupils from Years 5 to 8. Weekly rehearsals run during term time on Monday evenings from 4 - 5.30pm. Auditions for Pulse are on Monday 3 October at 4.00pm. Further information will be given out at that point regarding the start date and rehearsal schedule for the year. Pulse will run subject to recruitment.
Performing Arts Extra-curricular
The extra-curricular programme for Performing Arts is now up and running! There are a range of exciting opportunities in dance, drama and music for pupils to take-up and develop skills, take part in performances and make new friends. Groups run during lunchtimes and afterschool. If pupils have any questions all they need to do is speak with their dance, drama or music teacher to find out more. It's never too late to start!
Click here for the full list of activities available in Performing Arts
CPAN - Cotham Performing Arts Network
We are very proud of the range and variety of extracurricular activities that we offer at Cotham School, as well as the excellent standard of the performance opportunities we provide for your children to showcase their skills and talents.
One of the things that has made these evenings so special in the past has been the support of Cotham Performing Arts Network (CPAN), our parent support group for the Performing Arts. They do an amazing job providing refreshments at all our events. This has been a significant fundraiser for Performing Arts and also added greatly to the events, making them so much more sociable and enjoyable for the audiences.
Funds raised by CPAN in the past have bought a number of CD players and Camcorders as well as contributing towards Stage Lighting and Music Technology equipment for the school. If you are interested in supporting at Performing Arts events then please get in touch with CPAN via the email address below: CPAN@cotham.bristol.sch.uk. Thank you and we look forward to your support!
---
Is your child eligible for Free School Meals/the Pupil Premium?
All children of parents in receipt of certain benefits are entitled to the extra funding provided by the Pupil Premium. It aims to help children from low income families get the best start in life and can help with the cost of school trips and additional support for learning. This funding is also a valued source of income for the school.
Not all parents and carers of eligible children know that they need to sign up for free school meals to access this funding. To find out if your child is eligible to this additional support please click here
---
Lost Property
Please can we remind all parents/carers to ensure that your child's name is written clearly in every item of clothing that is brought into school. This will enable us to reunite your child quickly with any mislaid items. Any items that remain unnamed and unclaimed at the end of each school term will be donated to charity.
---
Whats happening in your local library?
Please click here to view the October newsletter for the East Group Library Service to find out about the regular activities and special events taking place in your local library.
The Library Service would also like to invite you to a public meeting to discuss internal improvements at Redland Library. Please click here for further information on the proposed improvement plans
---
Britain's Treasure Islands
It was with great pleasure that the school recently received the gift of a copy of 'Britain's Treasure Islands' by Stewart McPherson, sponsored by Lord Ashcroft. The book explores the wildlife, landscapes, people and cultures of the UK Overseas Territories. This really is a very beautiful and interesting book and has taken pride of place in our school library. To view the letter we received from the author and to find out how you can take advantage of a 30% discount to purchase the book, please click here
---
Recent Letters Home:
| | |
| --- | --- |
| Topic (week ending 23/09/2016) | For the attention of: |
| | Year 7 students |
| | Year 8 students |
| | All Students |
| | Year 10 students |
| | Year 10 students |
All files are in PDF format. You need Adobe Reader to open these files. You can download Adobe Reader for free from adobe.com/reader