Weekly Mailing Friday 5 May 2017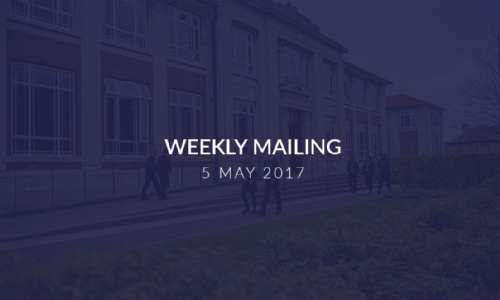 Dear Parents / Carers

Please find below my usual information, letters and updates on events that have taken place this week.
Ms Jo Butler
Headteacher
CONGRATULATIONS!
Smart Futures
Congratulations to Imoleayo Ogunade (Year 12) who has been accepted on a paid internship with the prestigious EY Smart Futures programme. Well done, Imoleayo!
Rugby
Congratulations to Freddy Aitken, Fiontan Firth Williams, Joel Williams & Max Bragonier (Year 7) who played for Old Bristolians RFC in the U12 Landrover Cup on 23rd April. The team won all 5 of their matches, conceding only one try. Due to their adherence to the RFC core values and their team spirit, the team were selected to appear at half-time in the Premiership Final at Twickenham on 27 May representing the South West!
Cricket
Sarah Walsh (Year 8) has been named in the U13 Girls County Cricket squad for 2017 by Gloucestershire. This follows a successful 12 week Winter Training Programme, which featured two training sessions conducted by Fran Wilson of the England Women Cricket team.

The 2017 season kicked off on Saturday 29 April, with a match against Bristol Grammar School. A full programme of matches across the Summer features ties against Oxfordshire, Wales, Devon, Somerset and Hampshire, home and away. The season culminates with the annual cricket festival at Malvern.
Talk to us
If you would like to tell us about any student achievements outside of school or to promote a community event etc via our weekly mailing please do not hesitate to contact us with details
INFORMATION FOR ALL YEAR GROUPS
Fair School Funding for Bristol - Public Meeting
As you will all no doubt be aware, funding for Education is extremely tight and Bristol Schools are facing a £32.6m budget cut and will be one of the hardest hit areas in the UK. Fair Funding for Schools Bristol has organised a public meeting on Tuesday 16 May 6.00pm at Parsons Street School, Bedminster Road, BS3 5NR, and all parents and staff are warmly invited to attend. For more information visit http://www.schoolcuts.org.uk.
School Uniform Donation
We welcome donations of clean good quality school uniform that is no longer needed. This is sold to raise additional funds to benefit all students at the school. Please drop any donations into reception Monday to Friday 8.00am to 4.00pm.
Bristol Education Awards 2017 - Celebrating the best in our schools
The Bristol Post is launching the first ever Bristol Education Awards, which aims to showcase the best educators and their partners. But a child's learning and growing up is not just done in the classroom - it begins at home and in the playground. Do you remember that excellent teacher who went the extra mile for you, or the parent who took it into their hands to fundraise for a vital need in school?
There are 13 categories in the awards. Ranging from Headteachers to a Lifetime Achievement Award, the Bristol Post hopes to celebrate the work of all those people who prepare the next generation. To find out more click here.
SEND Parents' Information Evening - Wednesday 10 May at 7.00pm - 8.00pm.
Parents/Carers are invited to attend a SEND information evening here at school. At the event we will be looking at how we can better support the needs of all our students with Dyslexia. It will be an opportunity for you to share your experiences with other parents. The meeting will start in the Student Hub at 7.00 pm, and entry into the school will be via the gate at the car park side of the school.
School News
Next week (Week commencing Monday 8 May) is a WEEK B
Key Stage 3 (KS3) Information
YEAR 7
Year 7 exams continue next week. Details of the content being covered in the exams can be found here.
Year 7 play - Fantastic Mr Fox - coming soon!
This year's production will be "Fantastic Mr Fox". Any Year 7 pupils who would like to take part need to sign up for an audition on the sheet in the Performing Arts Department. Any questions, please see Mrs Ashcroft.
Key Stage 4 (KS4) Information
YEAR 10
Year 10 End of Year Exams will take place in the weeks commencing 19 June and 26 June. A summary of the content being examined can be found here. A copy of this will also be emailed to students via their school email account and added to the Key Stage 4 noticeboard on the Cotham VLE.
Year 10 Visit to UWE
On Wednesday 26 April a group of 15 students set off on a visit to the University of the West of England.
First we had a brief introductory talk by a lecturer who explained how our day would be. Shortly after, we were ushered into a room full of inspiring and aspiring students studying Marketing. They gave us lots of information about their choices and life at university.
After lunch, we were toured around the interesting and unique university campus. The tour gave us a real insight into how the university supports and improves all its students.
At the end of the day we had a talk about career paths and choices that will help us to make the right choices in the future.
YEAR 11
Year 11 GCSE Exams have commenced. A timetable of the exams can be found here. There are lots of subject catch up sessions being offered in school, a list of these can be found here. Your child may also have been asked to attend a subject specific catch up session to support them with their revision over the next few weeks. Please support us by speaking to your child about these sessions and encouraging them to attend.

Subject Area News
PE/SPORTS UPDATE
Please click here to view all of the results, congratulations and upcoming fixtures.
Follow @CothamPE on Twitter for all the latest news and updates from the Cotham School PE department
It would be great if parents/carers could let the school/PE department know of any students achievements outside of school please. It is sometimes only at subject evenings that we find out what students are doing outside of school! Email us: info@cotham.bristol.sch.uk
VISUAL ARTS UPDATE
Cotham Visual Arts Instagram has now hit 500 followers. Find us at cotham_visual_arts.
Art Work of the Week
A big congratulations to all GCSE students who have completed their Visual Arts exams this week. We've seen some great outcomes produced, have a look at our Instagram for snaps of some of the work at cotham_visual_arts.
Click here to view an image of Charlie Jenkins' (11BAK) final piece. Charlie explored an unusual idea using skateboard decks as his canvas.
TECHNOLOGY UPDATE
Bristol Healthy Schools Competition 2017
Bristol Healthy Schools is to run again its competition to seek the best Bristol Young Chefs and Bristol Young Bakers and Young Gardeners of the Year. This exciting competition is in partnership with Bristol Food Connections and is open to all school-aged children from across Bristol schools.

We have over several years, been very successful in this competition with students invited to the final at Bordeaux Quay at the Harbourside and the Square Food Foundation in Knowle. Previous students from Cotham who were in the final were even on television for the local news. We are very keen to ensure that Cotham continues with its success with this competition. Click here for more information.

EXTRA CURRICULAR ACTIVITIES
Extra Curricular activities for this term have now started. Click on the link below to find out more:
Sports/PE
Performing Arts
All Subjects
Co-op News
Please click here to view the latest newsletter from the Co-operative College.

Community News
What's happening in your local library?
Please click here to view the May newsletter for the East group Libraries.
Channel 4 Series - Casting notice
The Casting Agency 'Julie Harkin Casting' are currently seeking young actors from Bristol to play the roles of Kiri and Si in a new Channel 4 series, which will be filmed in Cardiff from mid June to mid September. The school have contacted the agency to confirm their authenticity and support their request for applicants from our school community. No acting experience required.

Kiri - Black girl aged between 9-12 years
Si - White boy aged between 15-18 years

If you would like to apply or for more information please email a recent picture and contact details to info@julieharkincasting.com.
UNESCO - Cultural Diversity Day 2017 - Sunday 21 May
UNESCO have declared Sunday 21 May a day to celebrate diversity and encourage people around the world to learn about other cultures. Many schools are celebrating post SATs from 15 - 26 May with a range of international workshops. The programme includes; Aboriginal Virtual Reality, African mask making, drumming, Chinese dragon dance, Indian workshops and much more. Click here to find out more.
Bristol Plays Music E-News