Weekly Mailing Friday 12 May 2017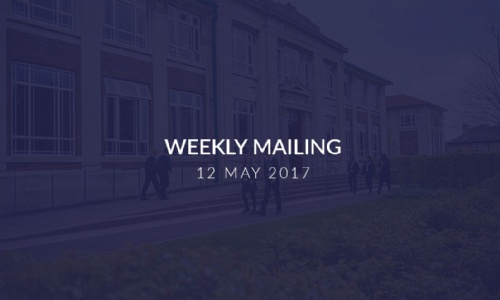 Dear Parents / Carers
Please find below my usual information, letters and updates on events that have taken place this week.
Ms Jo Butler
Headteacher
CONGRATULATIONS!
Talk to us
If you would like to tell us about any student achievements outside of school or to promote a community event etc. via our weekly mailing please do not hesitate to contact us with details
SCHOOL NEWS
Next week (Week commencing Monday 15 May) is a WEEK A
Cotham School Expansion
Following submission of the results of our recent consultation on increasing the Planned Admission Number (PAN) the Regional Schools Commissioner has approved the physical expansion of the 116 part of the school from 1080 to 1215 students.
The expansion will begin in September 2018 with an additional 27 Year 7 students being granted entry to Cotham and continue until September 2022.
Cotham School Rail Season Ticket
A reminder to parents and carers that the Cotham School Rail Season Ticket is still available to students in co-operations with GWR and the Severnside Community Rail Partnership. It offers a huge saving on travel costs commuting to and from school on the local train service. Click here for further information.
INFORMATION FOR ALL YEAR GROUPS
A celebration of the cultural diversity of Cotham School
We will be hosting this event on Thursday 25 May 7.00pm - 9.00pm in the Hub. All parents are invited to attend. This is an opportunity to meet parents from different ethnic groups and share a 'supper from around the world' together. There will also be a screening of the film made by Inhale Project. Click here to view the flyer.
Attendance at School and School Visits
Please be aware that the school's expectation is that a child's attendance at school is 94% or above in order to participate in school visits, in line with school policy. We will not send letters home about planned visits during school time, to students whose attendance is below 92%.
KEY STAGE 3 (KS3) INFORMATION
Year 9
Students will have their option choices confirmed to them next week. Students will receive a letter via their tutor on either Monday 15 or Tuesday 16 May. Please do speak to them about their option choices.
It is with regret that we were not able to run GCSE courses in either Religion, Ethics and Philosophy, Textiles, or DT Visual Communication due to very small numbers of students opting for these courses.
Key Stage 4 (KS4) Information
Year 10
End of Year Exams will take place in the weeks commencing 19 June and 26 June. A summary of the content being examined can be found here. A copy of this has also been emailed to students via their school email account and added to the Key Stage 4 noticeboard on the Cotham Virtual Learning Environment (VLE). Parents can also access the Cotham VLE by going to the menu tab on the school website.
Year 11
Year 11 GCSE Exams have commenced. A timetable of the exams can be found here. There are lots of subject catch up sessions being offered in school, a list of these can be found here. Your child may also have been asked to attend a subject specific catch up session to support them with their revision over the next few weeks. Please support us by speaking to your child about these sessions and encouraging them to attend.
Please support your child with their exam preparation over the next few weeks by:
Regularly asking them about their revision and the work they are doing
Ensuring that they have a quiet place to study without the distraction of a mobile phone
Checking that they have all of the equipment that they need for their exams and have packed their bag and pencil case
Encouraging them to make sure that they leave plenty of time for the journey to the school and the exam. All students are expected to be in a school and ready to start morning exams at 8.30am.
Encouraging them to eat well and have a healthy snack with them
Ensuring that they get lots of sleep and carry a clear bottle of water with them
After all the exam preparation students have been undertaking in recent weeks and months, we would really like to be able to share some words of praise and encouragement from parents with students in the weeks ahead. We would like to ask for as many parents as possible to send their child a message using the email address: Year11letters@cotham.bristol.sch.ukThey can be as short or as long as you'd like them to be. Please make sure that your child's name is clearly marked in the Subject field of the email and that the body of the email contains your name and your message to them. We hope to be able to get all messages to students shortly before their exams begin.
Attendance and Truancy
Y11 absence will not be authorised unless a doctor's note is submitted in the last two weeks of term. It is essential that the students attend school as there is plenty of time to revise in classes where the exams have finished which from the next week will be Visual Arts, Drama, French, RE short course, Business Studies and PSHE. Students are expected in school.
There are also lessons still being taught in English, Maths, Science, German and GCSE option subjects which have vital learning and exam preparation to be completed. Students are expected in school all day every day.
Prom
There are lots of outstanding payments now OVERDUE for Prom tickets. Please log on to Wisepay and complete the payment no later than Tuesday 16 May as we must now pay Ashton Court for the event.
Those observing Ramadan - there will be a prayer room available and food will be served after sunset for all attendees.
Locker Keys
Please could year 11 students start returning locker keys to the finance office before the end of this term.
National Citizen Service (NCS)
NCS is a government sponsored scheme which enables young people from all social backgrounds to work together on a charity project; learning valuable team building and event organising skills. The scheme involves a two week residential programme and a number of amazing activities including orienteering and abseiling. On this programme, participants will learn new skills, make new friends and unforgettable memories, take on new challenges and adventures, and make a positive, long-lasting contribution to their local community. This will take place out of school time, with programmes running throughout July and August. Click here for more information. You can also find further details on the NCS website
SUBJECT AREA NEWS
PE/SPORTS UPDATE
Rounders
Year 10 and Year 8 girls played a very competitive rounders match with Bristol Free School this week. All the girls worked hard as a team and the opposing teacher commented how lovely they all were. Unfortunately the year 10's lost 18.5 to 19.5, even with some unbelievable hitting by Maddy and Florrie in particular. Florrie was nominated as player for our team by the opposition. The year 8's also lost 11.5 to 14 with McKenzie being the nominated player of our team.
Tennis
Well done to the Senior Boys Tennis Team who beat Colston Collegiate 8-4 in their LTA Avon Division 2 group match on Monday. Team: Alfie Lewis, Luko Johnson, Josh Gibbons & Arun Brooks.
Forthcoming Fixtures
Monday 15 May - Senior boys & girls (Years 9 & 10) Super 6 Athletics @ RGS return 6pm
Tuesday 16 May - Yr 7, 8, 9 & 10 rounders vs Oasis Brightstowe (a) return 6pm; Junior boys cricket vs St Bedes (a) return 6pm
Thursday 18 May - Bristol Schools Athletics Trials @ Filton 9am-1pm; Senior boys Cricket vs St Bedes (a) return 6pm
Follow @CothamPE on Twitter for all the latest news and updates from the Cotham School PE department
It would be great if parents/carers could let the school/PE department know of any students achievements outside of school please. It is sometimes only at subject evenings that we find out what students are doing outside of school! Email us: info@cotham.bristol.sch.uk
VISUAL ARTS UPDATE
A huge congratulations to the first wave of A-level students who have completed their Visual Arts exams this week, the rest will take place next week. We've seen some great outcomes produced, have a look at our Instagram for snaps of some of the work at cotham_visual_arts.
The Year 13 Visual Arts students are putting on an exhibition of their work at Centrespace Gallery, please join them on the opening night on Friday 9 June.
Click here to view an image of Holly Gifford's (13KS) final piece. Holly's work is cross curricular combining art with drama, designing a set for a play.
EXTRA CURRICULAR ACTIVITIES
Extra Curricular activities for this term have now started. Click on the link below to find out more:
CAREERS NEWS
How do school subjects relate to the world of work?
On Wednesday 10 May, a group of 29 Year 9 students enjoyed a 2-hour workshop run by professional volunteers from the food and grocery industry on the theme of "How do my school subjects relate to the world of work?". All the students were visibly engaged and interested throughout the session as they learnt about a range of roles, including food technologist, human resources and business development manager, and saw how the skills they are developing in their subjects will be useful for their future employment. Our visitors told them about their own jobs, what they liked about them and how they had got into this type of work. At the end, they offered students good advice based on their own experience, such as "Work hard at every subject - you never know what will be useful in the future - especially if you're unsure what you want to do when you leave education!"
CO-OP NEWS
Please click here to view the latest newsletter from the Co-operative College
COMMUNITY NEWS
National Foster Care Fortnight
From the 8-21 May, Fostering agencies and local authorities are working hard to raise the profile of fostering and in particular the need for more foster carers. In Bristol, as with the whole country there is a shortage of foster carers. For more information and to find out about events happening in your area click here to visit the website. You can also visit the Facebook page https://www.facebook.com/BristolFostering or Twitter page https://twitter.com/BCCFostering
Bristol Learning City - May 2017 Newsletter
Bloodhound Rocket Care Experience
Bloodhound SSC is a unique, high-technology project to design and build a car that will break the 1,000mph barrier and set a new world land speed record. This exciting World Land Speed record breaking car is being built in Bristol (Avonmouth), on Friday 31 May (during half term). One of the primary aims of the project is to inspire the next generation of engineers and scientists through the take up of STEM (Science, Technology, Engineering and Mathematics) subjects.
The Team invites you to design, build and race your own Rocket Car in an exciting family workshop at our Technical Centre in Avonmouth, Bristol. The workshop includes a tour of the workshop, including the 1,000mph car itself! and is aimed at families with children aged 6 years and older. Click here to find out more.
What's happening in your local library?
Please click here to view the May newsletter for the East group Libraries.