Weekly Mailing Friday 19 May 2017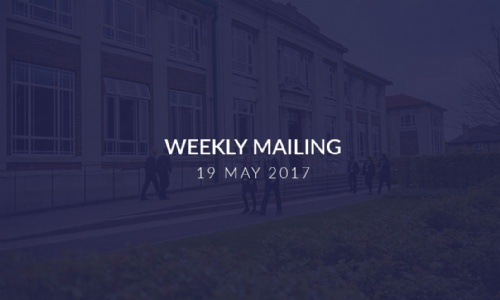 Dear Parents / Carers
Please find below my usual information, letters and updates on events that have taken place this week.
Ms Jo Butler
Headteacher
CONGRATULATIONS!
Talk to us
If you would like to tell us about any student achievements outside of school or to promote a community event etc via our weekly mailing please do not hesitate to contact us with details
INFORMATION FOR ALL YEAR GROUPS
TenTors 2017
The first weekend of May saw the annual TenTors event on Dartmoor. Our Post 16 Rucksack club has been running walks since November gradually building up to this huge event. We had two amazing teams this year who faced up to the challenge of completing the 45mile, and the 55 mile events.
The huge effort saw both teams navigating themselves across the moor, on the first day walking continuously from 7am until after 10pm. The final day saw an even earlier start for both teams and the both finished by mid afternoon on the Sunday. The resilience, teamwork and sheer grit demonstrated by both teams was incredible to witness. Congratulations to the teams, and a huge thanks to the staff team that helped facilitate this life changing opportunity.
Rob Helliwell - Ten Tors Manager 2017.
Sigma House Prefects
Congratulations to our newly appointed prefects for Sigma house. Anas Mohamed 10AEL (House Captain), Mathilda Edmunds 10AEL, Frankie Bonaddio 10JLL, Ishba Mahmood 10JLL
Yate Avon Athletics
Congratulations to Kaylen Smith who competed in the Yate Avon Athletics County Championships on Saturday and did extremely well. He came 3rd in the under 15 boys 100m and 1st in the under 15 boys 200m. Click here for results.
'Thirteen' - BAFTA nomination
The BBC drama series 'Thirteen' that was filmed on location at Cotham School in Summer 2015, was nominated for a British Academy Film and Television Award at the ceremony this week. It was fantastic to see our lovely school site showcased so grandly! Thirteen is available to download from BBCiPlayer.
SCHOOL NEWS
Next week (Week commencing Monday 22 May) is a WEEK B
Safeguarding session for parents on Wednesday 5 July 6-7pm in the Main Hall.
The last safeguarding session on understanding the use of drugs in young people today, supported by Alex from the Bristol Drugs Project, was very well attended. At that meeting, the overwhelming suggestion was for a workshop on online safety. Therefore, we will be running another parent session on the topic of online safety on Wednesday 5 July 6-7pm in the Main Hall. Everyone is welcome. The workshop will cover: awareness of the range of dangers relating to online safety; what we do in schools to educate students about this; what you can do at home to protect your children further.
School Absence
When your child is not going to be in school it is essential that you call the Absence Line on 0117 9198019 and leave a message. Please do not email the school or leave a message with main reception as this can delay the message being received by the Attendance Officer and you will receive the absence text.
School Uniform and Shoes
Please can we remind all parents/carers about acceptable shoes as part of the Cotham School uniform.
Footwear: Black, leather type shoes only (no trainer-type shoes, no boots, raised heel, canvas, logos or brands). No 'dolly'/ballet type shoes. Shoes must fasten securely, preferably with laces or a strap and the foot must be fully enclosed. Uniform shoes must be worn throughout the day.
Please can we ask all parents/carers to support school uniform policy by NOT allowing your child to come to school wearing their trainers. Click here to view examples of unacceptable school footwear. (Please note that these examples can never be exhaustive due to the constant updates to new products by retailers). If in any doubt please check with your child's Learning Coordinator before purchasing new school shoes.
Second Hand Uniform for Sale Friday 9 June
Pre-loved uniform will be on sale on the first Friday after the holiday from 2.30pm to 4pm. Come and grab a bargain.
Cotham School Mock Election
Cotham will be holding a Mock Election for all students on Thursday 8 June 2017. All political Party Election Broadcasts will be shown to students and the policies of each will be equally represented. The students will then be asked to vote. This event is intended to give students a real insight into how the General Election works and the importance of their individual vote in the process of Democracy, which is an important part of the Cotham School community ethos.
Non Uniform Day - FRIDAY 26 MAY
All students should bring £1 in cash, which will be collected at the Student Entrance. All funds raised will support their House Charity;
Delta- Cancer Research UK
Gamma - Macmillan
Omega - Water Aid
Sigma - World Wildlife Fund
Free School Meals
If your child has been receiving Free School Meals this academic year or you would like to find out if you are eligible, you will need to renew your application to ensure that they can continue to have a Free School Meal in September 2017. This eligibility also extends to Sixth Form Students. Click here for more information.
Junk Food Ban
As you will be aware, the bringing in and consumption of junk food is now completely banned at Cotham. We have become increasingly concerned about students bringing 'junk' food and drinks into school. The cheapness of large 'family size' bags of crisps, sweets and bars/ 4 packs of chocolate and large bottles/ cartons of sugary and fizzy drinks has led to an increase in such items being brought into school. The impact on children's long term health is considerable. In addition the additional litter created has phenomenal and represents a huge burden on our site team. We are delighted to report that we have noticed a considerable improvement in the amount of litter on the school site since the ban was introduced, and we thank you all for your continued support in this matter.

In order to help your children please provide a packed lunch or pre- pay their cards via WISEpay and please don't give them cash! All junk food is bought on the way to or from school in large supermarkets or corner shops.
A Celebration of the Cultural Diversity of Cotham School
We will be hosting this event on Thursday 25 May 7.00pm - 9.00pm in the Hub. All parents are invited to attend. This is an opportunity to meet parents from different ethnic groups and share a 'supper from around the world' together. There will also be a screening of the film made by Inhale Project. Click here to view the flyer.
Yoga Club
Ms Gallien has been running a very successful Yoga club on Friday lunch times this term. I was so pleased when I popped in to see so many of my Year 8's taking the opportunity and finding some calm during the busy school day. The classes focus on relaxation and breathing exercises. The classes are open to all of the lower school and are proving really popular with numbers between 20 and 30 students each time. if your child is interested in giving it a go, Classes are held on Friday Lunchtimes in the Main Hall from 1.15pm. - Ms Allender - Year 8 Learning Co-ordinator
KEY STAGE 3 (KS3) INFORMATION
YEAR 9
Science Exam
The Year 9 Science exam is on the 19 June. All of Year 9 will sit this exam in the main hall. Please encourage your child to start revising Topics: B1. B2, C1, C2, P1, P2. All of the content can be found in the online textbook on the Kerboodle website.
Revision guides (£6) and Workbooks (£6) are available to buy from the Science Prep Room. Please note that the chapters are numbered differently in these (Click here to view the look-up table).
The results of this exam will give an indication of GCSE current attainment. The students with the top 30 results on the French side and those with the top 30 results on the German side will be offered the option of studying Separate Sciences in Year 10 and 11. The Separate Sciences course is worth 3 GCSEs. All other students will study Combined Science which is worth 2 GCSEs.
Key Stage 4 (KS4) Information
YEAR 11
Miss Aiken will be starting her Maternity Leave on Friday 26 May. Please click here to view information about who to contact regarding school matters in her absence.
Last day of School for Year 11
Year 11 are expected in school from Monday – Wednesday next week from 8.30am - 3.05pm attending all lessons and any exams they have.

On Thursday 25 May students will sit their Maths Paper 1 exam at 8.45am. At the end of this exam students will have time to sign T-shirts before heading to the Dance Studio for their leavers' assembly. After the assembly students will leave school site at approximately 12pm.
There will be no formal lessons for Year 11 after this point. From the start of Term 6 students are only expected to be in school for exams and any revision lessons they have been invited to. All students must be in full school uniform with a lanyard when attending exams and revision lessons.
Please speak to your child about sensible behaviour on their last day and what their plans are from 12pm on Thursday 25 as they should be mindful that they will be sitting an English Literature paper at 8.45am on Friday 26 May.
Maths revision resources
Look out for the KS4-Revision page on the Maths VLE. It has lots of useful information and sources of revision materials, including links to practice questions with worked solutions. It is being updated regularly.
Prom
Friday 23 June at Ashton Court. Click here for more info about the arrangements on the evening.
All payments for Prom must be received no later than Monday 22 May. You can log onto wisepay to see the outstanding balance or students can pay with cash at the finance office.
Click here for information for those students who will be observing Ramadan during this event.
Yearbook
The Yearbook Committee has been working hard on creating a Yearbook for the year group. We are in the final stages of putting the layout together.

A text will be sent out to all parents once we have a confirmed price for this and to advise you when Wisepay is open for payments. We estimate the price to be between £12-£15. The payment deadline will be Monday 3 July and students who have ordered a Yearbook will be able to collect it on results day in August (or from Main Reception in September).
Wellbeing and support
There will be a weekly drop in session available to Year 11 students who feel that they would benefit from talking to someone about any concerns, anxiety or problems they may be experiencing at this demanding time in their school life. This will be every Wednesday period 3 in Mrs Webb-Martin's office and will continue through to the end of the exam period.
Library books and textbooks
We are very keen to get all of our Year 11 textbooks back after the exams. Individual letters have already been sent out detailing all of the items on loan to Year 11 students. Please check this carefully. Alternatively, library accounts can be accessed at https://u021715.microlibrarian.net (individual log-in details were emailed to students at the start of September).
The deadline for textbook returns is FRIDAY 23 JUNE
Please do not return items to Reception or to teaching staff. Invoices will be issued for any books that do not get returned by the above deadline.
French Supper
For those Year 11 French students who had never had the opportunity to go to France while at Cotham, France came to them on 10 May. Thanks to the generosity of Cotham Co-operative Funding, and the kindness of the catering staff who devoted extra time to the preparations, the students were able to sample a French meal. At their request the meal included moules et frites, snails baked with parsley garlic butter and crispy baked frogs' legs, along with more familiar items such as pâtés, cheeses, and chocolate mousse. Many students had the courage to sample food they had never tried before, and all seemed to enjoy the occasion ahead of their GCSE on 16 May. Let's hope that cuisses de grenouilles turned up in the exam! Click here to view the photos.
Subject Area News
PE/SPORTS UPDATE
Please click here to view all of the results, congratulations and upcoming fixtures.

Follow @CothamPE on Twitter for all the latest news and updates from the Cotham School PE department

It would be great if parents/carers could let the school/PE department know of any students achievements outside of school please. It is sometimes only at subject evenings that we find out what students are doing outside of school! Email us: info@cotham.bristol.sch.uk

VISUAL ARTS UPDATE
Next term the Visual Arts department will be running a photography club for KS3. We will be teaching the students camera techniques using a digital SLR as well as darkroom experiments and skills with using Photoshop. The club will be on Tuesdays after school until 4:30. Students must come to the Visual Arts office before the Friday 26 May to sign up.
Artwork of the week
Art WOW this week goes to Eva Deane (7EM) with her grid bug exam drawing. Click here to view.

TECHNOLOGY UPDATE
Bristol Healthy Schools Young Chef, Young Baker and Young Gardener 2017
A reminder that the deadline for all entries for the Bristol Healthy Schools is Monday 6 June (the first day back after half term!) Previous students from Cotham who were in the final were even on television for the local news. We are very keen to ensure that Cotham continues with its success with this competition. Click here to access the entry forms. Each entry from students will also earn house points.
GCSE Food Preparation and Nutrition Year 10
Students in GCSE Food have been learning how to joint a chicken safely. As part of this students considered the economic benefits of portioning a chicken as well as minimising waste. Students made Chicken Chasseur with their chicken portions and the carcass was then used to make a stock. Chef of the week is Zobia Parveen and Mareena Akhtar who worked together efficiently to portion the chicken and make the dish. Photos can be seen here of the class in action and Zobia's and Mareena's final dish.
Technology Rotations: Food Technology Year 7 - 9
The Technology rotation changes on Monday 22 May (Wk B).
Students in Year 7 and 9 who currently have Product Design with Mr Saddler will move on to Food Technology.
Year 7 (German) will begin with Coleslaw for their first lesson on Monday 22 May P1 and 2.
Students in Year 8 who have Food Science will move on to Food Technology, both Year 8 groups will begin with Macaroni Cheese.
For all other practical lessons we will inform students of practical dates in the lesson, as these will begin after the May holiday.

It is important that students are equipped with ingredients for each practical lesson and a secure container to take home their dishes. It is the student's homework to organise ingredients and weigh if possible. Please click here to find ingredients lists for Year 7, 8, and 9 which will also be on Google Classroom from Monday 22 May.

EXTRA CURRICULAR ACTIVITIES
Click on the links below to find out more:
Sports/PE
Performing Arts
All Subjects
CO-OP NEWS
Please click here to view the latest newsletter from the Co-operative College
COMMUNITY NEWS
Life Cycle UK
Life Cycle UK are running Bikeability level 2 & 3 courses during the May half term break – ideal catch up for anyone who has missed the training in school. Please click here for more information.
CBBC Opportunity
CBBC is looking for budding pop stars aged 11 - 14 AND a parent/relative/carer to take part in the third series of the hit CBBC show 'Got What It Takes?'. To find out more, and to download an application form, please visit the CBBC website:
http://www.bbc.co.uk/cbbc/joinin/got-what-it-takes-series-3-be-on-a-show
The deadline for applications is 16 June 2017
Half Term Activities
St Pauls Adventure Playground - Click here
Southmead Adventure Playground - Click here
Felix Road, BS5 Adventure Playground - Click here
What's happening in your local library?
Please click here to view the May newsletter for the East group Libraries.