Weekly Mailing Friday 9 June 2017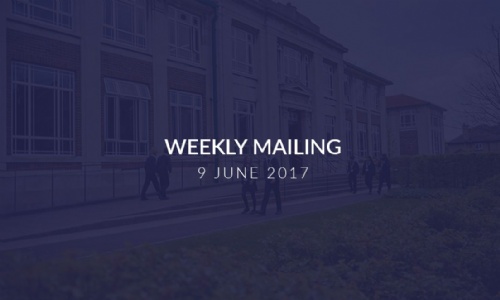 Dear Parents / Carers
Please find below my usual information, letters and updates on events that have taken place this week.
Ms Jo Butler
Headteacher
Next week (Week commencing Monday 12 June) is WEEK B
SCHOOL NEWS
Talk to us
If you would like to tell us about any student achievements outside of school or to promote a community event etc via our weekly mailing please do not hesitate to contact us with details
City Leadership Programme
Yusra Shaeik (Yr. 13) is one of twelve young Bristolians selected to take part in Mayor Marvin Rees' prestigious City Leadership Programme. The programme identifies and invests in the lives of high-ability, high-aspiration students from backgrounds of disadvantage and groups which are underrepresented in leadership. Yusra will take part in an intensive two week summer course and benefit from six months of mentoring from a city leader. We wish Yusra all the best on her leadership journey!
Cotham School Mock General Election
Cotham was buzzing with election fever on Thursday as Years 7-10 participated in the Cotham School Mock General Election. We were excited to have a VIP visitor for part of the day: local MP Thangam Debbonaire kindly gave up 90 minutes of her time to speak with students at breaktime and during period 3, when Year 9 were casting their votes. Thangam tweeted that 'it was fantastic to be with you all this morning' and that students asked her lots of brilliant questions. As then happened in the real election, Thangam won a resounding victory, with the Greens coming a distant second. Thanks to all students who took part in the election with enthusiasm and intelligence. Click here to view images. A big thank you to our official Year 10 photographers: Will Herbert, Maxie Douglas-Morgan and Estelle Pritchard-Smith.
Cotham "Tower of Strength" Race for Life Team
Every year at Cotham we enter a team of female pupils, staff, parents/carers and friends into the Bristol 5K Race for Life to raise money for Cancer Research UK. The event takes place on Sunday 2 July this year and we would love you to join our team!
Girls who are interested in running without a parent/ carer need to speak to Mrs Arnold or Mrs Ashcroft.
Adults who wish to enter or girls who wish to enter with a parent/carer can click here to enter. AFTER paying your entry fee you will be asked to choose your team (Tower of Strength)
We are aiming to raise £500 for this fantastic cause so we need as many people as possible to join us.
Please do not hesitate to contact us if you have any questions.
Mrs Ashcroft - ashcrofth@cotham.bristol.co.uk
Mrs Arnold - arnoldl@cotham.bristol.sch.uk
"Tower of Strength" Team Leaders
Arcade Games Machine workshop
On Saturday, Cotham teachers Mr Lawrence and Mr Watts ran an Arcade cabinet building workshop at Digimakers (http://www.digimakers.co.uk/ ) a technology event run by Bristol University and hosted at @Bristol. They led students from Ashton Gate Primary School and Fairfield High School through the construction and programming of their very own programmable arcade cabinets. Mr Watts and Mr Lawrence ran the workshop as part of a collaborative project that they are running for the Royal Academy of Engineering. The collaborative project is designed to promote STEM subjects within schools. Both schools will be presented with their new programmable arcade machines during Term 6.
Click here for photos. Click here for video
INFORMATION FOR ALL YEAR GROUPS
Trips attendance policy
As you know we have a school policy that students with attendance below 94% should not, in general, be allowed on trips that further takes them away from learning.
However, we have now created more clarity in relation of the application of the policy as follows:
If learning is not impacted by a trip i.e. if their whole year group were attending a trip, then the policy does not apply.
The policy never applies for compulsory trips for curriculum purposes.
Cases of chronic illness and a known medical condition will be looked at individually to ensure that we are complying with the Equalities Act 2010 and our public sector Equalities duty.
This term, we will be reviewing all of our students with known medical conditions to ensure that we have appropriate medical/care plans in place, and contacting parents/carers to ask for supporting medical information.
If a medical or care plan is not in place for a student who may need one, we will be contacting parents for a meeting to jointly put this in place.
Where a student has sporadic attendance for which we do not have ongoing supporting medical information e.g. for colds, headaches, stomach bugs etc, the policy will still apply for two reasons:

The impact on the student's learning having missed so much time already
The idea that we are aiming to teach our young people to develop resilience and attend school even if they feel a little bit under the weather, in order to prepare them for working life
Please can we remind parents that if students are away on a residential trip e.g. at the weekend, students are still expected to attend school on the next school day after the trip returns. We cannot authorise absence for days taken off after a residential trip and students' future participation in trips may be considered.
Uniform
Harris Sports are unfortunately unable to come to the school for uniform sales on the following dates:
Thursday 08 June 2017
Thursday 22 June 2017
Thursday 29 June 2017
Uniform can still be ordered by telephoning them on 01275 874351 or by visiting their Website at www.harrissports.co.uk, any items of uniform you order will be delivered to school and can be collected from Main Reception during school hours.
Non Uniform Day
The non uniform day at the end of last term raised over £730 many thanks to students and staff for contributing. All monies going to charity.
KEY STAGE 3 (KS3) INFORMATION
Year 7
Academic Monitoring Reports were issued to students on Friday 9th June. Please remember to ask your child to see their report and discuss it with them at home.
Year 9
Science revision sessions will be running next week to help prepare for their end of year exam. They will be running on the following dates from 3.15 - 4.15pm:
Tuesday 13 June- Biology
Wednesday 14 June - Chemistry
Thursday 15 June - Physics
There are also other revision resources that can be accessed such as SAM learning, Kerboodle, BBC bitesize, CGP revision guides and GCSE pod. If you have any questions about these resources please ask your child to speak to their science teacher for guidance.
KEY STAGE 4 (KS4) INFORMATION
Year 10
End of Year Exams will take place in the weeks commencing 19 June and 26 June. A summary of the content being examined to aid revision focus, can be found here. A copy of this has also been emailed to students via their school email account and added to the Key Stage 4 noticeboard on the Cotham Virtual Learning Environment (VLE). Parents can also access the Cotham VLE by going to the menu tab on the school website. A copy of the draft timetable can be found here. There will be some exam clashes; students will be given a copy of their own exam timetable next week.
Year 11
GCSE Exams
We have been really impressed with the way in which students have prepared themselves for their exams and continue to wish them well over the next two weeks. All students are expected to be in full school uniform with their lanyard identification whenever they come into school for an exam or exam preparation session.
A timetable of the exams can be found here.
Exam Preparation sessions continue next week to ensure that students have the support they need prior to their exam. A list of the sessions can be found here.
Some of these sessions will be open to all students on the course, some of the sessions will be open to students by invitation only (English / Maths / Science / German). All parents would have received a letter letting them know if their child has been invited to an Exam Preparation session. The names of students invited to sessions in English, Science, Geography, German and Maths have also been emailed to all students in Year 11 using their school email account. Please ask your child to check their account for details.
Predicted Mathematics Paper 3 for Foundation (3F) and Higher (3H).
Please click here to view. There is a paper (QP), a markscheme (MS) and worked solutions (WS). This will help your child to prepare for the final calculator paper on Monday as an aid to revision, although other topics could also arise.
Please do remind your child that they can access all of this information on Google Classroom at any time.
SUBJECT AREA NEWS
PE/SPORTS UPDATE
Please click here to view all of the results, congratulations and upcoming fixtures.
Follow @CothamPE on Twitter for all the latest news and updates from the Cotham School PE department
It would be great if parents/carers could let the school/PE department know of any students achievements outside of school please. It is sometimes only at subject evenings that we find out what students are doing outside of school! Email us: info@cotham.bristol.sch.uk
VISUAL ARTS UPDATE
The End of Show
The End of Show is the final exhibition of the work of Year 13 Art, Photography and Textiles students. The opening night is on Friday 9 June 5-9pm at Centrespace Gallery just off Corn Street. The exhibition runs from 10 to 14 June - 11.00am to 5pm and entry is free.
You are all welcome and we hope you can join us and the students to celebrate their hard work and see some of the fantastic work that the students have produced this year.
Photography Club
For any KS3 students who missed Photography club this week there is still the chance to get involved, come to room C013 on Tuesday after school.
Art Work of the Week
Art WOW this week goes to Arun Brooks (9YE) with an impressive drawing created for homework. Click here to view
PERFORMING ARTS UPDATE
3 plays in search of an Audience 2017
Attention Year 9 Drama Students.
The Year 9 play for this year's '3 plays…' will be: The Penelopiad
Performances will take place on 18 and 19 July.
Year 7 and 8 are already busy rehearsing their plays.
If you want to be involved in the Year 9 production please come to the E117 this coming Wednesday (14 June) at 13:10
Be there or be significantly more quadrangular!
Mr Geoghegan
Drama Work of the Week
Year 8 have been set a "Surprise me Shakespeare" homework this term where Students can produce anything they want that demonstrates their understanding of what they have learnt about Shakespeare in Term 5. Lizzy Wood has written a play entitled "Grandpa Shakespeare goes back in time" Lizzy's play imagines William Shakespeare living now trying to explain his relevance to his less than interested Grandchildren! Click here to view
EXTRA CURRICULAR ACTIVITIES
Extra Curricular activities - Click on the link below to find out more:
COMMUNITY NEWS
Bristol Plays Music
Click here to view June newsletter
English speaking volunteers needed
Bristol City Council Learning Communities Team are looking for volunteers who speak fluent English to run an English Conversation Club for adults who don't speak English as a first language, giving them a chance to practice speaking English in a relaxed, fun setting.
The team are running a training event for people interested in volunteering in our English conversation clubs which are around the city on Saturday 1 July 9.30 - 2.30pm at The Park, 45 Daventry Road, Knowle, Bristol BS4 1DQ. If you are interested could you please contact: Shani Smith - Learning Communities Development Worker
Tel: 07775227352
Shani.smith@bristol.gov.uk