Weekly Mailing Friday 23 June 2017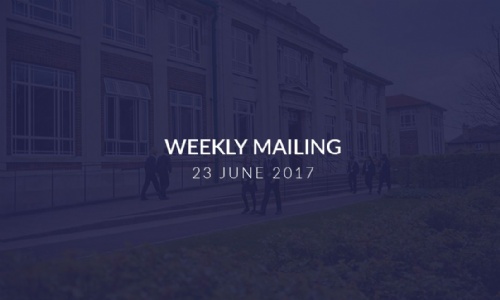 Dear Parents / Carers
Please find below my usual information, letters and updates on events that have taken place this week.
Ms Jo Butler
Headteacher
Next week (Week commencing Monday 26 June) is WEEK A
IMPORTANT INFORMATION FOR PARENTS/CARERS
School Lockdown Procedures
As part of Safeguarding procedures, all schools are required to plan and prepare staff and students for a "lockdown procedure" in anticipation that there might be a circumstance where the "lockdown" of the school is necessary.
Click here to read about the "lockdown" simulation which will happen in school on 12 July 2017
CONGRATULATIONS
Talk to us
If you would like to tell us about any student achievements outside of school, or to promote a community event etc via our weekly mailing please do not hesitate to contact us with details
Sigma Superstar Award
This will be a monthly award which will be given to a student who shows kindness and positivity around school.
June Superstar is…...Ethen Sigler (7SL). It has been recognised by both students and staff that Ethan is always polite, helpful and happy. We are also grateful for his contributions to the House Assembly.
English Schools Championships
Congratulations to Abdifataah Hasan (Year 10) and Charlotte Martin (Year 9) who have both been selected to represent the South West Athletics Team in the 800m and High Jump events respectively, at the English Schools Athletics Championships on the weekend of 8/9 July.
Abdi ran a qualifying time of 1:56secs and also set a personal best of 4:05secs to finish 1st in the Under 17's 1500m competition.
Charlotte, during the season jumped a personal best of 1.57m and finished 5th at the South West Championships with a best jump of 1.51m.
Congratulations also go to Kasavia Smolka-Headley (Year 7) who won the Minor Girls 100m event at the SW Championship but unfortunately there is no minor girls events at the English Schools Championships. Hopefully Kasavia will continue her excellent form when she steps up to the Junior Girls level next year.
We wish Abdi and Charlotte the very best of luck in the upcoming event in Birmingham and look forward to hearing the results.
Hilarious French Play
Over 200 students from Years 7 and 8 enjoyed the interactive and hilarious play during period 5 on Monday 19 June. The talented actors spoke in French throughout and engaged students through comedy and impressive stunts, including Colette diving through the air. Students enjoyed the audience participation. A great success! See some photos from the performance here.
Race for Life
A huge thank you to the girls and mums who have already joined our Cotham "Tower of Strength" Race for Life team! We would love more of you to join us on this charity run/walk on the Downs on Sunday 2 July.
We are aiming to raise lots of money for Cancer Research UK. Please click here for details of how to join our team or sponsor us.
Year 6 Induction Days
Over the last two weeks we have welcomed more than 200 Year 6 students who will be starting at Cotham School in September, to their first induction day. The young people met their form tutors, some of their subject tutors and other key staff who will be working with them. They began to learn their way around the school, made new friends, enjoyed some fun lessons and sampled school lunches at Cotham. Highlights included amazing group drumming sessions, using bunsen burners in the Science lab, cooking cheese and onion muffins, making house colour key fobs in the Technology workshop and playing sports on the field led by our Year 9 Sports Leaders. Click here to view pictures.
A big thank you to Imogen in Year 7 who sang so beautifully at the beginning of each morning and demonstrated how Cotham students can develop their talents with lots of practise and hard work. Thank you too to the Year 9's who did a brilliant job acting as guides, leading sports activities and answering lots of questions from our young visitors. They were a credit to the school, and we couldn't have run the induction days without them. Year 6 are visiting us again for a 'Knowing Me Knowing You' day in July, and then we look forward to welcoming them back after the summer holidays as our new Year 7.
Wenchford Visit 2017
The majority of Year 8 spent two of the hottest days of the year in the cool, green, forest glade that is Wenchford in the Forest of Dean. The pupils had such fun investigating how rivers work to create the landscape, what lives in rivers, and enjoyed some fun team building activities. For years to come, whenever we are learning about rivers in class, this fun trip forms the foundation of our practical understanding of the physical world. Such great fun learning experiences were enjoyed by all. Click here to view pictures.
INFORMATION FOR ALL YEAR GROUPS
School Uniform
A reminder to all parents/carers when buying new uniform for the new school year - please see our uniform requirements here. Uniform is available from Harris Sports and Famous Branches. Unfortunately it has been noted that standards have recently been slipping with many students wearing trainers to school. Trainers are not acceptable footwear and students will be asked to change into regulation footwear. Please see a link to acceptable shoes here.
KEY STAGE 4 (KS4) INFORMATION
YEAR 10
End of Year Exams
Exams will continue into next week (week commencing Monday 26 June). A summary of the content being examined can be found here.
A copy of the timetable can be found here. Students should refer to their individual exam timetable which was given to them last week.
All students need to be in school to start morning exams at 8.30. Students do not need to register with their tutor and instead will be registered in the exam hall. All students must be in full school uniform and wear their school lanyard so that they can be identified by exam invigilators. The school takes no responsibility for mobile phones or other valuables left in students bags during exams.
We want all students to use the mock exam experience to help them to prepare for their formal GCSE exams next year. Please support us with this by encouraging your child to use their evenings revising content delivered to them during Year 10. All students are aware of what and how to revise.
YEAR 11
Farewell to Year 11
Our Year 11 students finished their GCSE exams this week. They have demonstrated maturity throughout the exam process and we look forward to sharing their exam results with them on Thursday 24 August.
Year 11 Prom
Prom takes place on Friday 23 June at Ashton Court Mansion House from 7.30pm until midnight.
Music Qualifications
Please let us know if your child has completed a Music Exam to Grade 6 standard or above outside of school by email to info@cotham.bristol.sch.uk
SUBJECT AREA NEWS
PE/SPORTS UPDATE
Please click here to view all of the results, congratulations and upcoming fixtures.
Follow @CothamPE on Twitter for all the latest news and updates from the Cotham School PE department
It would be great if parents/carers could let the school/PE department know of any students achievements outside of school please. It is sometimes only at subject evenings that we find out what students are doing outside of school! Email us: info@cotham.bristol.sch.uk
VISUAL ARTS UPDATE
Artwork of the Week
Art WOW this week goes to Declan Humphreys (8JSB) with his Julian Opie style portrait. Click here to view
PERFORMING ARS UPDATE
Summer Music Review
The 2017 Summer Music Review will take place on Wednesday 12 July 6-8pm in the Dance Studio. (Or outside if the sun is shining!) Click here to view poster or buy your tickets now via your wisepay account.
Dance Celebration Evening
Come and join us on Thursday 29 June at 6pm to celebrate Dance at Cotham School with awards and performances by students from Year 7-10 plus special guest performances from Rise Youth Dance and others.
CALLING ALL YEAR 8 ACTORS - Auditions coming soon!
This year, Cotham School will once again be entering the School Shakespeare Festival. We will be performing A Midsummer Night's Dream at The Tobacco Factory Theatre in November. This is a fantastic challenging and exciting opportunity for anyone who loves acting and is currently in Year 8.
Auditions will take place after school on Tuesday 27 June and Tuesday 4 July. If you are interested in getting involved please use the sign-up sheet in Performing Arts. Any questions should be referred to Mrs Ashcroft ashcrofth@cotham.bristol.sch.uk.
Cue Bristol Youth Theatre
Cue Bristol Youth Theatre will be holding an informal sharing event in the Main Hall on the evening of Monday 26 July. This is a chance for friends and family to come along and take a look at the type of work that goes on in our weekly Cue Bristol sessions. Refreshments will be served from 5.30pm with performances starting at 6.00pm. It's free to come along and everyone is welcome.
Cotham Performing Arts Network (CPAN) needs you!
We are very proud of the range and variety of extra-curricular activities that we offer at Cotham School, as well as the excellent standard of the performance opportunities we provide for your children to showcase their skills and talents. One of the things that makes these evenings so special is the support of Cotham Performing Arts Network (CPAN), our parent support group for the Performing Arts.
All parents and carers are welcome to join us. It is a great way to meet other parents and get to know the staff.
CPAN volunteers mainly help out by serving refreshments at Performing Arts events throughout the year. Provision of refreshments at events has been a significant fundraiser for Performing Arts and has added greatly to performance evenings, making them so much more sociable and enjoyable for the audiences.
We are now looking to enlist the support of parents who are willing to help out at future events and performances. If you would like to get involved with CPAN and its activities, please get in touch by email to:
CPAN@cotham.bristol.sch.uk Thank you and we look forward to your support.
Pulse Audition
Pulse is an extracurricular Dance group, with members from schools throughout Bristol, that rehearse every Monday in the Dance studio and perform at events, both inside and outside of school, throughout the year. All students (from any Bristol School) from Year 6 to Year 8 are invited to audition for the Pulse dance company on Monday 3 July, at 4pm - 5.30pm in the Dance Studio. Click here to view poster.
To register to audition please email your name and tutor group to pulse@cotham.bristol.sch.uk
Drama Work of the Week
Congratulations to Fern Cory (7GM) who is awarded Drama WOW for her costume design. Well done!
EXTRA CURRICULAR ACTIVITIES
Extra Curricular activities - Click on the link below to find out more:
CAREERS NEWS
There are 2 places on the school website where you can find information and opportunities easily at any time:
1) Useful sources of information on a wide range of careers and guides to different options and making choices, are on Students - Careers Information pages. Click here to view
This area also has links to the following downloadable guides for parents:
Which? University Parent Guide to University 2018
Which? University Higher & Degree Apprenticeship Guide - for those who want to explore more vocational ways of getting highly qualified.
Alternatives to University - the Guide to School Leaver Programmes & Apprenticeships for Students, Parents and Teachers
2) Dates of FE & HE open days, careers-related events and opportunities, apprenticeships and school-leaver schemes, are on News, Events & Dates - School & Community News Updates - Careers News Click here to view
The University & College Admission Service, UCAS, now has an excellent section on their website about degree-level apprenticeships that includes the difference between doing a degree at university and a degree apprenticeship, advice to help students get a degree apprenticeship and a list of current vacancies. Click here to view.
Of particular note this week is: Rolls-Royce Apprentice Open Evening - Thursday 6th July 6-8pm - they are offering different levels of apprenticeships for 16, 17 and 18 yr old school leavers in Engineering, Business and Operations. Some of them could mean full funding of a Bachelor's or even Master's degree. Click here for more details and to register.
COMMUNITY NEWS
Public events announced for council's 'Your Neighbourhood and Supporting People' consultations
A series of eight public events have been announced as Bristol City Council continues to consult the public on a range of savings proposals, with bookings open from 9am on Thursday 22 June.
Due to reductions in central government funding and the needs of a growing and ageing population, the council has less money to provide services over the next five years. It recently announced proposals for how it can make savings worth just over £4.7m in budgets for libraries, public toilets, school crossing patrols, Neighbourhood Partnerships and Bristol Community Links. The consultation looks at smaller, more focused options which aim to encourage people to take part in civic life and reduce dependency on council-funded services.
Click here to find out more about the council's proposals.
Click here for further information on the public consultation events.
Invitation to Book Launch
The book launch for the new edition of Alternative Approaches to Education takes place in Bath on Friday 30 June 19.00- 21.00 at Bath Royal Literary and Scientific Institution 16-18 Queen Square, Bath BA1 2H. The book was published this month and a link to it on Routledge's website can be found at by clicking here
The event will begin with drinks and light refreshments at 19.00 and will then take the form of a discussion to explore what can be done to raise awareness of child-centred educational approaches both locally and nationally. Places can be reserved by clicking here.
Southmead Adventure Playground
There will be a community fun day at Southmead Adventure Playground on Saturday 22 July to kick off the summer. Please see flyer here with more details.
What's happening in your local library?
Click here to view the July 2017 Local Library newsletter.