Weekly Mailing Friday 7 July 2017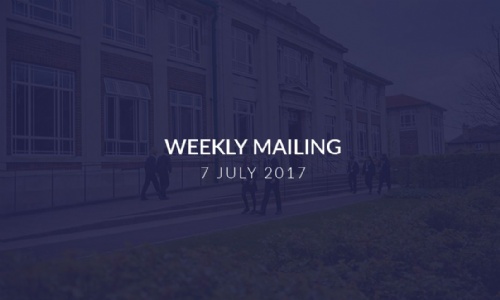 Dear Parents / Carers
Please find below my usual information, letters and updates on events that have taken place this week.
Ms Jo Butler
Headteacher
Next week (Week commencing Monday 10 July) is WEEK B
IMPORTANT INFORMATION FOR PARENTS/CARERS
School Lockdown Procedures
As part of Safeguarding procedures, all schools are required to plan and prepare staff and students for a "lockdown procedure" in anticipation that there might be a circumstance where the "lockdown" of the school is necessary.
Click here to read about the "lockdown" simulation which will happen in school on 12 July 2017
School Rail Season Tickets - Applications to be received by 17 July latest
Our partnership with GWR and the Severnside Community Rail continues and families are being offered a fantastic discount on rail fares to and from school. School Rail Season Tickets for the whole 2017/2018 academic year can be purchased for just £40 which is a significant saving on the daily fare. For those families with a number of children travelling by train there is an option to buy the ticket in instalments.
Click here to read about the scheme and to download the application form. If you are unable to print the form, students can obtain one from either the Finance Office or the Main Reception. Signed and completed forms must be returned with payment to the Finance Office by Monday 17 July so that ID passes can be issued on Friday 21 July ready for students to use at the beginning of September. Forms received after Monday 17 July will be processed at the start of the new academic year. Make sure you take advantage of this fantastic offer.
Post-16 Vaccinations
The 2017 school leaver cohort (teenagers born between 01/09/1998-31/08/1999) is now eligible for urgent catch-up with MenACWY vaccination. These young people should be invited by their GP practice for vaccination over the coming months. Since 2009, there has been a large increase in group W meningococcal (MenW) disease in England, resulting in several deaths in teenagers. Older teenagers and young adults who are not vaccinated are at risk of getting MenW infection, so need to get vaccinated. The vaccine also helps protect others around them. These students may have had a MenC vaccination before but still require the MenACWY vaccine as this gives the extra protection needed. The vaccination is free and may save their life.
Please click here to view the information recently given by Public Health England
Drowning Prevention
MPA (Mineral Products Association) have asked us to pass on some important information to you to help reduce the number of young people who drown each year in open water such as quarry lakes, reservoirs, rivers and canals. Sadly during the recent spell of unusually warm weather, two teenage boys have drowned in separate incidents whilst cooling off in lakes with friends. These deaths were avoidable, they occurred because people (particularly children and teenagers, are unaware of the potential hazards when being tempted to swim in open water such as former quarry lakes and reservoirs. The leaflet and letter linked here highlights 'Cold Water Shock' and the impact that cold water has on one's ability to swim and self-rescue.
CONGRATULATIONS
Cotham Students Sweep the Board at Bristol Young Chef/Baker Competitions
Bristol Young Baker 2017
Huge congratulations to Talulla Harris who is the winner of Bristol Young Baker 2017. Ellisa Zananiri also competed. Both Ellisa and Tallula made lovely dishes and both spoke very well to the judges on why they should win and their interest in baking. Talulla won with her homemade falafel and flatbread with tzatziki. Both were interviewed for Made in Bristol. Click here to view photos
Bristol Young Chef 2017
Harley Harris is the winner of Young Chef 2017. He worked incredibly hard with his homemade pasta, lemon infused chicken and tomato reduction. His dessert was a blueberry tiramisu. It was very tough as it was hot working in a commercial kitchen, not knowing where all the equipment is located. The chef commented that Harley had a high number of technical skills and didn't become fazed when time/equipment issues were against him.
The other competitors were also excellent ambassadors of Cotham School so thank you to them;
Oliver Kirkham, Elliott Jones, Masha Evans. Click here to view photos
Success for Year 12 in the Chemistry Cambridge Challenge
Atchchuthan Kanagasabai, who was awarded a Gold Certificate in the Chemistry Cambridge challenge.
This competition aims to stretch and challenge students interested in chemistry, and provides an excellent experience for those looking to study chemistry in the future. Atchchuthan has done remarkably well achieving a gold certificate as only 7% of students who took the challenge were awarded this level. Well done Atchchuthan!!
Talk to us
If you would like to tell us about any student achievements outside of school, or to promote a community event etc via our weekly mailing please do not hesitate to contact us with details
INFORMATION FOR ALL YEAR GROUPS
Sports Day 2017
Cotham School Sports Day will be on Monday 17 July 2017. We are excited to once again be staging such an enjoyable event that will celebrate the whole school community involved within the joy of participating in sport. Like last year, all students will be asked to participate to win points for their house. All students in Years 7, 8, 9 and 10 will be involved either as competitors, team managers, helpers, or spectators. Students will be registered as normal at 8.40am, and then escorted by tutors to the back of school to be transported by coach to South Gloucestershire and Stroud College in Filton from 8.45am onwards. At the end of the event, students will be returned to school by coach. It is difficult to give an exact finish time as this will depend on how smoothly the day runs, but we envisage students being dismissed from school between 2.45pm and 3.15pm.
Students will be required to wear a plain house coloured t-shirt, black shorts or skirt, or tracksuit bottoms, white sport socks and trainers. If you are unsure of which house your son/daughter is in and the house colour they need to wear for Sports Day, please refer to the colour of their lanyard. A letter from Mr Collin will be sent out closer to the day outlining further information.
School Catering Menu and Pricing
The school operates a six week menu rotation. Please click here to view the menu and pricing for the week ahead. Next week (Week commencing Monday 10 July) is Week 2
Yoga
There is now space for 23 students to come and relax in a calm and peaceful environment to end the stressful week. On Friday lunchtime from 1.15 to 1.45 students can join Ms Gallien in the hall to release tension and recharge with positive vibes, breathing exercises and gentle movement. Come to the hall to sign in. First come first served.
Somali Parents and Carers Coffee Morning
This has been re-arranged from Monday 3 July to Monday 10 July at 9:30am
We will have a representative from SPAN talking about the support services that they can provide.
Cotham 'Tower of Strength' - Race for Life Team
The Cotham Race for Life team successfully completed the 5K run on the Downs on Sunday to raise money for Cancer research UK. (see photos here).
Our fundraising page is still active and we'd love to push our total a bit further. https://fundraise.cancerresearchuk.org/team/tower-of-strength
If you would prefer to donate in cash you can drop this off at Reception. Any donations, no matter how small, are very welcome. A special mention must go to Imogen Attwood-Williams in 7GM who has personally raised over £200! Thank you for your support, Helen Ashcroft and Louise Arnold
Greetings from Cotham Library
Summer is for Reading!
Remember, as always, all students can borrow books for the summer. The long summer break is a perfect time for reading. Students can borrow books for the school holiday, as long as their account is up-to-date with no outstanding loans.
I am the temporary Library Manager, covering for Ms Sarah Davies whilst she is on maternity leave. I've worked in two previous secondary schools in Bristol and I'm really impressed with the fantastic range of books we have on offer in the library here at Cotham. There's so much to choose from, books to suit everyone from the latest teenage fiction to graphic novels, manga and stories on CD, and plenty of fascinating information books.
I look forward to meeting your son or daughter in the library in the coming months. Mrs Heather Southall, Library Manager
ACW Authenticate Pizza Making Workshop
Year 7 students participated in an authentic Italian pizza making workshop. All students made their own bases and added fresh tomato sauce, mozzarella, basil and olives. Students were very enthusiastic about the workshop and worked with a great deal of independence supported by Year 10 students. All students were given their own take outbox which they could customize to link to the traditional Italian feel. Even staff involved wanted to be involved and couldn't resist the temptation to make their own pizza! Click here to view photos
House Activities News
House Champion
Congratulations to Soha Abushama 9FB who is the current Gamma House Champion! She has shown dedication and enthusiasm to our House and is a constant positive presence around Cotham School. Thank you Soha!
Monday 10 July - Please bring in your tins of food
Tuesday 11 July - Please bring in your savoury food
Friday 14 July - Please bring in your 50p for ice-lollies
Monday 10 July - Inter House Competition
Please can we ask all students to bring in tins of food eg; baked beans, tuna, sweetcorn, soup etc which will be laid out in a line and measured. The house with the longest line will be the winner. All food will be donated to a charity, food banks, homeless shelter etc. This event will take place in the sports hall during lunch and tutor time. Please inform students that they should bring their tins (tins only please no other packaging will be accepted!) to the sports hall during lunch time.
Tuesday 11 July - Inter House Lunch-Time Savoury Social
Students are encouraged to bring in savoury items eg, samosas, cheese straws, pizza wheels/slices, savoury scones etc for this event. Donations of 20p - 50p for food items. For more information please email Mrs Brock or Mrs Arnold
SIGMA
Friday 14 July - Sigma WWF Charity Day
Sigma will sell ice-lollies at lunch time to raise money for WWF. "Help support your friends in the Arctic and buy frozen Ice lollies" 50p per lolly
We will also be face painting Sigma Tutors as animals in the Hub at break time. We have three wonderful tutors who are happy to be painted as an animal, if any other tutor would like volunteer to be painted or wear an animal mask for the day please let me know. Students can bring in a donation to see their tutor face painted or wear an animal mask for the day.
KEY STAGE 3 (KS3) INFORMATION
YEAR 8
Year 8 "World of Work" Event – Tuesday 4 July
All Year 8 students who were not on the Black Forest trip took part in a "World of Work" event that was run by Future First, our alumni organisation, and 14 of Cotham's former students.
Our alumni had left Cotham sometime between 1985 and 2015 and shared their wealth of experience with students. The more recent leavers, currently all at university, supported a session on future options beyond school, whilst those in more established careers supported a session about the valuable skills that are developed in different school subjects.
Special thanks go to the alumni who ran sessions on their own, with activities that related to their specific professions:
Christopher Burton, Audio-visual Supervisor, Bath University
Martin Eales, Managing Director, Rainbow Rare Earths
Katy Forsyth, Owner/Director of Red Recruitment
Rachel White, Occupational Therapist, NHS
At the end, alumni shared the advice they would give themselves if they were back in Year 8. The morning was varied and thought-provoking and we are grateful to everyone who volunteered their time to come back to school and inspire our students. You can see some photos from the event here.
KEY STAGE 4 (KS4) INFORMATION
YEAR 10
Year 10 return from Work Experience on Monday 10 July. On their return, Year 10 will receive their mock exam papers. We want all students to start Year 11 understanding the mistakes that they made in their mock exam, and understanding what to do differently. Students will be given an opportunity to review their mock exam papers with their teachers. Any student who is 2 or more grades below their Target Grade in English, Maths, Science, Languages, Geography and History will be required to complete a re-sit of their mock exam paper in the week commencing 17 July to demonstrate that they understand how to act on feedback, and to demonstrate that they have consolidated their understanding of the work covered so far before we return in September. These students will also be asked to complete the same exam paper during the summer holiday. A document detailing the summer work for Year 10 will be issued next Friday 14 July.
​​​
SUBJUCT AREA NEWS
PE/Sports Update
Cotham School Sports Awards Evening 2017
Our annual Sports Awards Evening will be taking place on Monday 10 July 6pm-730pm in the main hall. Our guest for the evening is Kate Comber, a professional Iron-man athlete and has recently qualified for the World Iron-Man Championship in Hawaii. Invitations have been sent out to students who have represented the school and attended extra-curricular clubs regularly. Thank you to those parents/carers who have already replied, can those who have received an invitation by email but haven't replied yet, please can you confirm immediately. See poster here.
County Athletics Finals
Well done to the Year 8 boys athletics team who competed at the Summer Schools Super 6 County Athletics Finals at Bath University on Wednesday. In very hot conditions the boys performed really well in the 100m, 300m, 1500m, long jump, javelin, shot and 4x100m relay events. Overall the boys finished 4th out of 8 schools from South Gloucestershire, Bath and Somerset.
Team: Kaylen Smith, Tiye Thomas-Smith, Alfie Luing, Kayh Tunnicliffe, Lucas Down & Ali Suliman. See the photo here and for more action photos from the competition, go to Cotham PE's twitter page @cothampe
Follow @CothamPE on Twitter for all the latest news and updates from the Cotham School PE department
It would be great if parents/carers could let the school/PE department know of any students achievements outside of school please. It is sometimes only at subject evenings that we find out what students are doing outside of school! Email us: info@cotham.bristol.sch.uk
PERFORMING ARTS UPDATE
3 Plays in search of an Audience 2017
This year's "3 plays..." is rapidly approaching us. For those uninitiated with the format, "3 plays" is the name given to our Summer Lower School shows where 3 thirty minute plays are performed by Year 7, 8 and 9.
This year, Year 7 are performing an adaptation of Roald Dahl's "Fantastic Mr Fox". Year 8 are performing an interpretation of the children's classic "The Witches" and Year 9 are performing a version of Margaret Atwood's "The Penelopiad". Please click here for more information and click here to book your tickets via you Wisepay account.
Summer Music Review
The 2017 Summer Music Review will take place on Wednesday 12 July 6-8pm in the Dance Studio. (Or outside if the sun is shining!) Click here to view poster or buy your tickets now via your wisepay account.
Please note: All soloists, Steel Band members and Band Academy performing at the Summer Music Review, please come to a brief meeting on Tuesday 11 July at 10.45 in E113
Pulse Auditions
Will take place on Monday 10 July
VISUAL ARTS NEWS
A big well done to all of the Year 10 students who completed their Visual Arts exams last week. All of the students worked hard and we've seen some great outcomes produced, have a look at our Instagram for snaps of some of the work at: cotham_visual_arts.
Artwork of the week goes to Samiha Habib (10CB) with some Textiles printmaking experiments.
EXTRA CURRICULAR ACTIVITIES
Extra Curricular activities - Click on the link below to find out more:
COMMUNITY NEWS
Save Money: Good Food
ITV are working on the 2nd series of Save Money: Good Food, a programme with Susanna Reid and Matt Tebbutt. They are looking for families around the UK who would like the opportunity to help reduce their food shopping bill and learn some tasty new recipes. See more information here
Clean Streets Super Heroes
As part of the Mayor's commitment to making Bristol measurably cleaner by 2020, Bristol City Council are launching a publicity campaign with the aim of discouraging people from dropping litter. This campaign introduces Clean Street Superheroes - children who have taken part in litter picks to improve their neighbourhoods. Now we're encouraging everyone in the city to do their bit and share responsibility for keeping the streets clean by not dropping litter. The campaign launched on Friday 30 June and will run over the summer. You can help by promoting the campaign on social media using the hashtag #BristolCleanStreets and sharing and retweeting content from the Facebook page and Twitter @BristolCouncil. See some more info and download promotional materials here.
Colston's Primary Considers a Change of Name
Colston's Primary has launched a consultation over their school name. Go here to find out more:
http://www.colstonsprimary.co.uk/my-school/governors-new/school-name-review-consultation
They launched their survey on Monday and you can have your say until 21 October by clicking this link: https://www.surveymonkey.co.uk/r/SchoolNAmeConsultationSurvey
Bristol Plays Music
See all the latest info from BPM here
What's happening in your local library?
Click here to view the July 2017 Local Library newsletter.