End of Summer Term Mailing to Parents and Carers Week Beginning Monday 17 July 2017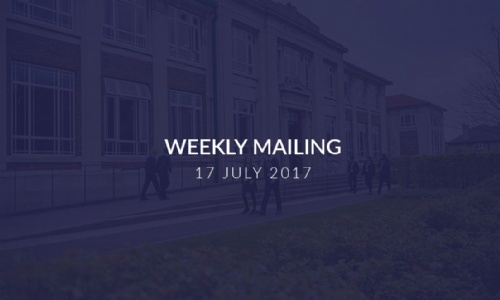 Dear Parents / Carers
At the end of another very busy and successful term, I would like to thank staff and students for all of their hard work and achievements. I would also like to thank parents and carers for their continued support of our school community. I do hope that you are finding my weekly mailing home useful in keeping you regularly informed and that it is, in particular, giving you a real flavour of the fantastic range of opportunities we have here for students to get involved in the wider life of the school.
This is our last mailing of the year and as such we have included all key information for parents in preparation for September, as well as updates on everything Cotham. As all the school information is now included in the weekly mailings we will not be duplicating information by producing a termly newsletter.
I wish you all an enjoyable Summer break and we look forward to welcoming you all back in September
With very best wishes
Ms Jo Butler
Headteacher
First week of new academic year 2017-18 (Week commencing Monday 4 September) is WEEK A
School Information for all Parents
End of Term Arrangements - Friday 21 July 2017
Non School Uniform Day. Students asked to bring in £1.00 for Charity
For Years 7 - 10, Lessons 1 and 2 will run as normal
Break will be followed by a celebration House Assembly
Students will be free to leave school at 11.45am
Exam Certificate Collection GCSE, AS and A Levels
Students may collect their exam results on the following dates from Charnwood House;
Thursday 17 August - GCE, AS and A Level
Thursday 24 August - GCSE
Post 16 will also be enrolling students in Charnwood on 24 August.
Start of Autumn Term Arrangements - 4 September 2017
We return to school in a WEEK A
Years 7 - 11
Monday 4 September

INSET Day

Tuesday 5 September

Year 7 students only

Wednesday 6 September

Year 7 students only lessons 1 and 2

Years 8 to 11 students should arrive at school for lesson 3 (11.05)

Students will be with their Tutors lessons 3 and 4 and normal lessons will commence for all students lesson 5
Post-16
Monday 4 September

INSET Day

Tuesday 5 September

09:00 to 12:00 - Year 12 Induction (assembly and time with tutors)

13:00 - 15:30 - Year 12 (half of tutor groups) induction carousels

Wednesday 6 September

09:30 to 12:00 - Year 12 (other half of tutor groups) induction carousels

13:30 - 15:00 - Year 13 Induction Assembly

Monday 11 September

Lessons begin for all Post-16 students
Times of the normal School Day
Monday - Friday
08:40 - 08:45 Registration in Tutor Groups
08:45 - 09:45 Period One
09:45 - 10:45 Period Two
10:45 - 11:05 Morning Break
11:05 - 12:05 Period Three
12:05 - 13:05 Period Four
13:05 - 13:45 Lunchtime
13:45 - 14:05 (Mon, Tues, Wed, Thurs) Registration: Tutor Periods / Collective Worship /Briefing Assembly
14:05 - 15:05 Period Five
Friday Afternoon
13:05 - 13:55 Lunchtime
13.55 Warning Bell
14:00 - 14:05 Registration
14:05 - 15:05 Period Five
Term Dates 2017-18
| | |
| --- | --- |
| Term 1 | Thursday 1 September 2016 to Friday 21 October 2016 |
| Term 2 | Monday 31 October 2016 to Friday 16 December 2016 |
| Term 3 | Tuesday 3 January 2017 to Friday 10 February 2017 |
| Term 4 | Monday 20 February 2017 to Friday 7 April 2017 |
| Term 5 | Monday 24 April 2017 to Friday 26 May 2017 |
| Term 6 | Monday 5 June 2017 to Friday 21 July 2017 |
Inset Days 2016-17
Thursday 1 September 2016
Friday 2 September 2016
Friday 21 October 2016
Tuesday 3 January 2017
Friday 7 April 2017
Monday 5 June 2017
School Uniform
A reminder to all parents/carers when buying new uniform for the new school year - please see our uniform requirements here. Unfortunately it has been noted that standards have recently been slipping with many students wearing trainers to school. Trainers are not acceptable footwear and students will be asked to change into regulation footwear. Please see a link to acceptable shoes here.
Uniform is available from Harris Sports and Famous Branches. Harris Sports also hold a uniform 'shop' in Main Reception at school every Thursday from 2.30 to 4.00pm to view and buy uniform.
Free School Meals
If your child has been receiving Free School Meals this academic year, you will need to renew your application before the start of next term to ensure that they can continue to have a Free School Meal in September 2017. This eligibility also extends to Sixth Form Students. Click here to to find out how to apply for Free School Meals or to check your eligibility. If you need help, please contact Mrs Hopkins on 0117 9198013 or by email to hopkinss@cotham.bristol.sch.uk
Attendance - Our Target is 96%
At Cotham School we take attendance and punctuality very seriously and have high expectations of all our students. There is a proven link between the level of attendance to school and the student's level of achievement.
"90% attendance means that a student is missing lessons equivalent to one half day a week. This then equates to four whole weeks a year. If a student continued to do this between Year 7 and Year 11, they will have missed the equivalent of one half of a school year".
Students must always sign out at the Attendance office in the Hub when they leave school during school hours and sign back in on their return. There is no student access permitted through main reception.
Holidays
Amendments to the Education Regulations from the Department for Education no longer allow headteachers to grant any leave of absence during term time unless there are very exceptional circumstances. In accordance with the guidance parents or carers are not permitted to withdraw their children from school during term time. Holidays must therefore not be arranged during term time or to end at the start or begin towards the end of term time. Your cooperation is much appreciated.
Illness
We expect parents/carers to contact the school on each day of absence on 0117 919 8019, (there is a 24 hours messaging service on this line) or select option 1 on the main school number.
Medical Appointments
We would normally expect these appointments to be made out of school hours, or in exceptional circumstances, for your child to attend at least either Morning or Afternoon registration.
Congratulations
Summer Music Review 2017
On Wednesday 12 July, Key Stage 3 and 4 pupils took to the stage for the final concert of the year. There were fantastic performances from Year 7, 8, 9 and 10 steel pan bands, rock bands, soloists, original compositions and vocal groups, who performed to a large audience of family and friends on the outdoor stage. There were also debut performances from adult bands Pan-Sonic and Panning for Gold who rehearse at Cotham on a Wednesday evening. Many people were involved in making the concert a success but a special thank-you to Cotham Performing Arts Network (CPAN) who served refreshments all evening, to Simon Barnes for providing the technical support and to Mrs Hand for taking photos.
Year 7 Camp
Year 7 attended JCA camp on Hayling Island from 3 -7 July and a brilliant time was had by staff and students alike. Activities ranged from the 'Leap of Faith'- consisting of a 30 foot platform and a trapeze, kayaking (in which the key ingredient was mud), archery and circus skills. A highlight was a series of dance routines prepared for Thursday night's disco….who knew that Mr Carrington could move like that?! My absolute favourite moment was our spontaneous performance of 'Timber' together (all 140 of us!) post-disco, pre-bed. We returned last Friday exhausted, sun-kissed and grubby, but having had a wonderful time. Staff and instructors would like to pass on their appreciation and admiration for the way all students participated fully, enthusiastically and positively. Year 7 you were awesome! See some photos taken by Mr Helliwell here. Mrs Wood (Year 7 Learning Co-ordinator)
Year 7 Alternative Camp week 3-7 July 2017
89 Year 7 students who were not on Camp had an exciting, adventure-packed week of alternative camp activities. On Monday, students (with eleven Year 10 helpers on work experience) went for a fun-filled and challenging day of outdoor activities at Mojo Active, learning such skills as rope-climbing, zorbing and archery. On Tuesday and Thursday, the students either worked with professional artists at the Arnolfini all day or enjoyed a range of activities specifically laid on for Cotham School students at The Station Youth Centre on Silver Street, where we were proud to discover such talented MCs, singers and dancers/choreographers amongst our Year 7 students, followed by a treat at The Cube cinema! On Wednesday and Friday morning, students participated in a wide range of new activities such as Zumba, Graffiti art workshops and Yoga meditation. Finally, the icing on the cake was Friday afternoon when students visited City Hall, practised the roles of being Mayor, Lord Mayor and other officials in the Council Chamber and held a Q&A session with Bristol's Mayor, Marvin Rees, who students described as "a great inspiration". As one student said "Mayor Rees, I'm coming for your job!".
English Schools Athletics
Well done to Charlotte Martin (Year 9) and Abdifataah Hasan (Year 10) who both competed at the English Schools Track & Field Athletics Championships last weekend in Birmingham.
Charlotte competed in the Junior Girls (U/15) High Jump Final and finished 11th out of 21 athletes competing with a jump of 1m.57cm. This was just 3cm short of her Personal Best of 1m60cm.
Abdi was competing in the U/17 Intermediate boys competition for the first time having previously competed at U/15 level. This was a massive step up with Abdi running against boys in Year 12. Abdi finished 2nd in his heat with a time of 1:57.84 but this was unfortunately a fraction just outside the time required for the final.
Both students have demonstrated a fantastic work ethic to their sport throughout the year and we are very proud of their achievements.
Inhale Film Premiere
On Saturday 9 July the Watershed Cinema hosted the film premiere of Inhale, a short film made by Cotham pupils in partnership with Calling the Shots. The film tells the story of Kim and Becks, two girls from different communities who are thrown together by an unseen event. Cotham pupils from Y7 to Y10 were involved in the design and production of the film, as well as acting alongside members of staff. The film has been successful in engaging and representing the whole school community, who have created an exciting, professional piece of work. Well done to everyone who has contributed to the production Inhale and watch this space to find out when you can come and see it for yourself!
Year 11 Prom
Another fabulous event! Click here to view images of the Year 11 students celebrating at Ashton Court Mansion.
City Leadership Programme
Yusra Shaeik (Year 13) is one of twelve young Bristolians selected to take part in Mayor Marvin Rees' prestigious City Leadership Programme. The programme identifies and invests in the lives of high-ability, high-aspiration students from backgrounds of disadvantage and groups which are underrepresented in leadership. Yusra will take part in an intensive two week summer course and benefit from six months of mentoring from a city leader. We wish Yusra all the best on her leadership journey!
Religion, Ethics & Philosophy (REP)
All of Year 8 took part in Redland Education Centre's 'Justice Trail', an interactive philosophy experience that got students thinking about big questions surrounding forgiveness. Should we forgive someone who isn't sorry? What is the result of holding a grudge? And how can we forgive, when it hurts so much? The 'Justice Trail' included inspirational true stories, discussion over just punishments for various crimes and allowed pupils to look at our world from an outside perspective: if God did exist, what would He/She have to say about the state of humanity? Students enjoyed the chance to debate and discuss as well as having the chance to quietly reflect on their own beliefs and values. Their behaviour and attitude was exemplary and the volunteers from the Centre were really impressed with the quality of students' questions and insights.
Silver Arts Award 100% - Pass Rate
Congratulations to the year nine Silver Arts Award candidates who, after a year of hard work on their challenges, have all passed! The moderator's report commented:
"A range of well-organised and individualised portfolios that reflect the interests and talents of the students and show their enthusiasm, commitment and support for each other."
Pupils have worked extremely hard in their own time on their 'Personal Arts Challenge' and have produced a wide range of fascinating projects. Aineais Arango has created a brilliant short film, Sophie Jones has made a whole outfit from scratch and Saoirse Anders has created a book of 'Stories from Around the World' which she has very impressively written in: Icelandic, Korean, Spanish, German and Arabic! Lili Riley has learned about stage make-up, click here to view her new skill!
The Second part of the Silver Arts Award is a 'Leadership Challenge' and this has seen our pupils embark on a variety of teaching tasks: Ruby Thorn has led sessions for the Young Embroiderers' Guild and Sophia Tucci has directed a piece of drama performed by year 7 pupils.
The Silver Arts Award is a chance for pupils to pursue their artistic passions and it leads to a nationally recognised level 2 qualification. Any pupils currently in Year 8 who would like to do the Silver Arts Award next year should speak to or email Mrs Ashcroft: ashcrofth@cotham.bristol.sch.uk
A huge well done to all and thanks to Mrs Ashcroft for her support and guidance.
North Bristol Post-16 'End of Show' exhibition at Centrespace Gallery
The end of year exhibition at Centrespace Gallery has once again been a great success with students from both Cotham and Redland showing a real range of their fantastic pieces. It was a great experience for the students to curate their own show and they did a fantastic job.
Congratulations to all the Year 13's who produced some truly incredible work and we wish them all the best for the future.
Your Life, Your Choice
The 'Your Life Your Choice' event consisted of 50 girls from Year 6 and Year 12 in schools across Bristol. During the day we had the opportunity to meet many successful, inspirational women in different fields of work including a biochemist and an award winning architect. We had a lot of fun and really enjoyed working with the younger girls and understanding their perceptions of gender equality. We left the day feeling energised and look forward to working with GEM Cotham (gender equality movement) in September. - Anna and Eden (Year 12).
Wenchford Visit 2017
The majority of Year 8 spent two of the hottest days of the year in the cool, green, forest glade that is Wenchford in the Forest of Dean. The pupils had such fun investigating how rivers work to create the landscape, what lives in rivers, and enjoyed some fun team building activities. For years to come, whenever we are learning about rivers in class, this fun trip forms the foundation of our practical understanding of the physical world. Such great fun learning experiences were enjoyed by all. Click here to view pictures
Talk to us
If you would like to tell us about any student achievements outside of school, or to promote a community event etc. via our weekly mailing please do not hesitate to contact us with details.
Important Information for Parents/Carers
Further news about MAT - a letter from the Chair of Governors
Dear Parents/Carers
As you may know the educational landscape has changed considerably since Cotham became one of the very early converter academies. At the time it was very easy for schools judged as outstanding to become an academy, which is what the then Cotham governing body decided to do.
Since then central government has considerably increased the level of control it exerts over academies through the network of Regional Schools Commissioners (RSCs). The priority for the RSCs when considering proposals from schools and academies to form or join MATs is school improvement and the resulting improved outcomes for students. More specifically, how any changes will improve the education provided to students in the school, the MAT and also in wider groups of schools. School improvement is also the key responsibility of governing bodies and the ofsted framework used to judge the effectiveness of school leaders (which includes governors) looks at our strategic approach to planning and supporting improvement at Cotham.
Since our work with Prima on creating a MAT with school improvement at its core, we have been approached by 2 established MATs and one prospective MAT. These are Excalibur Academies Trust, Trust in Learning and the prospective MAT being formed by Redland Green School and Ashton Park and its Partner primaries. The governing body has met with representatives of Trust in Learning and RGS.
At both meetings Governors were able to receive information from the MAT representatives and ask questions that will in time inform future strategic decisions made by the governing body.
At the present time the Governing Body has made no further decisions about multi academy trusts since its decision not to proceed with Prima. Governors will continue to fulfill their responsibility of ensuring Cotham continues to provide the best education it can to its students by carefully considering any approaches made by schools and trusts.
I hope this is informative.
Regards,
Jim Bowyer - Chair of Governors.
Next Steps for our proposed new teaching block and dining facility
Click here to view the letter regarding next steps for our proposed new teaching block and dining facility.
To enable all parties who may be affected by the expansion to comment and discuss the designs at this stage, Skanska have arranged for an informal drop-in on Tuesday 18 July 2017 from 4.30pm to 6.30pm in the Hall (G001) at Charnwood House.
Staffing Changes
Farewells to Staff
At the end of this term we say Farewell to:-
Mr A Williams - Teacher of Maths - Retiring after 19 years at Cotham School!
Mrs M Sperring - Business Manager - Retiring after 17 years at Cotham School!
Ms Mason - Teacher of Languages - 8 years at Cotham School
Ms Henderson - Teacher of Visual Arts
Ms Hand - Curriculum Team Leader of Visual Arts
Ms Porter - Science Teacher
Ms Hockaday - Science Teacher
Ms Elwell - Teacher of Languages
Ms Bowden - Teacher of Music
New Staff Joining September 2017
We look forward to welcoming the following staff to Cotham School in September
Mariam Ahmad - Science Teacher and KS Co-ordinator
Hannah Dixon – CTL for Visual Arts
William Nunn – Teacher of Science and Form Tutor
Cecilia Bitterlin – KS Co-Ordinator for Visual Arts
Anna Bingham – KS Co-Ordinator/German Subject Leader
Felicity Sweatman – Teacher of Mathematics
Jack Curnow – Teacher of Music
Maria Paola Mocci – Teacher of Science
Information for all Year Groups
Sports Day
Monday 17 July saw the whole school de-camp to SGS College WISE Campus in Filton for our annual sports day. The weather was fantastic and it was great to see so many students in their house colours encouraging their friends and team-mates throughout the day. See some photos from the day here
Well done to everyone who took part in sports day with students competing in the 100m, 200m, 300m, 400m, 800m and 1500m on the track and the javelin, shot, discus, long jump and triple jump in the field. Throughout the day there were some fantastic performances and plenty of records broken with some students breaking two records. These were by the following students:
Naysa Marshall Year 7 - 16m 13cm Long Jump
Charlotte Martin Year 9 - 1m 60cm High Jump
Siobhan Burton Year 9 - 8m 30cm Shot Put.
Ishba Mahmood Year 10 - 51.28s 300m
Nyheam Kefenste Year 10 - 11.15s 100m & 11m 40cm Shot Put
Eryka Lawrence Year 10 - 8m 62cm Triple Jump & 1m 38cm High Jump
Kasavia Smolka-Headley Year 7 - 13.08s 100m & 7m 75cm Triple Jump
Results will be announced in the end of year celebration assembly so watch this space!
School Catering Menu and Pricing
The school operates a six week menu rotation. Please click here to view the menu and click here for pricing for the week ahead.
Reflection Space/Prayer Room
A118 is currently available as a supervised "Prayer and Reflection Space" from 1.10 pm to 1.30 pm everyday This is open to the whole school community to provide a multi-faith space for reflection and prayer.
Trips and Visits
Cotham School is very proud of the wide range of Trips and Visits on offer to our students. From local excursions to residential visits overseas. Please click here to view the range of trips that have been offered to students during this academic year. We think you will agree that they were indeed wide and varied, offering opportunities to all year groups and in all curriculum areas. Please do check the weekly mailing each week to keep informed about upcoming opportunities for your child.
House Activities News
A big thank you to everyone who contributed to the Inter-House Charity event on 10 July 2017, bringing in tinned food to be donated to a local homeless shelter.
It was a close race to form the longest line of tins but Sigma were worthy winners stretching to half way across the length of the Sports Hall!
It was fantastic to see so many students contribute as well as the Prefects and House Captains who were a great help. Click here to view images.
Delta
Click here for all the latest news from Delta house from Miss McDonagh (Head of House)
Sigma
Click here for all the latest news from Sigma house from Mrs Arnold (Head of House)
Omega
Click here for all the latest news from Omega house from Mr Barber (Head of House)
Gamma
Click here for all the latest news from Gamma house from Miss Madge (Head of House)

Key Stage 3, 4 and 5 Information
Summer Holiday Homework
All students will be set homework over the summer period. We estimate that the homework will take approximately 2 hours each week to complete.
Paper copies of these documents will be sent to parents next week along with tutor reports
Year 10 End of Year Exams
There will be mock re-sits for those students where their Current Grade in English Language, Maths, French/German, Science, Geography and History is 2 or more grades below their Target Minimum Grade. These will take place this week. The days and times of these exams have been emailed to all students (school email addresses) last week. Students will re-sit the same exam paper. They will need to demonstrate that they are able to act on feedback given to them this week and improve their raw mark in each of their exams.
There will be further consolidation work for these students described in Column B of the Summer Homework document (see above). This is to ensure that all students commence Year 11 in September with a secure understanding of the work covered to date, and an understanding of their own strengths and weaknesses and areas for development.
Post 16 Authentic Biology
Funded by the Wellcome Trust, authentic biology is a unique research collaboration between Bristol University and Cotham School. Interest and enthusiasm surrounding the project has grown massively.
The superlab on the science corridor is home to this exclusive club for post 16 biologists. We are currently researching five genes that could be associated with cardiovascular disease in humans. Depending on progress with these genes, next year, we could be put to work on a small selection of genes that could be associated with certain cancers in humans. The ideas initially come from Professor Paul Martin, Dr Chrissy Hammond and Dr Beck Richardson who are all based at Bristol University. See a poster one of the Authentic Biology students has created here.
Subject Area News
PE UPDATE
PE Celebration Evening 2017
On the evening of Monday 10 July there was an opportunity to celebrate the achievements of all those who have contributed to extra-curricular sport at Cotham School this year. It was wonderful to see over 130 students and parents here to support this event. Please click here for more.
Keep in touch
Follow @CothamPE on Twitter for all the latest news and updates from the Cotham School PE department.
It would be great if parents/carers could let the school/PE department know of any students achievements outside of school please. It is sometimes only at subject evenings that we find out what students are doing outside of school! Email us: info@cotham.bristol.sch.uk
PERFORMING ARTS UPDATE
Click here for the latest news from the Performing Arts department.
Music tuition from 2017
There will be changes to how music tuition provided by Bristol Plays Music (BPM) is managed from September. Parents will be expected to pay music tuition fees in advance and directly to BPM via the BPM website. Please click here for guidance on how to pay tuition fees. It is really important that fees are paid in advance so BPM can allocate the correct number of teachers to Cotham in September.
PLEASE NOTE THAT THIS WILL ONLY AFFECT THOSE PUPILS WHOSE MUSIC INSTRUMENT LESSONS ARE PROVIDED BY BPM. If your child has a lesson with one of our self-employed peripatetic teachers you will continue to liaise directly with them on matters relating to fees and timetabling.
Please email Mr Campbell if you have any questions.
Cue Bristol Youth Theatre
It has been another successful year for Cue Bristol.
We have enjoyed a range of interesting theatre visits, including a trip to Bristol Old Vic to see a brilliant modern interpretation of 'Medea'. We also invited Drama Queen Theatre Company to Cotham to perform "Hammered", an entertaining but cautionary tale of under-age drinking. Click here to find out more about what we have been up to at Cue Bristol, and how you can get involved.
Drama Work of the Week
With lots of great work coming in as we approach the end of the year, this week we celebrate 3 very creative designs from Year 7 who have been looking at 'The Pied Piper of Hamelin'. Amina Birdi (7EM) has created a fantastic set design complete with working lights. Amy Howe's (7VBL) set design includes an intricately modeled tree and a functional see-saw. Finally Katilyn Sookoo (7EM) has created a very detailed treasure chest full of gold. Well done! Click here to view.
VISUAL ARTS UPDATE
A big well done to all of the Year 10 students who completed their Visual Arts exams last week. All of the students worked hard and we've seen some great outcomes produced, have a look at our Instagram for snaps of some of the work at: https://www.instagram.com/cotham_visual_arts/
Artwork of the week
Art WOW this week goes to Samiha Habib (10CB) with some Textiles printmaking experiments. Click here to view
Year 7 Arnolfini workshops
On Tuesday 4 and Thursday 6 of July, we took Year 7 students to the Arnolfini gallery for a workshop with artist Oliver Sutherland and also to see Basim Magdy's new show.
Through collages and poetry the students began to think about words and images in abstract ways, all in relation to Magdy's work. The day culminated in a catwalk show where the students showed off the creative costumes they had made! It was fantastic to see the students inspired by the exhibition and engaging in contemporary art. Thank you to the Arnolfini and Oliver Sutherland for such a great couple of days.
KS3 Photography Club
Photography club kicked off this term with students from Year 7, 8 and 9 learning about DSLR cameras, darkroom techniques and also creating their own portfolios.
Click here to view images of all of these exciting events
MFL UPDATE
German Exchange June 2017 between Cotham and the Goetheschule
We are happy to report that some of our Year 9 German students have enjoyed a wonderful Exchange visit to Hannover. This is the 22nd visit to Hannover by Cotham students and we are already looking forward to hosting the Goetheschule partners for the return visit in September. Click here for more.
Opal Coast 2017
35 Year 8 French students enjoyed a fantastic few days on the Opal Coast in France at the start of June.
Highlights included; trips to a sweet factory, a snail farm, a huge aquarium, a bakery and a chocolate factory.
We also enjoyed a 'Go-Ape' style tree adventure, played football, went swimming, played games on the beach and found a German bunker to explore. It was an action-packed trip full of discovery and adventure! A big shout out to all of the students for their excellent behaviour and thank you to Mr Morton, Mrs Mason, Mrs Siab and Mr McGrath for their hard work!
Careers Education, Information, Advice and Guidance and Work Related Learning (CEIAG & WRL)
Year 8
On 4 July, all Year 8 students (except those on the Black Forest trip) took part in a "World of Work" morning that was delivered by our alumni organisation, Future First, assisted by 13 former Cotham students who shared their wealth of experience with present-day students.
Year 9
On 10 May, a group of Year 9 students enjoyed a 2-hour workshop run by professional volunteers from the food and grocery industry on the theme of "How do my school subjects relate to the world of work?". Our visitors were employed in food technology, human resources, business development and marketing so students learnt about what their jobs involved and the value of the range of skills they themselves were developing in their school subjects.
Year 10
In Terms 5 and 6, groups of Year 10 students took part in various out-of-school activities, including visiting UWE, going to a healthcare careers conference at another school and an event for would-be doctors at Southmead Hospital.
Earlier this month students also completed their Work Experience Week. Students went to a wide range of placements across Bristol and some further afield with individuals travelling to the Lake District, London and even to Poland, Germany and Russia!
The students have been responsible for finding their own placements and some have gone to amazing lengths to take on interesting and challenging roles in fields including sales, catering, creative media, music law, medicine, veterinary science, engineering and research. Staff visiting students on placement have been delighted to hear the positive feedback from employers, and we have received many emails from placement providers in praise of Cotham students; several of which included job offers! Click here for photos.
Well done to all our students for the motivation and determination you have all shown, and a huge thank you to Cotham's Work Experience co-ordinator Ms Arnold.
Click here to view the CEIAG Newsletter.
Keeping you informed
We have now created spaces on our website where you can:
See dates of forthcoming FE & HE open days, careers-related events and opportunities, apprenticeships and school-leaver schemes - Click here to visit
Find useful sources of information on a wide range of different careers and help with making choices. Click here to visit.
Extra Curricular Activities
Duke of Edinburgh Bronze Award
Cotham School has offered the Duke of Edinburgh Award for a number of years now. The take up for both the Bronze and Gold awards has traditionally been very high and it is at this time of year that we launch the Bronze award with next year's Year 10 cohort (the current Year 9). A short presentation will be given to Year 9 students during their assembly next Wednesday 19 July.
We have found it particularly successful if students and parents have looked at how the award is achieved and fully understood the opportunities that taking part offers students, before they apply. Information can be found on the DofE web site at www.dofe.info/go/pinfo. Please do take a look and discuss the award with your son/daughter before next Wednesday, when registration forms will be available. Registration will be open until 13 September 2017. Please note that there is a fee for both joining the scheme and for the expedition section. If you have any questions please email me emerym@cotham.bristol.sch.uk
Extra Curricular activities
Click on the link below to find out more:
Community News
Children and Families Partnership
Please click here to view the Summer bulletin from the Early Help North Team
Can You Hear Me Now?
Are you a young person (aged 15 to 21) who would be excited to be in a new live performance performed in three cities simultaneously? If so, you are invited to a workshop audition for Can You Hear Me Now on: Tuesday 18 July: 6pm-8pm in the Arnolfini's Dark Studio. Click here to find out more
Rowan Tree Kindergarten
Over the years, we have shared our wooded space with children from the Rowan Tree Kindergarten, part of the Steiner School. The children enjoy using the space to climb trees, making dens, constructing "jumps" with logs, poles and brushwood, modelling with clay dug from the slope, plaiting grasses in the summer and mud-sliding in winter.
We received the attached beautiful drawings from the children as a thank you. Rowan Tree Kindergarten will continue to use the space until the October half term when they shall be moving to Redland Hill to join the rest of the Steiner School.
Staffed support for residents to complete City Council consultation
Bristol City Council are offering drop-in sessions in all the East group Library Branches for residents who may wish to take part in the current City Council consultation but who, for whatever reason, would like support to do it on-line
Two-day ski or snowboarding course for only £10 with a qualification at the end!
An amazing opportunity has arisen with Snow-Camp courses this summer. Full Circle have booked places for young people to attend the courses with their club, transport is included as well. They have up to 20 places available on their 2 day course on the 7-8 August.
Between Snow-Camp funding and Full Circle funding the cost would only be £10 per person for this amazing 2 day experience to learn to ski or snowboard and gain National Governing Body accreditation and give themselves the opportunity to progress onto our 6 week course.
Do you know anyone with young people aged 15+ who would be interested in this opportunity who have never experienced snowsports before.
For them to register their interest, they can visit the club and speak to any of the staff there or speak to Ann-Marie or Ivy - the club's contact details are below.
ANDREW KIMBER
PROGRAMME MANAGER BRISTOL & CARFIFF
The Station, Silver Street, Avon, Bristol. BS1 2AG
07732 204767
01273 241383
Registered Charity Number: 1101030