Weekly Mailing Friday 8 September 2017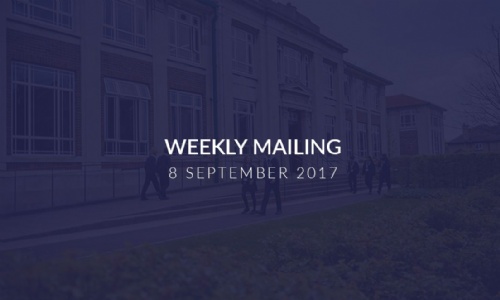 Dear Parents / Carers
I hope you all had some enjoyable and relaxing times during our students' summer holiday and welcome to the first weekly mailing of the new academic year. Please find below my usual information, letters and updates on events that have taken place this week and during the Summer break.
Ms Jo Butler
Headteacher
Next week (Week commencing Monday 11 September) is a Week B
Important Information for Parents/Carers
Early School Closure on Wednesday 20 September 2017
The School's Open Evening for Year 6 parents and families will be held on Wednesday 20 September from 6.30 - 8.30 p.m. As you will appreciate this is one of the most important events in the school year, therefore the school will close early for students to help staff prepare.
The school day for students in Years 7 - 11 will end at the start of lunchtime and they will therefore be dismissed from the school site at 1.05 p.m.
Any student eligible for a Free School Meal will be able to collect it from the dining hall before they leave.
Work will be set for students to complete as independent study in lieu of the single lesson missed. Sixth Form lessons will continue as normal at the Charnwood site for all Post-16 students.
Thank you for your continued support of the school and its work.
School Rail Season Tickets
Our partnership with GWR and the Severnside Community Rail continues and families are being offered a fantastic discount on rail fares to and from school. School Rail Season Tickets for the whole 2017/2018 academic year can be purchased for just £40 which is a significant saving on the daily fare.
For those families with a number of children travelling by train there is an option to buy the ticket in instalments.
Click here to read about the scheme and to download the application form. If you are unable to print the form, students can obtain one from either the Finance Office or the Main Reception. Completed and signed forms should be returned with payment to the Finance Office and passes are then issued from the Site Office.
Make sure you take advantage of this fantastic offer.
CONGRATULATIONS
End of Year Show
Click here to read the really great article about the End Year of Show that was published this week. Congratulations to everyone involved.
Work Experience Praise
We received great feedback from Rife Magazine at the Watershed following Saul Bhaidani's (11RA) placement at the end of last term.
'I just wanted to email and say how much we enjoyed having Saul for work experience at Rife Magazine at Watershed. The very brilliant piece he wrote for the magazine is now online so please do share with the school community'
Click here to view Saul's article
Year 8 - World of Work day
On 4 July, all Year 8 students (except those on the Black Forest trip) took part in a "World of Work" morning that was delivered by our alumni organisation, Future First, assisted by 13 former Cotham students who shared their wealth of experience with present-day students. The more recent leavers, currently all at university, supported a session on future options beyond school, whilst those in established careers contributed to sessions about the valuable skills that are developed in different school subjects and led activities that related to their specific profession.
Our alumni were a diverse group that included an occupational health therapist, the director of a recruitment company, a university audio-visual supervisor, CEO of a rare earth mining company, a community group project manager, a software architect and a local councillor. Click here to find out more.
Thank you from the SS Great Britain
Once again this summer, Cotham School were delighted to team up with the staff at the SS Great Britain to offer free admission to our new Year 7 students and their families; offering an exciting setting for parents and students to meet prior to the start of term. We received a lovely letter of thanks from Wendy Smith, Education Coordinator at SS Great Britain Trust. Click here to view.
INFORMATION FOR ALL YEAR GROUPS
School Catering Menu and Pricing
The school operates a six week menu rotation. Please click here to view the menu and click here to view the pricing for the week ahead. Next week (Week commencing Monday 11 September) is Week 2
Free School Meals
If your child is entitled to receive Free School Meals, and you have not already done so, you will need to renew your application for entitlement to continue for this academic year. This eligibility also extends to Sixth Form Students.
Click here to find out how to apply for Free School Meals or to check your eligibility. If you need help, please contact Mrs Hopkins on 0117 9198013 or by email to hopkinss@cotham.bristol.sch.uk
School Uniform
Please see a reminder of our uniform requirements here. Trainers are not acceptable footwear and students will be asked to change into their proper school footwear if they are tempted to slip into wearing them over the next few weeks! Please see a link to acceptable shoes here.
Uniform is available from Harris Sports and Famous Branches. Harris Sports also hold a uniform 'shop' in Main Reception at school every Thursday from 2.30 to 4.00pm to view and buy uniform.
Reflection Space/Prayer Room
A118 is currently available as a supervised "Prayer and Reflection Space" from 1.10 pm to 1.30 pm everyday This is open to the whole school community to provide a multi-faith space for reflection and prayer.
KEY STAGE 4 (KS4) INFORMATION
YEAR 11
Future Plans
This term, Year 11 students must start deciding what they will do after their GCSEs. To help them make good choices, they will be learning about Post-16 options in their PSHE lessons and every student will have a 1:1 careers guidance appointment with Ms Chester, the school's careers advisor. Parents/carers will be notified of the exact day and time by text, so please remind your children when they should attend.
Ms Chester will also be available in B104 at lunchtime from 1.30-2.00pm each day (except Friday) for students who wish to drop-in with short queries.
Please support your children by taking them to appropriate sixth-form and college open days so they can see what different places have to offer. Forthcoming open days will be put on the school's website in the Students - Careers & Opportunities section.
Cotham School's sixth form is part of North Bristol Post-16 Centre - their Open Evening will be held on Thursday 12 October at Redland Green School.
SUBJECT AREA NEWS
PE/SPORTS UPDATE
Please click here for information about the Extra-Curricular Activities available to student in PE during Term 1.
Follow @CothamPE on Twitter for all the latest news and updates from the Cotham School PE department
It would be great if parents/carers could let the school/PE department know of any students achievements outside of school please. It is sometimes only at subject evenings that we find out what students are doing outside of school! Email us: info@cotham.bristol.sch.uk
PERFORMING ARTS UPDATE
Music tuition from 2017
There will be changes to how music tuition provided by Bristol Plays Music (BPM) is managed from September. Parents will be expected to pay music tuition fees in advance and directly to BPM via the BPM website. Please click here for guidance on how to pay tuition fees. It is really important that fees are paid in advance to enable BPM can allocate the correct number of teachers to Cotham so that your child's tuition can continue this term. Cotham School cannot accept any responsibility for any break in tuition delivered due to unpaid fees.
PLEASE NOTE THAT THIS WILL ONLY AFFECT THOSE PUPILS WHOSE MUSIC INSTRUMENT LESSONS ARE PROVIDED BY BPM. If your child has a lesson with one of our self-employed peripatetic teachers you will continue to liaise directly with them on matters relating to fees and timetabling.
Music Market Place
On Thursday 14 September between 6.30pm and 8.00pm, the Music Department will be holding 'Music Market Place', a drop-in event in the Music department (located within the Performing Arts building).
This event will offer parents and carers and Cotham pupils the opportunity to meet staff, experience playing a musical instrument, take away information on music instrumental lessons, costs and timetabling. As well as information about instrumental lessons parents and carers will be able to find out about the extra-curricular music groups that run at Cotham, ranging from steel pan bands to choirs and orchestral ensembles.
A member of the Music department and a number of peripatetic music teachers will be on hand to answer any questions you may have about music at Cotham School. No prior booking is necessary and there is no fixed program for the evening, just drop-in between the hours of 6:30pm to 8:00pm to find out more!
If you have any questions regarding this event please contact Ben Campbell, Curriculum Co-ordinator for Music at campbellb@cotham.bristol.sch.uk or phone on 0117 9198022.
COMMUNITY NEWS
East Group Libraries Newsletter
Click here to find out what is happening in your local library.
Mindfulness for Parents
Click here for more information
Bristol Family Cycling Centre - Confidence boosting cycling sessions
The Bristol Family Cycling Centre in Hengrove has teamed up with #ThisGirlCan to offer some confidence-building cycling sessions for women in September. Click here for more information.