Weekly Mailing Friday 15 September 2017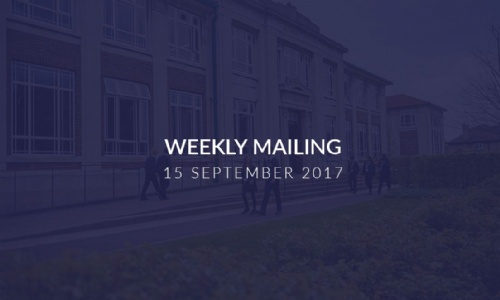 Dear Parents / Carers
Please find below my usual information, letters and updates on events that have taken place this week.
With best wishes for the weekend,
Ms Jo Butler
Headteacher
Next week (Week commencing Monday 18 September) is a Week A
CONGRATULATIONS
Student Celebration
I would like to share some photos of the amazing board game that Huxley Leigh in Year 8 designed and created himself. Huxley brought the game to show me last July and we had an enjoyable time whilst he explained to me how to play it. It is always wonderful to share in and celebrate the achievements and varied talents of our students! See the photos here and here.
Outstanding Contribution to PE
Congratulations to Jack Quinn and Christine Wierzbicki, Kyah Tunnicliffe and Ellie Clutterbuck, Mykhell Roberts and Soha Abushama who received the Outstanding Contribution to PE awards for Year 7, 8 and 9 respectively. Click here to view images.
Fantastic Feedback
Congratulations to Federico Campus 11LAL, who received a glowing report from Ashton Park Sport Centre following his Junior Coaching placement during the Summer break. Thank you for being such a positive ambassador for our School. Click here to view
IMPORTANT INFORMATION FOR PARENTS/CARERS
Open Events for prospective students - 2018/19 entry
The School's Open Evening for Year 6 parents and families will be held on Wednesday 20 September from 6.30 - 8.30 pm. It is not necessary to book in advance
Open mornings will also be held at the following times:
Wednesday 27 September 2017 9.15am
Friday 29 September 2017 9.15am
Tuesday 3 October 2017 9.15am
Thursday 5 October 2017 9.15am
Wednesday 11 October 2017 9.15am
If you would like to attend an Open Morning please contact Reception on 0117 9198000 or email info@cotham.bristol.sch.uk.
Click here to view information on admissions for 2018/19
Early School Closure on Wednesday 20 September 2017
As you will appreciate the Open Evening is one of the most important events in the school year, therefore the school will close early for students to enable staff to prepare.
The school day for students in Years 7 - 11 will end at the start of lunchtime and they will therefore be dismissed from the school site at 1.05pm.
Any student eligible for a Free School Meal will be able to collect it from the dining hall before they leave.
Work will be set for students to complete as independent study in lieu of the single lesson missed. Sixth Form lessons will continue as normal at the Charnwood site for all Post-16 students.
Thank you for your continued support of the school and its work.
A message from Reception - Help us to help you
Labelling property - Please can we remind all parents/carers to clearly write your child's FULL name in ALL items your child brings to school, especially their clothing (including PE kit). It makes it far more likely that lost items can be returned to their owner.
Messages for your child during the school day - please keep these to emergencies only. We will do our best to pass messages to students, but please be aware that there is usually only one member of staff on reception and the school is very big and busy.
Forgotten items - again, please try to keep this to essentials. If you do need to leave things with Reception (such as lunches, dinner money, homework etc) again, we will try our best to get them to your child, but it is not always possible. Please tell your child to come to Reception if they have forgotten to bring something to school to see if anything has been dropped in for them.
Electronic payments - if you have problems with Wisepay, please email the administrators on wisepay@cotham.bristol.sch.uk. They usually respond very quickly.
Many thanks in advance for your understanding and cooperation.
School Rail Season Tickets
Cotham's partnership with GWR and the Severnside Community Rail continues and families are being offered a fantastic discount on student (Yrs 7-11) rail fares to and from school. School Rail Season Tickets for the whole 2017/2018 academic year can be purchased for just £40 which is a significant saving on the daily fare.
For those families with a number of children travelling by train there is an option to buy the ticket in instalments.
Click here to read about the scheme and to download the application form. If you are unable to print the form, students can obtain one from either the Finance Office or the Main Reception. Completed and signed forms should be returned with payment to the Finance Office and passes will then be issued from the Site Office.
Do make sure you take advantage of this fantastic offer.
Junk Food
As you will be aware, the bringing in and consumption of junk food is now completely banned at Cotham. We have become increasingly concerned about students bringing 'junk' food and drinks into school. The cheapness of large 'family size' bags of crisps, sweets and bars/ 4-packs of chocolate and large bottles/ cartons of sugary and fizzy drinks has led to an increase in such items being brought into school. The impact on children's long term health is considerable. In addition the increase in litter created is phenomenal and represents a huge burden on our site team. We are delighted to report that we have noticed a considerable improvement in the amount of litter on the school site since the ban was introduced, and we thank you all for your continued support in this matter.
Every Child Matters and Safer Schools Officer
You may be aware of the government's scaling back of the Every Child Matters agenda originally launched in 2003. This agenda prioritised multi-agency partnerships working together to achieve for every child, whatever their background or circumstances, the support they need to stay safe, be healthy, enjoy and achieve, make a positive contribution, and to achieve economic well-being.
At Cotham School, despite the government scaling down of this initiative, we remain fully committed to the Every Child Matters agenda. Therefore, we are very pleased to let you know that PC Gabriela Hatter will be joining us as our Safer School's Officer, working alongside the school's Inclusion Department, for one year in the first instance. Gaby is with us as a result of a scheme that already exists in Bristol and which other schools, such as St. Mary Redcliffe and Temple, are already benefiting from. Gaby will have a base in school and will spend a good deal of her week with us.
For those of you who would like to find out more about the Safer Schools' Officers scheme we have arranged two opportunities for parents and carers to come into school to meet Gaby and our Designated Safeguarding Lead, Ms Leong (Deputy Headteacher), to find out more.
The sessions will be held at the School on Thursday 21 September starting at 5.00pm until 6.00pm and Friday 22 September starting at 9.00am until 10.00am. If you would like to attend, please contact the school by telephone on 0117 919 8000 by the end of the school day on Wednesday 20 September.
WisePay - Cashless Catering
In order to support us in ensuring that your children eat a nutritious lunch each day please can we ask that you provide a packed lunch or pre-pay credit to their cards via your WisePay account. We are unable to accept cash payment in the school canteen and cannot provide on-going credit in lieu of payment.
School Catering Menu and Pricing
The school operates a six week menu rotation. Please click here to view the menu and click here to view the pricing for the week ahead. Next week (Week commencing Monday 18 September) is Week 3
Free School Meals
If your child is entitled to receive Free School Meals, and you have not already done so, you will need to renew your application for entitlement to continue for this academic year. This eligibility also extends to Sixth Form Students.
Click here to find out how to apply for Free School Meals or to check your eligibility. If you need help, please contact Mrs Hopkins on 0117 9198013 or by email to hopkinss@cotham.bristol.sch.uk.
Key Dates
Please click here to view the Key Dates by year group for the 2017-18 academic year. You will be notified of any significant changes/additions, but please can we ask that you endeavour to check the dates for your year group regularly as they are subject to change.
School Uniform
We thank all our parents and carers for their ongoing support in maintaining high standards of uniform and personal presentation with our students. Please see a reminder of our uniform requirements here.
Students should be wearing tailored trousers and skirts which are loose-fitting and knee-length. Trainers are not acceptable footwear and students will be asked to change into their proper school footwear if they are tempted to slip into wearing them over the next few weeks! Please see a link to acceptable shoes here.
Uniform is available from Harris Sports and Famous Branches. Harris Sports also holds a uniform 'shop' in Main Reception at school every Thursday from 2.30pm to 4.00pm to view and buy uniform. - Please note that Harris Sports will NOT be in school on Thursday 21 September. We apologise for any inconvenience.
The school welcomes clean donated school uniform. If you have any outgrown items of school clothing in the form of jumpers, T-shirts or PE kit then we are happy to accept them in a clean condition at the Main Reception. Thank you.
School Bags
We have a lot of wet weather in Bristol and some student's school books are already being damaged as a result of non waterproof school bags... We would be grateful if, when replacing your child's schoolbag, an option that is waterproof is selected or a waterproof inner bag is used.
KEY STAGE 3 (KS3) INFORMATION
YEAR 7
Skills Evening Workshop Monday 25 September 2017
We will be holding a Literacy, Numeracy, and Learning and Thinking Skills workshop on Monday 25 September from 6.00pm to 7.30pm at Cotham School.
The workshop will be split into three 30 minute focus sessions on Literacy, Numeracy and Learning and Thinking. In the Literacy session you will look at how to encourage your son/daughter in his/her reading and writing. In the Numeracy session, with the Numeracy Coordinator, Mr Carrington, you will consider how to encourage your son/daughter with numbers and problem solving. In the Learning and Thinking Skills session, with Miss McDonagh, Skills Coordinator, you will be introduced to the Year 7 Skills programme and given some tips on how to encourage your child to become an active learner.
If you wish to attend the workshop, please email McDonaghK@cotham.bristol.sch.uk with the number of spaces required, by Thursday 21 September, so that we know how many people to expect.
KEY STAGE 4 (KS4) INFORMATION
YEAR 10
Click here to view the Year 10 Homework and Independent Learning Timetable
YEAR 11
Click here to view the Year 11 Homework and Independent Learning Timetable
Click here to view a letter from Mr King, Curriculum Team Leader for Maths, regarding Strategies for success in GCSE Mathematics
SUBJECT AREA NEWS
PE/SPORTS UPDATE
Extra-Curricular activities
It has been great to see a large number of students attending clubs this week. Clubs are open to all students to come along and give it a go for the first time with their friends or to practice as part of a team in preparation for a fixture. Please click here for information about the Extra-Curricular Activities available to students in PE during Term 1.
Girls Football
Bristol Rovers have confirmed that they will again be running the girls football after school club every Thursday starting next week. This activity is open to all girls in the school.
Basketball
Thank you to the CoFund for providing the funding for a Bristol Flyers coach to come in every Wednesday until Christmas to coach Year 10 & 11 boys and girls. This club will start on Wednesday 27 September 3.15pm - 4.15pm.
Follow @CothamPE on Twitter for all the latest news and updates from the Cotham School PE department
It would be great if parents/carers could let the school/PE department know of any students achievements outside of school please. It is sometimes only at subject evenings that we find out what students are doing outside of school! Email us: lts@cotham.bristol.sch.uk
PERFORMING ARTS UPDATE
Cue Bristol Youth Theatre is back!
Cue Bristol is a fun and welcoming Youth Theatre group open to all pupils in years 7-11.
We start up again on Monday 18 September in the Dance Studio
Years 7- 8: 5.15pm - 6.45pm
Years 9 -11: 7.00pm - 8.30pm
Each block of 10 sessions cost £50 but Monday's session is a free taster session.
Everyone welcome, just turn up!
Year 9 - Silver Arts Award
The Silver Arts Award is a nationally recognised Level 2 qualification for young people who have a passion for the arts. We offer this as an extra-curricular activity to our Year 9 pupils.
Information about the award was given to students in Year 9 assembly this week and any interested pupils are invited to attend the initial meeting in room E116 at 1.15pm on Tuesday 19 September.
Last year's Arts Award candidates achieved a 100% pass rate! This is a fantastic opportunity for pupils to gain recognition for following their passion for the arts. If you require any further information about the Silver Arts award please email: ashcrofth@cotham.bristol.sch.uk
COMMUNITY NEWS
Watershed and Bristol Old Vic Theatre School - BFI Film Academy Bristol
This will be the sixth year that the Watershed and Bristol Old Vic Theatre School have offered these highly successful, DofE-funded, hands-on practical filmmaking courses. No qualifications, skills or experience in film are necessary, just enthusiasm and creative ideas. Anyone interested in any aspect of filmmaking, including animation, acting, art direction, music, documentary or events can apply. The deadline is 5.00pm on 23 October. All the information and the application form can be found here.
What's new this Autumn with Young Bristol
Young Bristol is a Youth-Driven Charity that works to offer a Choice of Opportunities and Experiences for All Young People. Click here to view the Autumn Newsletter.
East Group Libraries Newsletter
Click here to find out what is happening in your local library.
Creative Space course for 16-20year olds
Click here for more information.
Mindfulness for Parents
Click here for more information
Bristol Family Cycling Centre - Confidence boosting cycling sessions
The Bristol Family Cycling Centre in Hengrove has teamed up with #ThisGirlCan to offer some confidence-building cycling sessions for women in September. Click here for more information