Weekly Mailing Friday 22 September 2017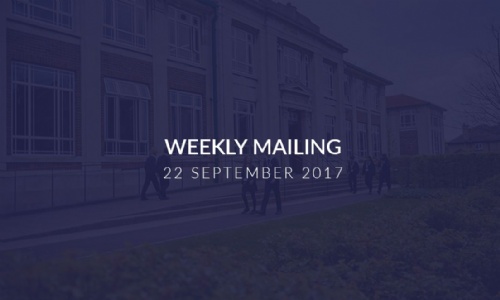 Dear Parents / Carers

Please find below my usual information, letters and updates on events that have taken place this week.

With best wishes for the weekend,

Ms Jo Butler
Headteacher

Next week (Week commencing Monday 25 September) is a Week B
Proposed Expansion of School Site
In 2015-16 we were approached by the LA to support with the Secondary School sufficiency issue by expanding our Published Admissions Number (PAN). In 2016-17 Cotham was given the go-ahead to increase our PAN by one form of entry in 2018-19 by the Regional Schools Commissioner. We have completed a considerable amount of work to prepare for the expansion and are in the process of planning a new building on the Cotham site to manage the additional numbers. Our existing students will also benefit from the new building which will provide twelve extra classrooms and another dining hall.
The number of additional secondary school places required in the City and in North Bristol in particular is clear and far outstrips current capacity. However, reports over the last few weeks suggest that all 3 of the new Secondary Free Schools planned for the City are on hold because suitable sites have yet to be been found.
Despite this, opposition to our expansion on the live planning application currently outweighs support. This is terribly frustrating as the additional places are desperately needed by families of Primary age children.
I would therefore be extremely grateful if you would consider adding a supportive statement to our planning application (link below). Indeed, if you could also harness the support of other parents and carers who would like to send their children to Cotham in the future, even better!
We have noted that there have been a number of objections to this planning application and am aware that increasing the number of students who can attend Cotham School will mean there is an increase in the number of young people traveling to and from the school site on a daily basis.
However there will be limited other school spaces available for these young people who live in the local community. It is hard to justify sending them on longer journeys across the city so that the number of students travelling are simply displaced to another part of the city.
To support our application please click here
Please support our planning application as our expansion:
Will provide much needed additional school places to students in the community.
Is part of a coordinated strategic plan by Bristol City Council (BCC's) to ensure there continues to be enough secondary school places in Bristol.
Supports BCC's transport plans by helping to prevent additional congestion due to young people having to travel excessive distances to schools in distant parts of the city.
Supports lower income families by keeping travel costs of young people to a minimum.
Supports the effective use of public money by using the economies of scale available through school expansion rather than the considerable additional costs of building new schools.
Is of low impact on the surrounding area and is in keeping with the considerable variety of styles of design evident in the building already on Cotham Lawn Road.
Approval of this application would further demonstrate that Bristol City Council is a capable and effective local authority that is able to make long term strategic decisions to meet the current needs of young people and support the success of Bristol in the future.
To support our application please click here
Many thanks for giving this your consideration
CONGRATULATIONS
Budding Basketball career
Having trained previously with both the Bristol Flyers and Bristol Storm Basketball teams, Rylan Bawden (11JPG) has now been selected for the Bristol Storm u16 team and has his first game this coming Saturday. Good luck Rylan!
Build and Program Day
On Saturday, Mr Watts and Mr Lawrence hosted an Arcade Cabinet Build and Program Day at Cotham School as part of their Royal Academy of Engineering Role. They hosted five schools, 31 students and 6 members of staff for the event. Students split into teams and spent the day either building the arcade cabinets or programming games for them.

The day went really well and it was a fantastic success. The students and staff loved it and the schools all got to take their arcade cabinets home at the end of the day to continue to use in their own schools.
Open Evening
The school opened its doors to prospective Year 7 students and their parents and carers on Wednesday 20 September for our annual Open evening.
We provided a real 'Cotham experience' for visitors and the programme included tours of the school, expertly delivered by Year 8 volunteers, our Year 11 prefects and Sixth Form Ambassadors. Presentations in the Hall included a Headteacher's address, anecdotes and insights from our new Year 7 students and a Samba Drumming performance. Visitors to the school also enjoyed a tasty array of snacks and refreshments in our dining room to showcase the quality of our school meals.

All of the students who represented the school did a fantastic job; many visitors expressing how impressed they were by their enthusiasm and pride in their school and their achievements:
"My daughter and I wanted to thank you for a wonderful open evening that we came to yesterday. We were so impressed by the warmth and openness of your teachers and really appreciated the conversations with the SENCO and Head of History about dyslexia support. Your school comes across as bursting with energy and enthusiasm!"
The Year 7 speakers in the hall who spoke so clearly about their new school deserve special credit. After only two and a half weeks they were confident, a real credit to themselves and showed that they have really become part of our Cotham School community.
Click here to view pictures of the evening.
IMPORTANT INFORMATION FOR PARENTS/CARERS
Meningitis awareness
Public Health England have contacted Bristol schools to say that they aware that parents and young people are concerned about the recent meningitis cases in Bristol. They have provided a list of frequently asked questions for us to share with you all. If you have any further questions please direct these to the Public Health England team by email to: england.southwestscrimms@nhs.net
Drop off/pick up
Please can we kindly remind our parents and carers that when students are dropped off in the morning or collected after school it is illegal for any vehicle to stop in the middle of the road, on the zigzag lines or close to zebra crossing even for a second. Please bear in mind that this is extremely dangerous driving behaviour as other cars will not be expecting it which could result in a crash and injuries.
Students' arrival to school in the morning
Please can all parents and carers remind their children to cross the road safely by walking, not running, across the zebra crossing and following the rules of the highway code. Some students, particularly when late to school, often because they stopped off at a shop on the way, are running across roads without any regard for traffic, thus endangering their lives and the lives of others.
Key Dates
Please click here to view the Key Dates by year group for the 2017-18 academic year. You will be notified of any significant changes/additions, but please can we ask that you endeavour to check the dates for your year group regularly as they are subject to change.
School Rail Season Tickets
Our partnership with GWR and the Severnside Community Rail continues and families are being offered a fantastic discount on rail fares to and from school. School Rail Season Tickets for the whole 2017/2018 academic year can be purchased for just £40 which is a significant saving on the daily fare.
For those families with a number of children travelling by train there is an option to buy the ticket in instalments.
Click here to read about the scheme and to download the application form. If you are unable to print the form, students can obtain one from either the Finance Office or the Main Reception. Completed and signed forms should be returned with payment to the Finance Office and passes are then issued from the Site Office.
Make sure you take advantage of this fantastic offer.
School Uniform
The school welcomes clean donated school uniform. If you have any outgrown items of school clothing in the form of jumpers, T-shirts or PE kit then we are happy to accept them in a clean condition at the Main Reception. Thank you.
Please see a reminder of our uniform requirements here. Trainers are not acceptable footwear and students will be asked to change into their proper school footwear if they are tempted to slip into wearing them over the next few weeks! Please see a link to acceptable shoes here.
Uniform is available from Harris Sports and Famous Branches. Harris Sports also hold a uniform 'shop' in Main Reception at school every Thursday from 2.30 to 4.00pm to view and buy uniform.
KEY STAGE 4 (KS4) INFORMATION
YEAR 10
Work Experience Week (WEX) 2 - 6 July 2018
At Cotham School all Year 10 students are expected to take part in Work Experience week
which this academic year will be during the week 2 - 6 July 2018. Please click here to view the recent letter to parents.
YEAR 11
Post-16 choices for Year 11 students
A good online source of information and advice to help Year 11 students who are considering Post-16 options is Careerpilot - www.careerpilot.org.uk
Whatever courses your child is interested in, they should try to get to relevant Open Days. The following events are taking place next week:
City of Bristol College - Ashley Down site - Tues. 26 Sept., 5.00-7.30pm
Bristol Technology & Engineering Academy - Thurs. 28 Sept., evening - please register interest via their website: http://www.bteacademy.co.uk/index.asp
South Glos. & Stroud College - all sites (incl. new Berkeley Green engineering centre) - Sat. 30 Sept., 10.00am-1.00pm
​​​SUBJECT AREA NEWS
PE/SPORTS UPDATE
Fixture for Terms 1 and 2
Netball
Tuesday 3 October - Year 7 and 8 Netball vs BFS at Cotham School
Tuesday 17 October - Year 7, 8 and 9 Netball vs Oasis at Oasis Academy

Indoor Athletics
Wednesday 29 November - Year 7 and 8 Indoor Athletics at Orchard School
Thursday 30 November - Year 9 and 10 Indoor Athletics at Orchard School

Cross Country
Monday 9 October - Year 7, 8 and 9 Cross Country Trials at Cotham School
Thursday 19 October - Bristol Schools Cross Country at Oasis Brislington 2pm-4pm

Rugby
Tuesday 10 October - Year 8 Rugby vs Fairfield & CAB at Fairfield High School
Wednesday 11 October - Years 7 and 8 Rugby vs Fairfield & CAB at Fairfield High School
Tuesday 17 October - Years 7, 8, 9 and 10 Rugby vs Bristol Cathedral

Please click here for information about the Extra-Curricular Activities available to student in PE during Term 1.
Follow @CothamPE on Twitter for all the latest news and updates from the Cotham School PE department
It would be great if parents/carers could let the school/PE department know of any students achievements outside of school please. It is sometimes only at subject evenings that we find out what students are doing outside of school! Email us: lpa@cotham.bristol.sch.uk
PERFORMING ARTS UPDATE
In Somebody Else's Shoes
Cotham School has been selected to participate in celebrating the 70th anniversary of the Bristol/ Hannover twinning in collaboration with Bristol University and Myers-Insole Local Learning Community Interest Company, who specialise in working with schools, universities and communities promoting Bristol's local heritage.
From Thursday 28 September 2017, in preparation for this cultural event all Year 9 Cotham Music students are being offered the following opportunities free of charge:
To build on introductory music sampling sessions that have already been offered across the school in June 2017 by Roly Porter.
Training in music composition over a series of 10 after school sessions running September – December 2017(led by Roly Porter). These will take place on Thursdays (beginning Thursday 28 September) from 3.05- 4.30pm in the Music Department.
An opportunity to perform own compositions live at Colston Hall 'In Someone Else's Shoes' performance on Tuesday 12 December
The project will also be featured on the National Lottery Awards on BBC1 on Wednesday 27 September.
Click here to find out more about the project.
Cotham Chorus (choir)
The Cotham Chorus choir will begin at lunchtime on Monday 25 September in the Music Department. All keen singers are invited to come along and join in.
Steel Pans FREE taster sessions - Year 7
Thank you to all of the Year 7 students who have shown a interest in Steel Pans tuition so far this year. We are in the process of putting a timetable together for this, which will be circulated to students via tutors at the beginning of next week. Please note that these sessions have now been moved to Thursday 28 September.
Steel Pans - All other groups
Tuition for all existing Steel Pans groups will recommence week beginning Monday 2 October. Timetables will be circulated to students via tutors asap, and will also be displayed in the foyer of the Performing Arts building. Please ensure that you log on to your WisePay account to pay the fees that are now due in full.
Music tuition from 2017
The way in which music tuition provided by Bristol Plays Music (BPM) is managed has now changed. Parents are now expected to pay music tuition fees in advance and directly to BPM via the BPM website. Please click here for guidance on how to pay tuition fees. It is really important that fees are paid in advance to enable BPM can allocate the correct number of teachers to Cotham so that your child can continue with their tuition this term. Cotham School cannot accept any responsibility for any break in tuition delivered due to unpaid fees.
PLEASE NOTE THAT THIS WILL ONLY AFFECT THOSE PUPILS WHOSE MUSIC INSTRUMENT LESSONS ARE PROVIDED BY BPM. If your child has a lesson with one of our self-employed peripatetic teachers you will continue to liaise directly with them on matters relating to fees and timetabling.
Dance Company Rehearsals begin this week
Each year group has their own Dance Company that rehearse one lunchtime a week. We will be working to create and rehearse dances for the Dance Evening performance in December. Come along and enjoy yourself! All rehearsals run 1.20- 2pm, bring a packed lunch and eat before we begin.

Monday: Vivid Dance Company (Y10&11)
Tuesday: GCSE rehearsals
Wednesday: Y8 Dance Co
Thursday: Y7 Dance Company
Friday: Vivid Junior (Y9)
Cue Bristol Youth Theatre is back!
Cue Bristol is a fun and welcoming Youth Theatre group open to all pupils in years 7-11 from schools across Bristol. Sessions take place on Mondays in the Dance Studio at the following times:
Years 7- 8: 5.15pm - 6.45pm
Years 9 -11: 7.00pm - 8.30pm
Each block of 10 sessions cost £50. Payment can be made via WisePay for all Cotham Students.
Everyone welcome, just turn up!
Pulse Youth Dance Company
Pulse Youth dance Company is a unique company in North Bristol working with Y6-8 students from a variety of schools. We rehearse every Monday at Cotham School 4- 5.30 and are working towards a performance in December and Stages 2018. Pulse is taught by choreographer Deanna Roberts & Rise Dance Artistic Director Helen Wilson in collaboration with Cotham School Dance Department. All welcome, come and experience high quality dance in a special and exciting atmosphere. Click here to reserve a place.
HUMANITIES UPDATE
Hollywood Vs Cotham History Club
Every Thursday 3.15 - 4.30 with Mr Lloyd. Click here for more information or email Mr Lloyd with any queries.
MATHS UPDATE
National Cipher Challenge Club - Friday Lunchtimes - A205
The club is open to all years, but aimed at capable mathematicians. As the 8 code-breaking puzzles are sequential, it's helpful if students come every week and make sure to attend the 1st session on Friday 6 October. If you have any questions please contact Mr James. For more info on the National Cipher Challenge click here
CAREERS NEWS
Free Journalism course for 14-19s
Knowle West Media Centre (KWMC) is offering students who are interested in Journalism a chance to learn modern journalistic skills. With support from TedX Bristol and the BBC, this exciting course runs on Wednesdays from 5.00-7.00pm for 10 weeks. Full details here: http://kwmc.org.uk/projects/jumpjournalism
The deadline to sign up is Tues. 26 Sept.; the no. 90 bus from the City Centre goes past KWMC.
COMMUNITY NEWS
Yoga Meditation
Ms Anne Gallien, a cover teacher at Cotham School, has been running a very successful Friday lunchtime yoga meditation club for students over the last two terms. She and some of her students will be featured in the next edition of the Bishopston Voice. We have found the sessions to be very beneficial for improving the mental, physical and social well-being of our students.
To extend her good work with improving students' mental health and wellbeing at Cotham and other schools across Bristol, Ms Gallien would like to train as an Advanced Yoga Practitioner, during which she will be able to offer an after school yoga club as well as the lunchtime one. She is currently crowdfunding to support her training. If you are able to support with any small amount, please go to: https://www.crowdfunder.co.uk/yoga-tribe-for-teens
Autumn Events at Redland Library
Click here for more information.
Classical Bristol
Please click here to view the September/October Classical Bristol Newsletter.
Tv Opportunity
BBC One series Shop Well For Less? are currently casting for the third series and are on the lookout for fun and lively families and households to take part. This prime time series shows viewers how to spend without the splurge, helping to rein in spending but retain the lifestyle we all want. Click here for more information