Weekly Mailing Friday 13 October 2017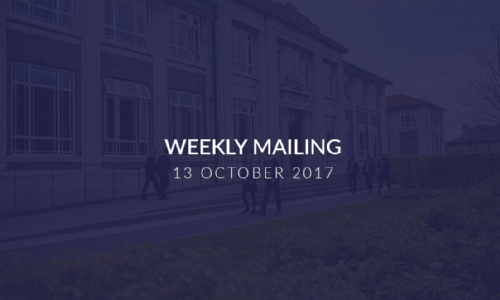 Dear Parents / Carers

Please find below my usual information, letters and updates on events that have taken place this week.

With best wishes for the weekend,

Ms Jo Butler
Headteacher

Next week (Week commencing Monday 16 October) is a Week A
CONGRATULATIONS
Cricket Success
Fiontan Firth-Williams was invited for trials By Gloucester Cricket Board and has been selected for the 2018 u13 Bristol District winter training squad Well done Fiontan - a fantastic achievement!

Important Information for Parents/Carers
Letter from the Headteacher - School finances
Please click here to view a letter from Mrs Butler regarding the ongoing financial difficulties being faced by Cotham and all schools nationally due to ongoing reductions in funding.
School to Home Communication
Please download the MyEd app to see information about your child and message the school for free. You can view attendance, absence, timetables, achievements and key dates etc. See more information here and download for both Android and Apple devices.
Confirmed cases of Measles in Gloucestershire
Please see the letter from Public Health England here.
Dropping off/picking up students
Please could we remind all parents and carers to be considerate of other road users when driving to and from school, ensuring that you drop your children off in safe places without endangering them or other pedestrians. Please observe the zig zag lines outside our Student Entrance/Exit. It is not only dangerous for motorists to park in this area, but can restrict the view of children crossing the road and of motorists driving down the road.
Key Stage 4 (KS4) Information
YEAR 10
Black History Month visit to Bristol University
We have been invited by the Widening Participation team at Bristol University to visit with a group of Year 10 students for a Black History Month event, celebrating Black Leadership and Empowerment, on Tuesday 17 October, 9.45am – 2.30pm. There will be a number of activities during the day, including a tour of the university, creative workshops and talks. Those students who have been invited to participate will have had a letter home. If you have any queries please email Mrs Kelly.
Independent Learning and Homework Timetable
Click to see the Year 10 Independent Learning and Homework timetable.
YEAR 11
Revision Evening
We are having a Year 11 Revision Evening for parents on Wednesday 18 October from 5.30 to 6.30pm. During the meeting we will have representatives from English, Maths, Science, French, German, Geography and History who will describe how to support your child with revision throughout Year 11 in advance of their mock exams which commence on Monday 13 November. We would like to see as many of you there as possible and hope you are able to attend. Please enter via the Main School Reception (on Cotham Lawn Road) and take a seat in the main hall for a prompt 5.30pm start.
Mock Exams
Mock exams for Year 11 will commence on Monday 13 November until Tuesday 21 November. All exams will take place in the Sports Hall unless otherwise stated. Students must be in full and correct school uniform and have their lanyard with them at all times.
Students should ensure that they are in school for 8.35am every day. Students taking morning exams and afternoon exams should go straight to the exam hall (they do not need to see their tutor).

A copy of the mock exam timetable can be seen here. All students will be given a copy of their own individual timetable showing their seating plan, which they must carry with them at all times. Some students will appear to have exam clashes but their individual timetable will confirm which exam they should attend. Any exam missed as a result of a clash or absence will be completed during the afternoon of Tuesday 21 November. It is important that every student ensures that they are in school and fully prepared in order to complete these mock exams.
Exam rules are strict and we want the mock exam period to replicate the period of GCSE exams as closely as possible. Students are not permitted to take mobile phones into the exam hall. We are unable to guarantee the security of students mobile phones whilst students are in exams and advise all students to leave their phones at home.
Independent Learning and Homework Timetable
Click to see the Year 11 Independent Learning and Homework timetable.
Summer 2018 - Opportunity for Year 11 Students
The National Citizen Service is offering 4-week summer placements focusing on team building skills. This will include involvement in social and community action projects and fundraising activities. It is a great addition to any young person's C.V.
Also included is a 2-week stay in the University halls in Bristol - excellent preparation for any student planning to go on to higher education. For students who sign up before the end of October the fee is reduced to only £35 (normally £50).
For further information please see NCSYES.CO.UK
Forthcoming Post-16 Open Events:
Bristol Institute of Performing Arts – SGSC WISE campus – Sat. 14 Oct, 10.30am-1.00pm
Bristol City Community Trust (Football & Sport courses) - Ashton Gate - Mon. 16 Oct, 7.00-8.00pm
dBs Music – Tues. 17 Oct, 6.00-8.00pm (please book online)
St Brendan's 6th Form College - Thurs. 19 Oct, 5.00-8.00pm
Access to Music College - Wed. 25 Oct, 3.00- 7.00pm (please book online)
S&B Automotive Academy - Thurs 26 Oct, 2.00-7.00pm
City of Bristol College - Advanced Engineering Centre - Tues. 31 Oct, 5.00-7.30pm
South Glos.& Stroud College - all sites - Sat. 4 Nov, 10.00am-1.00pm
Careers News
There is now a dedicated Careers section on the Cotham School website under Students - Careers Information and Opportunities, to which new material is being added all the time. There are buttons to connect you to:
What are your options (at 14,16 and 18)?
Choosing a career
Open days and events
The world of work
Apprenticeship and school leaver schemes
University
Useful careers packages
Apprenticeships
Rolls-Royce are holding an open evening on Wednesday 1 November 18.00-20.00, (location: Horizon Hall, BS34 6QA) where you can find out about the different apprenticeships they are offering to 16-18 year old school leavers in Engineering, Business and Operations, some of which include full funding of a degree. More details at careers.rolls-royce.co.uk/apprenticeships and link to register: http://tinyurl.com/yb8jp8ua.
Post-16 News
This week in Post-16
Bristol Drugs Project and Teenage Cancer Trust both visited Charnwood this week. BDP did a lunchtime Q&A session, whilst TCT spoke to Year 12 to break down myths about cancer and teach them how to protect themselves against it where possible.
Find out more
To find out more about what is going on at the North Bristol Post 16 Centre, please click here to visit the website.
Subject Area News
PE/SPORTS UPDATE
Rugby News
Year 8 had their first tournament on Tuesday 10 October playing Fairfield and City Academy at the Muller Rd Recreation ground. The Year 8 rugby team were a real credit to the school and made me incredibly proud of them. The team will no doubt have a successful season moving forward if they keep up the teamwork, positivity and hard work they showed on Tuesday. - Mr Collin

Year 9 travelled to Oasis Brightstowe for their most recent rugby festival this week. Along with the hosts, our other opponents were Fairfield and Orchard school - Click here to find out more.

Please click here to view all of our recent results and the upcoming fixtures for the week ahead.

Please click here for information about a great opportunity to play squash through some FREE taster sessions at Kingsdown Leisure Centre.
Follow@CothamPE on Twitter for all the latest news and updates from the Cotham School PE department
It would be great if parents/carers could let the school/PE department know of any students achievements outside of school please. It is sometimes only at subject evenings that we find out what students are doing outside of school! Email us: lts@cotham.bristol.sch.uk
PERFORMING ARTS UPDATE
Music Tuition Update
If there are any students who have still not had contact from BPM or an instrumental teacher regarding tuition this term, please contact Mr Campbell and he will look into this for you.
VISUAL ARTS UPDATE
Christmas Card Competition
The Visual Arts Department is running a competition to design the school Christmas Card. The competition is open to all years and the winner will be selected for the final card design. House points to be awarded for runners up. Deadline 10 November 2017. View poster here.
Artwork of the Week
This weeks Art WOTW goes to Amelia Spooner with her brightly coloured collage inspired by Cecil Touchon. Amelia took the time to papier-mâché the individual letters onto a tile and then photographed the finished piece. Click here to view.
ARTiculation
This Thursday a small group of our Year 12 and Year 13 Art and Photography students attended the ARTiculation Discovery Day at Spike Island. The students developed their understanding and engagement with art through personal observation, discussion and research, culminating in some fantastic presentations. Click here to view photos and video.
House News
Delta House 'Chocolottery' for Off The Record
Quick! Get your tickets before it is too late! They cost 50p each and all money raised will be donated to our house charity, Off The Record who provide young people with free, confidential mental health support. Lots of our students have benefited from the work of Off The Record so please buy your tickets from the Delta prefects in the hub during break time Monday, Tuesday or Wednesday. The draw will take place on Thursday 19 October in the hub at lunchtime. Click here to view the poster.
Sigma House Charity Cake Sale and Photo Booth Fun
We raised an amazing £156.50 for The Rainbow Centre for Children selling cakes in the hub on Friday break time.
Thank you to The following Prefects and students from Year 8 and Year 9 who gave up their time on Thursday to help make the cakes: Jasmin Heyer, Kasota Thomas, Rena Osma, Omayma Adow, Frankie Bonaddio, Anas Mohamed, Ishba Mahmood, Mathilda Edmunds.
We would like to thank Mr Saunders and PC Hatter who donated cakes. Thanks also to Mr Starr and Miss Bogis for taking all the photos. Students and staff had fun in the Sigma Photo Booth. Click here to view images.
We would like to thank Summit Services who sponsored our event and provided the ingredients.
Library News
The Reading Cloud
Students can use the Reading Cloud from home to keep track of their library loans and see what resources the library has. It is also a safe online space to talk about books online with their Cotham friends, review books, create a Home Library and keep a reading blog.
How to access the Reading Cloud:
Click here to access or visit the Library page of of the school website.
If you have access to an iPhone, iPad, iPod touch or Android phone, then you can also download a free App called iMLS to access the library from any of these devices. The app is available from the App Store and Android Market.
To login, students use their Cotham login including @cotham.bristol.sch.uk
The password is their date of birth, always 8 digits eg 08042006
Community News
Black History Month
Black History Month (BHM) is an annual commemoration throughout October that acknowledges the importance of African and African-Caribbean culture and history, using a number of events, such as dance, music, film, theatre, talks, workshops and much more, designed for all age groups. BHM has been celebrated widely around the world since the 1920's. In Bristol, the month of October is about bringing together the many different ethnicities that make up this multicultural city to display their Heritage using a variety of platforms such as films and exhibitions. Click here to view the exciting programme of events taking place across Bristol in the weeks ahead.
Learning Partnership West half term activities
Please click here to the view the programme of events taking place across Easton and St Paul's during the October half term.
Useful Quick Links
Key Dates
Please click here to view the Key Dates by year group for the 2017-18 academic year. You will be notified of any significant changes/additions, but please can we ask that you check the dates for your year group regularly as they are subject to change.
WisePay
WisePay is the Online Payment Service at Cotham School which allows you to pay for trips and visits as well as to add credit to your child's Cashless Catering account. Click here to access your account now. If you have any queries about your account please contact the support team by email to wisepay@cotham.bristol.sch.uk
Parents' Evening System (PES)
This is the online system by which all appointments must be booked for Parents' Evenings. Booking will open about a month before the Parents' Evening and you will be emailed to let you know. Click here to view the Parent's Guide to PES. Click here to access PES.
School Uniform
Please click here to view the compulsory uniform requirements of Cotham School, along with visual examples of uniform and details of our uniform suppliers. Please note that Pre-owned uniform is available on the first Friday of each new term from 2.30pm to 4.00pm, in the Main Reception area. The next sale is on Friday 3 November. If you would like to help with this sale or future sales, please let Main Reception know.
Cotham School Virtual Learning Environment (VLE) - Weebly
Click here to access the Cotham School VLE. On this VLE you will find links to the sites for each department at Cotham School. These contain useful information and documents for the subject area.
Free School Meals
https://www.myfreeschoolmeals.com to check if your child is eligible for Free School Meals or to apply.