Weekly Mailing Friday 7 October 2016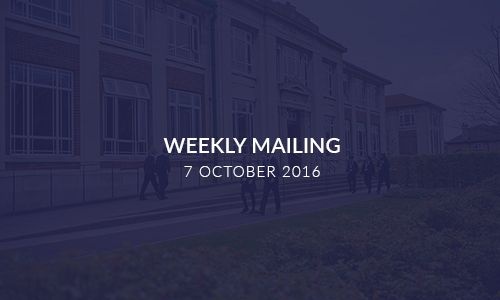 Dear Parents / Carers
I am pleased to update you on events that have taken place this week and to let you know about some of those that will take place in the near future.
I would also like to take this opportunity to apologise to those of you who may not have been receiving the weekly mailing consistently each week, or indeed those who may have received it more than once! We have been experiencing some technical issues with our mailing system which has caused some disruption. We are currently working with the relevant external agencies to get this resolved as a matter of urgency. May I also remind you that the weekly mailing, along with school and community news, all additional information related to the life of the school and a link to letters that have been sent home in the last week are available to view at any time on the school website: http://www.cotham.bristol.sch.uk
Ms Jo Butler
Headteacher

IMPORTANT: MAT Consultation and Public Meeting Monday 3 October 2016
Thank you to those who attended the public meeting on Monday. A copy of the Governors' presentation can be found here as well as answers to Frequently Asked Questions. The consultation process continues until 17 October. Please email any questions to matconsultation@cotham.bristol.sch.uk and the Governors will endeavour to respond within a couple of days.
Please see an invitation here to our Somali community to meet with the Headteacher on Thursday 13 October between 9.30am and 10.30am to discuss the school's Multi-Academy Trust consultation and to have an opportunity to raise any other matters with the Headteacher.

Performing Arts Update
Cue Bristol Youth Theatre
Our Theatre School is now up and running again. Click here to find out how your child can get involved. It's never too late to sign up.
CPAN (Cotham Performing Arts Network) needs YOU!
Click here to find out how you can get involved and help support the Performing Arts at Cotham School
Whole School Show 2016
This year's whole school show will be Macbeth. Auditions are open to students from all year groups. We are currently looking for both Actors and Singers. Click here to find out more

Visual Arts Update
Click here to view this week's 'Artwork of the week' by Gracie Roshier-Mead (13LS)
Year 9 - Arts Award
Arts Award is a nationally recognised level 2 qualification for young people who are interested in the arts. We offer this opportunity as an extracurricular club for Year 9 pupils. Candidates have to set themselves a series of challenges in creating, reviewing, researching and leading. This is an exciting opportunity for creative and self-motivated pupils to gain an extra qualification in an area they are passionate about.
To find out more and to sign up for the course, interested pupils should meet in room E116 at 1.20pm on Tuesday 11 October. Any questions, please see Mrs Ashcroft or visit the Arts Award website
Extra Curricular Clubs and activities
Click here to see a full list of all of the activities on offer across the school

PE/Sports Update
Click here to view this week's Netball and Rugby Results
Click here to view fixtures for the week ahead
Click here to celebrate our students achievements in Sports outside of school
Click here for information about Bristol Schools Swimming Gala
Click here for details of all the Extra Curricular sports activities available at Cotham

Post 16
Next week's Post-16 Open Events:
St Brendan's 6th Form College: Saturday 8 October 10.00am-2.30pm
North Bristol Post-16 Centre: Thursday 13 October 6.30-9.00pm, based at Cotham School and Charnwood House
Student Leadership Elections
Elections were held for the Year 12 roles on the Student Leadership Team. The result was very close but the outcome was: Vice President: Eden Dordi; Leader of Communications and Outreach: Gabriel Osborne
Well done to Eden, Gabriel and all the other candidates!

Careers
Click here to find out about an exciting range of career opportunities that have been brought to our attention this week

Alumni News
Cotham School alumni have been working closely with Post 16 students to support them moving into work experience placements. Mike Herford has been working with Bella Moloney (Year 13) to secure a placement at a Manchester law firm over the October half term and Henry de Berker is supporting applicants to Medicine degrees by reading their personal statements. Thank you to all our alumni for your continued support!
We were sadly informed this week that David Lloyd, who taught RE at Cotham between 1965-1993, has passed away. The family would like to invite any former students or staff to join them to remember David at Redland park United Reformed Church, Whiteladies Road, on Wednesday 12 October at 4pm. Donations in lieu of flowers to St Peter's Hospice. Our thoughts are with David's Family

Community News
Click here to find out about some of the local community events and activities taking place in Bristol this month. Including Bristol Somali Festival, Brizkids (Casting Agency) and some free activities taking place at Mshed during the October half term.

Recent Letters Home
| Topic (week ending 23/09/2016) | For the attention of: |
| --- | --- |
| | Year 7 students |
| | All Students |
| | Year 10 students |
| | Year 10 students |
All files are in PDF format. You need Adobe Reader to open these files. You can download Adobe Reader for free from adobe.com/reader