Weekly Mailing 15 July 2016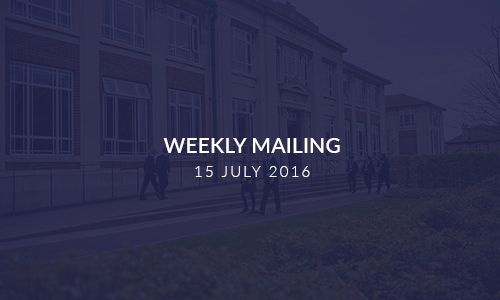 Dear Parents / Carers
I am pleased to update you on events that have taken place this week and to let you know about some of those that will take place in the near future.
Ms Jo Butler
Headteacher
End of Term Arrangements
Thursday 21 July will be a non-uniform day and students should wear something to reflect their house colour. Donations of £1 will go to the chosen charities.
For Years 7 - 10 Lessons 1 and 2 will run as normal.
There will be an extended morning break from 10.45 a.m. to 11.15 a.m. followed by a celebration House Assembly.
Students will then be free to leave school at 12.15 p.m.
---
We look forward to welcoming the following new members of staff in September
Ms Leong - Deputy Headteacher
Ms Bowden - Music Teacher
Ms D'Adamo - Mathematics Teacher
Mr Maszuchin - Mathematics Teacher
Ms Copcutt - Visual Arts Teacher
Mr Cawse - Science Teacher
Mr Slane - Science Teacher
Mr Barber - Science Teacher
Mr Major - History Teacher
Ms Bartlett - PE Teacher
Mr Flowerday - Cover Supervisor
Ms Williams - HLTA for EAL
Ms Boggis - Art and Display Technician
---
Farewells
We say farewell to the following staff at the end of this term and I would like to thank them all for their excellent work and commitment to our school during their time with us. I am sure you will join with me in wishing them every success and happiness in the next stage of their lives and careers.
Mrs Ansell – Deputy Headteacher
Mr Heayberd – Assistant Headteacher
Mr Jose – Teacher of Music and Leader of Learning
Ms Stevens – Science KS3 Co-ordinator
Ms Abdi – Science Teacher
Ms Lucy Mitchell - Teacher of English
Ms Dawe – Teacher of PE
Mr Kudiyirickal – Science Technician
Ms Browne – Art Technician
Ms Gladstone-Smith - HLTA Language and Literacy Support
Ms Mitchell – Leadership Team Secretary
Mr Adams - Site Team
Ms Tildesley – Teacher of Ancient History, Classics, Latin
Ms Brown – Senior Science Technician (left)
---
Sports Day 2016
Sports Day is on Monday 18 July at Filton Wise Campus. As in previous years, all students need to come to school wearing a plain coloured House t-shirt, black shorts/skorts/tracksuit bottoms and trainers. Students will also need to bring with them a drinks bottle, packed lunch and warm clothing/waterproofs if the weather conditions are poor. However, if the weather is very warm and sunny, students will need to bring sunscreen and plenty of water. Parents/carers are very welcome to come to Sports Day. Find further information here
---
Summer Holiday Homework
We are aware that students need to have time to relax and enjoy their holiday and that many families will be doing exciting and interesting activities.Holiday homework has been set for students in all year groups this year in order to consolidate the work they have done in the previous year and to prepare for next year. There is a huge variety of tasks, many of which the students should enjoy doing.
The holiday homework tasks in Years 7 and 8 can be done on a 'pick and mix' basis. It is not essential that they complete all of the tasks in all of the subjects. It would be a good idea for students perhaps to focus on a few subjects that they find most difficult in order to supplement their studies and one or two of the subjects that they enjoy the most. We are aware that this was not clear when the homework was sent out and apologise for this. Homework timetables for next year have already been written in preparation for September. We will also ensure that homework is set regularly throughout the year and written in the students planners.
Although FROG will not be used next academic year, it will still be accessible until 31 August for students to access resources. However, students will not be able to upload work onto FROG and will need to hand it in on their return to school in September.
Please find details of Summer Holiday Homework for all students:
Year 7 see here
Year 8 see here
Year 9 see here
Year 10 see here
---
Free School Meals
If your child has been receiving free school meals you will need to renew your application before the start of next term to ensure they can continue to have a free school meal in September 2016. For further information please read here
---
Year 7 Hayling Island Camp
A very successful Year 7 trip took place last week with all students and staff enjoying all the activities. Please read the full report here and see a photograph here. Further photographs will be included in the Newsletter to be issued next week.
---
Year 7 History Trip
On Monday and Wednesday this week, 85 Year 7 students went to Kenilworth Castle and Coventry Cathedral. We have studied both sites in Humanities lessons this year, and this was a chance to use their knowledge of historical and religious sites. At Kenilworth, we thought about how the castle has changed over time and how to lay siege to it (as happened for six months in 1266), and at Coventry we considered symbolism and how peace and reconciliation can be seen in the architecture and artwork. The Chaplain at Coventry said he has not had such a well behaved school group this year, so well done Year 7 for your respectful and mature behaviour. See photographs from the trip here
---
Year 8 Black Forest Trip
Last week 49 students returned from a fantastic trip to the Black Forest in Germany. Following a 20-hour coach journey they arrived at the destination in Titisee, a beautiful lake, set against a stunning backdrop of forests and mountains. Highlights from the week included raft building, canoeing down the river Rhein and a day out in Freiburg. Thrill-seekers took great pleasure from an exhilarating roller coaster ride down the mountain and a whole day out at Europa Park – one of the best theme parks in Europe. Huge thanks go to Mrs Mason for organising the trip, supported by Mrs Heiberg, Mr McGrath, Mr Morton and the accompanying Year 11 and 12 students, who took a lead role in all of the activities. Students will keep many great memories from the trip, not least the outstanding karaoke performances on the return coach journey! See photos here
Further photographs of the Trip will be published in our Newsletter next week.
---
Year 9 Arts Award Successes
Congratulations to the 17 Year 9 students who have passed their Silver Arts Award. Students have been meeting every Wednesday lunchtime and have worked incredibly hard on a series of arts challenges and leadership projects, collecting evidence along the way for their portfolios. The moderator visited us on Wednesday 13 July and was very impressed with all of the portfolios. In her glowing report on our students she said, 'the portfolios are well presented and young people show high levels of independent working'. Congratulations to all participants.
---
Year 10 Work Experience
Congratulations to all Year 10 students who had a very successful work experience week. We had students at a variety of different placements ranging from retail, catering, animal care, hospitality, care home, charity, design and many more. Many of our students have secured part time jobs from their employers.
The feedback from both employer and visiting staff was excellent. See photos here
'been on time, organised, and professional throughout'
'the best students we've had in in ages. They just got stuck in and helped wherever they could'
'they have had a great week - learnt loads and are really inspired'
'the boss was so impressed with her she has been offered a summer job'
'reliable, mature, personable and got stuck into everything'
'described as proactive and useful and uses his initiative. Followed instructions well and managed to strip down a bike and replace brakes and handlebars without too much support. Good mechanical brain and problem solving. He has been punctual every day'
---
Year 11 GCSE Catering
A showcase of the talents of the GCSE Catering Group, the final coursework to investigate an international cuisine of their choice and make a meal from the country of choice. Students were expected to portion and prepare chicken, make their own pasta and produce handmade bread. No convenience products were used at all and students demonstrated a high skill level, as seen from the photographs here
---
Sports Awards Evening
On Wednesday 13 July the PE Department hosted the second annual Sports Awards evening. It was a great celebration of sporting talent shown by the students across all sports this year. Over 110 students attended and we were really impressed with the students who made the effort to attend in formal clothes. Many looked very smart and we have decided to have a "best dressed" award next year!
The evening started with a motivational talk from Jemma Lowe who is a Butterfly swimmer for Great Britain. She reached the final in two Olympic Games, was part of the team who holds the medley relay World Record and won the silver medal in the World Championships last year. It was interesting to hear the commitment and hard work she has had to show to achieve this and the support she needed from her friends, family and coaches. I am sure that the students found her story inspiring in focusing on their own sports.
The Awards Presentation came next. Teachers who had coached each sport and year group nominated a 'most improved' and 'most valuable' player of the year. Awards were also given to the Year 10 Sports Leaders and students who have been competing outside of school at County and National level.
Finally, the highlight of the evening was the presentation of the 'sportsman' and 'sportswoman' of the year, see photographs here. Competition for these awards was fierce with many arguments amongst PE staff over who should get the prestigious award in each year group. After much debate our winners were:
Year 7 sportsman: Kyah Tunnicliffe and sportswoman: Chiara Durran
Year 8 sportsman: Arun Brooks and sportswoman: Charlotte Martin
Year 9 sportsman: Dee Gray and sportswoman: Maddy Johnson
Year 10 sportsman: Ben Morgan and sportswoman: Georgia Dowell
Thank you to all students who attended to celebrate sport at Cotham School and we hope the event will grow each year. All sports sections can be read here
---
English School Athletics
Congratulations to Abdifataah Hassan (9RA) who came 5th in the Final of the 800m English Schools National Athletics Championships last weekend at Gateshead. Competing in the Junior Boys competition, Abdi qualified for the final in 3rd place with a time of 2:00.71 which is an amazing achievement for his age as the National Standard for year 9 is 2:02.00 and the 800m world record set at the London 2012 Olympic Games is 1:40.91.
---
Junior Boys Cricket
Well done to the junior boys team who reached the semi-final of the Bristol Schools Cricket Competition but unfortunately were unable to beat a very strong Bristol Brunel Academy team.
---
Outside School Sporting Success- Well done Lyle!
Last weekend Lyle Renwick (Year 9) travelled to London for a trial to gain a scholarship with Sporting Lisbon. They operate perhaps the best football academy in Europe. The fully funded scholarship allows players to travel to Portugal to train at the academy in school holiday times. Lyle was selected and achieved outstandingly well in doing so being the only player from his age group to get a 'call back' for a further trial. Thanks to Lyle's Dad for sharing this amazing news with us.
---
Mr Terry Watts 'Mentor of the Year' Award
Mr Terry Watts (ICT Curriculum Team Leader) has been shortlisted as finalist for BAFTA Young Game Designer 'Mentor of the Year' award. He will be attending the awards ceremony at BAFTA in London on Saturday 23 July where the winner will be announced. Mr Watts, who was proposed by Corin Elliot (11NCA), has been nominated and shortlisted for the work he does in promoting game development and programming within and outside the school. He was shortlisted last year but did not win so fingers crossed that it might be a different outcome this year!
---
BBC Casting
CBBC is currently looking for children aged 8-14 years old, and their families, to take part in an upcoming Family Entertainment Show. It plans to run a fun, free casting session at the school, inviting pupils from Year 7 and 8 to join in for an hour or so of fun games. They are looking for children who are energetic, enthusiastic, inquisitive and confident. The session will be recorded using a small handy cam, for internal use only.
Attached is an application form, for children and parents to complete and return before the casting date. The BBC will only meet with those children that have completed consent forms. Read further information here
---
Bristol Libraries Summer Reading Champions
Bristol Libraries are looking for young people (14+) who want to get involved in their local community. This summer we have opportunities across the city for Young Volunteers to help as Summer Reading Champions. If they enjoy themselves this summer we will also be asking these champions to stay on and help us throughout the year on some fun projects and events.
This can be part of their Duke of Edinburgh Award or just a fun way to make friends and gain experience. A poster is attached and flyer to display or send out to families. See information here
---
World Challenge
On Monday 18 July Miss Allender and Mr Helliwell will be with a group of Year 10 and Year 11 students on the Island of Java, in Indonesia. They are away for four weeks and they are guaranteed to come back with amazing photos and incredible memories. We wish the staff and the following students a really successful and enjoyable time:
Lucy Davis-Jenkins
Shanice Lindsay
Amber Rawlinson
Maudie Mellish
Laura Eacott
Carlos Davey
Ruby Barnes
Billie-Rose Sanderson
Bryony Dale
Matilda Berger
Esme Britton
---
Stoke Lodge Playing Fields Update
On Wednesday 13 July the school's barrister and the City's barrister made their final submissions at the Public Inquiry in the matter of the application which has been made to register Stoke Lodge playing fields as a Town or Village Green. The Inspector has now retired to consider the case, write a report and make his recommendations.
Thank you again for all of your support on this issue. As soon as I am able to update parents, carers and students as to the outcome I will do so although this might not be for some time to come.
---
Arrangements for GCSE Results Day Thursday 25 August 2016
GCSE results are available from 9am on 25 August at Charnwood followed by the enrolment to North Bristol Post 16 Centre.
---
Start of Term Arrangements for September 2016 - Years 7 - 11
Thursday 1 and Friday 2 September
Staff training days
Monday 5 September
Year 7 students only
Tuesday 6 September
Year 7 students only lessons 1 and 2
Years 8 to 11 should arrive at school for lesson 3. Students will be with their Tutors lessons 3 and 4 and normal lessons will commence for all students lesson 5
---
Start of Term Arrangements for September - Post-16
INSET Days 1 and 2 September
Monday 5 September
09:00 to 12:00 - Year 12 Induction (assembly and time with tutors)
13:00 - 15:30 - Year 12 (half of tutor groups) induction carousels
Tuesday 6 September
09:30 to 12:00 - Year 12 (other half of tutor groups) induction carousels
13:30 - 15:00 - Year 13 Induction Assembly
Thursday 8 September
Lessons begin for all Post-16 students
---
Royal Society of Chemistry
The Royal Society of Chemistry has launched a partnership scwith secondary schools for accessing a wide range of chemistry teaching resources, free materials for schools and providing a nationwide network of support for teachers and schools. For further details please read here
---
Celebrating Student Success at NBP16C
We are very proud of our Post-16 student successes. For details, please read here
---
Cotham's Co-operative Forum
Please see a feature on Cotham's Co-operative Forum in the Co-operative News Bulletin. http://school.coop/cotham-student-voice-conference/?utm_source=rss&utm_medium=rss&utm_campaign=cotham-student-voice-conference

All files are in PDF format.
You need Adobe Reader to open these files. You can download Adobe Reader for free from adobe.com/reader