Weekly Mailing Friday 21 October 2016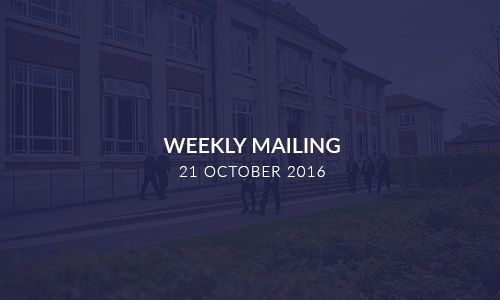 I am pleased to update you on events that have taken place this week and to let you know about some of those that will take place in the near future. I wish you all an enjoyable Half Term break.
Ms Jo Butler
Headteacher
SCHOOL NEWS

Students return to school on Monday 31 October. It is a Week B

IMPORTANT KS4 NEWS

Year 10 - Holiday Homework
Please click here to see a list of holiday homework being set by each curriculum area for completion over the half term holiday.

Year 10 - Welcome to GCSE Evening
Please click here to access the KS4 Curriculum booklet for Year 10 GCSE students starting courses in September 2016, and referred to during the Welcome to GCSE Evening on Thursday 6 October. This booklet is designed to provide parents and carers with:
details of course content in each of the GCSEs
details of essential and wider reading for each of the courses, including revision guides
details of websites that can be used by students to consolidate their progress over the 2 years
details of assessment points in the year with links to the Cotham VLE

Year 11 - Holiday Homework and mock preparation
Please click here to see a list of homework being set by each curriculum area for completion over the half term holiday.

Year 11 - Mock Exams
Mock exams for Year 11 in all GCSE subjects will take place in the week 28 November to 2 December. A timetable for the week will be made available to students after the half term holiday. Students should use the holiday to revise all of the content covered in their GCSE courses since the start of Year 10.

Year 11 - Information Evening
We will be holding an information evening in the main school hall for Year 11 students and their parents/carers on Monday 21 November from 6.00pm – 7.30pm
There will be presentations from each core subject area on;
Course structure
Exam content
Revision tips and resources
Q&A session
Please click here to let Miss Aiken know if you will be attending, as soon as possible.

Year 11 - Extra Catch Up Sessions
We are offering a number of additional study sessions to support students in their preparation for Mock exams. Please click here for a full list

Year 11 - Prom
This year's Prom will take place on Friday 23 June at Ashton Court Mansion. The total cost per student is £33. Please ensure that you secure your child's place with a £10 deposit no later than by Friday 11 November. This can be done via your Wisepay account by clicking here. Or by Cash/Cheque (made payable to Cotham School) to the Finance office. A formal ticket will be issued closer to the event.

OTHER SCHOOL NEWS

Scholastic Book Club
Order books online with Scholastic. Every term we run a Scholastic Book Club to earn free books for our school.
The Book Club leaflets are available from the library and students can choose from the latest exciting selection of books. For every £1 you spend on this term's Book Club, our school will earn 20p in Scholastic Rewards.
Please place this term's orders by Friday 25 November. Orders can be placed by filling in the order form on the back of the leaflet or online at http://schools.scholastic.co.uk/cotham-school
Please contact Miss Davies, Librarian, on DaviesS@cotham.bristol.sch.uk if you have any questions about ordering with Scholastic.

A few reminders
Please be aware that our Receptionists are unable to leave the front desk during the school day to deliver items to the students. While we will always endeavour to do our best to deliver all messages etc, it is not always possible to do so at short notice.
Please ensure that you put your child's name clearly on ALL their belongings. Lost property is kept in the Performing Arts building and any un-named and unclaimed items will be donated to charity at the end of each term.
Please can we remind you to write any appointments and reminders for your children in their planners. Staff will do the same.

Second Hand Uniform
We have a selection of good quality donated second-hand uniform for sale at heavily discounted prices. Sales are planned for the first Friday of each term and the first one will be on Friday 4 November from 2pm to 4pm in the Meeting Room, just inside the main school reception area. Please enter through the main entrance on Cotham Lawn Road.
Money raised will be for the benefit of all students at the school and we would very much like to thank the team of parents/carers who have volunteered to run this.

Performing Arts Update
This week's recipient of 'Work of the Week' award in Drama is Erica Cotty (7DD) for her Plaster Mask work. Click here to view Erica's impressive piece.

Visual Arts Update
This week's recipient of 'Artwork of the Week' is Gus Sinclair (7SL) with one of his term 1 homework tasks looking at typography. Please click here to view Gus' work.
Please click here to view some helpful information for parents and carers of Year 11 Visual Arts students which was given out at parent's evening this week. This includes key dates, expectations for independent work and some useful tips on how you can support you child.

Extra Curricular Clubs and Activities
Click here to see a full list of all of the activities on offer across the school
Bronze Duke of Edinburgh Award
This award is open to all Year 10 students and requires a commitment of the full year. There are four sections to complete, including two walking expeditions. The DofE award is a fantastic opportunity and is not only fun and challenging but will provide students with the skills for life and work. See more details and some photos here
Gold DofE Practice Expedition
Last weekend the Gold DofE group took off on their practice expedition in the Black Mountains. Click here for more info and photos

PE/Sports Update
Click here to read about our Climbing Club entry into Bristol Schools Bouldering League
Click here to view this week's Netball and Rugby Results
Click here to view fixtures for the week ahead
Click here to celebrate our students achievements in Sports outside of school
Click here for details of all the Extra Curricular sports activities available at Cotham

Post 16 News

North Bristol Post 16 Open Evening
A very well attended Post 16 Evening for the North Bristol Post 16 Centre on Thursday 13 October. We welcomed over a 1,000 visitors to our Centre which this year was hosted by Cotham Learning community. Our Centre and collaboration grows from strength to strength and shows that we are a number one destination of choice when it comes to Post 16 education. The staff involved were excellent and our students will have received excellent information advice and guidance on the evening, on their next steps.

Forthcoming Post-16 Open Events
City of Bristol College - Advanced Engineering Centre (Parkway) - Thursday 3 November, 5.00-7.30pm
North Bristol Post-16 Centre - Information Evening at Redland Green Site - Thursday 3 November, 7.00-8.00pm
South Glos & Stroud College (all sites) - Saturday 5 Nov, 10.00am-2.00pm
Training providers - for apprenticeships:
S&B Training (Motor vehicle) - Thursday 27 October, 2.00-8.00pm (in school holidays)
Reflections Training Academy (Hairdressing) - Friday 28 October 10.00am (in school holidays)

Year 13 English Trip to see King Lear
Click here to read Matt Galliford's review of Year 13 English Literature students' trip to see the Royal Manchester Exchange's production of King Lear.

Lots of money being raised for Charity
Congratulations to Lani Ward and Ella Robertshaw both of Year 8 who raised £100 for a local charity called Bath Welcomes Refugees following a sponsored silence.
Houses have been raising lots of money for Charity too as follows:
Delta: £394.69 for Cancer Research UK
Gamma: £391.87 for Macmillan Cancer Support
Omega: £373.31 for WaterAid
Sigma: £358.50 for WWF-UK
This is a wonderful achievement and shows students' commitment to social responsibility. Congratulations to everyone involved in raising money.