Weekly Mailing Friday 4 November 2016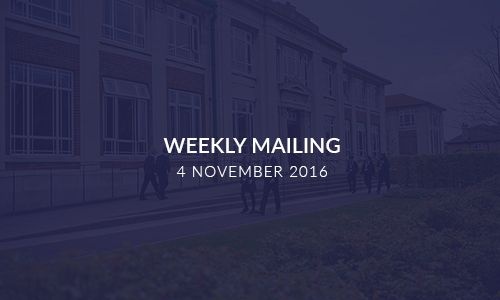 Dear Parents / Carers
I am pleased to update you on events that have taken place this week and to let you know about some of those that will take place in the near future.
Ms Jo Butler
Headteacher
SCHOOL NEWS

Year 10 - Maths Tests
Year 10 will have tests in the week commencing Monday 21 November. They will have 2 papers in class; one non-calculator, one calculator. Students will need to remember to bring all the correct equipment to these lessons.

Year 11 - Meningitis
Year 11 students have been given a letter about the Meningitis Vaccination on the Wednesday 23 November. Reply slips need to be returned as soon as possible to tutors.

Year 11 - Information Evening
Monday 21 November, Main School Hall from 6.00pm–7.30pm (please arrive promptly)
Presentations from each core subject area:
Course structure
Exam content
Revision tips and resources
Q&A session
Please click here to let Miss Aiken know if you will be attending, as soon as possible.

Year 11 - Prom
This year's Prom will take place on Friday 23 June at Ashton Court Mansion. The total cost per student is £33. Please ensure that you secure your child's place with a £10 deposit no later than by Friday 11 November. This can be done via your Wisepay account by clicking here. Or by Cash/Cheque (made payable to Cotham School) to the Finance office. A formal ticket will issued closer to the event.

Prayer/Reflection Room
A reminder to students that room A118 is a supervised space for quiet Prayer/Reflection every day between 1.10 and 1.30pm.

Parent Governor Vacancy and Elections this Term
Letters as per the attached here and here have gone out to parents/carers today looking for nominations for a new parent governor to join the school Governing Body. Completed forms to be returned to the Returning Officer by Friday 18 November 2016.
Please see information further down the mailing on "An Introduction to School Governance" session for the Black, Asian and Minority Ethnic community.

Specialist 14-19 Providers in West of England
Click here to read the letter sent recently to all Year 9 students

Reduced computers from Bristol City Council for children from low income families
"Get connected for as little as £50. We want Bristol to be a truly inclusive and connected digital city where anyone who wants a computer at home can have one".http://www.bristolcomputerreuse.org/

Performing Arts Update
National Harmonica Champion!
Last weekend, Sean Spicer (10CB) won a highly creditable third prize in the National Harmonica League's Player of the Year competition in the Adult Blues and Rock category. In the previous two years Sean won five first-place trophies in various Youth categories, but this time accepted the challenge to step up to the adult competition, competing against experienced players 20 years or more older than him. The judges praised his 'fluent and stylish playing'. Well done Sean!
Drama
This week's recipient of 'Work of the Week' award in Drama is Ruairidh Farrow-White for his three dimensional Theatre build. Click here to view
Shakespeare Schools Festival
Year 9 students are performing Julius Caesar in the Shakespeare Schools Festival on Monday 14 November at the Tobacco Factory. Please contact the Tobacco Factory directly to book your tickets. There is also a free
performance at 5.30pm on Wednesday 16 November in the Drama studio at Cotham school.
Carlos Rodriquez (Year 13) - City Waits Award
The City Waits Awards from the Guild of Guardians of Bristol in association with Bristol Plays Music, are £750 bursaries awarded annually to young musicians who demonstrate outstanding musicianship and contribute to the good name of the city. We are delighted to hear that our very own Carlos Rodriguez is one of the recipients this year. Click here to read more

Visual Arts Update
This weeks 'Artwork of the Week' goes to Ona De Mearns (11KM) for a stitched piece based on the theme 'Microworld'. Click here to view Ona's work
Christmas Card Competition
Don't forget that the deadline for entries into this years Christmas card competition is Friday 11 November. Click here to view the poster
Extra Curricular Clubs and activities
Click here to see a full list of all of the activities on offer across the school this term.
Cue Bristol Youth Theatre
Our Theatre School is now up and running again. Click here to find out how your child can get involved. It's never too late to sign up!
CPAN (Cotham Performing Arts Network) needs YOU!
Click here to find out how you can get involved and help support the Performing Arts at Cotham School

PE/Sports Update
Click here to view fixtures for the week ahead
Click here to celebrate our students achievements in Sports outside of school
Click here for details of all the Extra Curricular sports activities available at Cotham during Term 2

Term Dates
We have been made aware that a Google search for Cotham School term dates brings up a website that is not authenticated by the school or Bristol City Council (https://termdates.co.uk/school-holidays-cotham-school). The information on this website is incorrect. If you want to check our term dates please use the school website or Bristol City Council website.

COMMUNITY NEWS

School Governor information session
Are you from a Black, Asian or Minority Ethnic community? Would you like to find out about possibly volunteering as a school governor?
You are invited to: An Introduction to School Governance
The information session will be held at The City Academy, Russell Town Avenue, on Wednesday 16 November at 6.30pm.
Refreshments will be available from 6.15pm and we plan to finish by 8.30pm
During the session you will:
learn about the main roles, responsibilities and expectations of governors at schools and academies
have the opportunity to hear from some experienced governors in Bristol schools
ask questions
find out about on-going support
There will be no obligation to go on to volunteer as a governor - just come along to find out more, and bring a friend or colleague who may be interested. To book your FREE place please contact: gds@bristol.gov.uk 0117 903 6900

Bristol Libraries Newsletter
See the latest newsletter here

Let Bristol Breathe
Bristol's Green Councillors are working with different organisations across Bristol because we all share a common we all share a common interest - we need to breathe clean, healthy air. Click here to find out about the 5 point plan for change that they have put together

POST 16 NEWS

Apprenticeship Opportunities
We are receiving a lot of notifications about local apprenticeship opportunities which you and your child might like to investigate. Even if your son/daughter is progressing into the sixth-form or going to college next September, researching possibilities now can help provide a focus for Post-16 studies, as students are increasingly considering higher level apprenticeships as an alternative way to achieve degree level qualifications. Advanced level apprenticeships are open to students with good GCSE results. Please click here to view the opportunities currently available

Year 12
This week BBC Wildlife Filmmaker Dr Emma Brennand came to speak to Y12 about Planet Earth II. Emma worked closely on the project and inspired students with stories about warding off komodo dragons in Indonesia and making sure drone cameras weren't taken out of the sky by eagles in Scandinavia! Several students were able to speak to Emma about her career path after the talk.
Click here to read more about the visit

Recent Letters Home:
| | |
| --- | --- |
| Topic (week ending 4/11/2016) | For the attention of: |
| | All Students |
| | Year 9 Students |
| | Year 7 parents and carers |
| | Year 7 |
| | Year 8 German students - deadline 4 November |
All files are in PDF format. You need Adobe Reader to open these files.
You can download Adobe Reader for free from adobe.com/reader