Weekly Mailing Friday 18 November 2016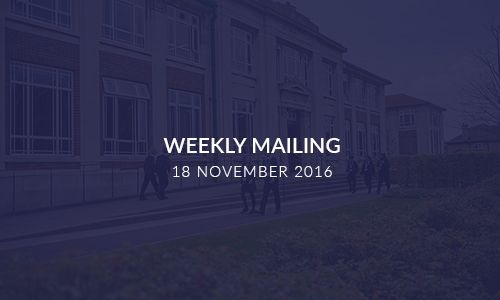 Dear Parents / Carers
I am pleased to update you on events that have taken place this week and to let you know about some of those that will take place in the near future.
Ms Jo Butler
Headteacher

SCHOOL NEWS

KS3 Information
Family Consultation Day
Year 7 Family Consultation Day took place on Thursday 17 November, giving parents and carers the invaluable opportunity to meet with their child's tutor to discuss how the students have settled into their new environment. The day was a well attended and productive one and the Year 7 team would like to thank those who braved the wind and rain to get to us.
Information Evenings for Parents/Carers
There will be three information evenings for parents on Tuesday 22 November, Tuesday 29 November and Tuesday 6 December. The purpose of the evenings will be to share the changes in the way in which the school will report to parents and carers about their child's progress in each of their subjects. Parents and carers are invited to attend one of the sessions depending on which date is most convenient for them. The sessions will commence at 6.00pm in the main hall (please access via school reception) and will finish by 7.00pm. The last 15 minutes will provide parents with an opportunity to ask any questions. Please indicate your preference for which date you want to attend by clicking here.

KS4 Information
Work Experience Opportunities for Year 10 Students
The following companies have offered work experience opportunities:
Airbus Work Experience Filton Bristol 3-7 July 2017 Deadline date for applications is 27 November. Please click here for more information
Rolls Royce Work Experience - Applications are to be sent in ASAP
Click here for more information
Year 10 Modern Foerign Languages (MFL) Speaking Exams
Year 10 French and German Mock Speaking exams will take place between 5-16 December. Individual class teachers will let their students know specific times. Students are expected to complete a role-play, respond to a photo-card and have a general conversation lasting under ten minutes. Revision material can be found by clicking here
Year 11 - Meningitis
Year 11 students have been given a letter about the Meningitis Vaccination on the Wednesday 23 November. Reply slips need to be returned as soon as possible to tutors.
Year 11 - Parent/ Carer Information Evening- Helping your child through their GCSEs
Monday 21 November, Main School Hall from 6.00 – 7.30pm (please arrive promptly)
Presentations from each core subject area:
Course structure
Exam content
Revision tips and resources
Q&A session
Please click here to let Miss Aiken know if you will be attending, as soon as possible.

Performing Arts Update
Events coming up this term -
Dance Evening 2016 - Tuesday 29 November 7.00pm
Dance Evening celebrates the success of Dance in the school. Performances are from all age ranges, including exam classes, and demonstrate the variety, skill and joy that can be found in Dance. Click here for more info.
Christmas Concert - Tuesday 6 December - 7.00pm
This is always a joyous and exciting event that gets everyone in the Christmas spirit! Click here for more information.
Tickets for both of these events are on sale now Via Wisepay at £5 Adults/ £3 Concessions
Cotham Performing Arts Network
Dance Evening Tuesday 29 November, and Christmas Concert Tuesday 6 December.
CPAN are looking for any parents or carers of pupils who are taking part in either of these events who would not mind giving up 15 minutes of their time during the interval to help serve refreshments. If you are willing to do so please click here to email us with the event you are able to support. Thank-you!
Drama 'Work of the Week'
This week goes to Hatty Pelligrino in 7EM. Click here to view
Shakespeare in Schools Festival - JULIUS CAESAR
The Year 9 cast of Julius Caesar performed at the Tobacco factory on Monday 14 November as part of the Schools Shakespeare Festival. Click here for more info

PE/Sports Update
Please click here to view all of this week's results from; Year 8 Rugby Festival, Year 8 Netball Festival, Year 11 Bristol Netball Quarter Final and Junior Sportshall Athletics, along with information about all of the Fixtures for the week ahead.
Fifa Tournament - Friday 25 November
Please click here for details

POST 16 NEWS

Forthcoming Post-16 Open Events:
City of Bristol College - College Green site - Saturday 26 November 10.00am - 2.00pm
South Glos. and Stroud College - all sites - Thursday 1 December 5.30pm - 8.00pm
This is the last chance this year to see round these colleges and ask about courses, so please go if your Year 11 son/daughter is interested in doing a college course next September and has not yet been to an open event.

COMMUNITY NEWS

"Big decisions, tough choices"
Don't miss your chance to talk to Bristol's Mayor face to face about the city's financial situation at one of their events across the city. Bristol City Council has predicted that it will face a funding gap of at least £92m by March 2022 if it tries to carry on running services the way they are at the moment. The council's ideas for beginning to bridge this gap have been published as part of its draft Corporate Strategy. These changes are likely to have a direct effect on a large amount of people across the city so don't miss your chance to have a say. The consultation is live and runs until 5 January 2017.
The Mayor is asking local people to come forward and let him know what matters to them and share any ideas or solutions they might have. All events are free but space is limited so book now to save your space.
Cop Shop
The Police department are running a pop-up 'Cop Shop' on the 1st floor of the Mall Galleries, Broadmead, Bristol City Centre. Near WH Smiths and Boots.
The theme of the cop shop will be crime reduction. Amongst other crime reduction stalls there will be a "Who stole Christmas?" themed crime scene for members of the public to visit and try and solve the crime looking at all the clues. Correct answers entered into a prize draw. Suitable for all ages.
Prizes will also be awarded for winning posters brought along in person as follows
1. Primary Children are asked to design a poster about reducing crime at Christmas. A4 with name, age, school and a contact number on back please. Bring down to the Cop Shop between dates below.
2. Secondary school students are asked to design a poster about internet safety. A4 with name, age, school and a contact number on back please. Bring down to the Cop Shop between dates below.
Other agencies will also be involved in promoting various ways for keeping us safe in our communities.
The Cop Shop opens on Fri 25 November until the 21 December and follows normal shop opening times.
Bristol Shares Reading
Bristol Shares Reading group starts next week at Redland Library. Click here for more details

RECENT LETTERS HOME

| Topic (week ending 4/11/2016) | For the attention of |
| --- | --- |
| | Year 9 Students |
| | Year 7 |
All files are in PDF format. You need Adobe Reader to open these files. You can download Adobe Reader for free from adobe.com/reader