Weekly Mailing Friday 25 November 2016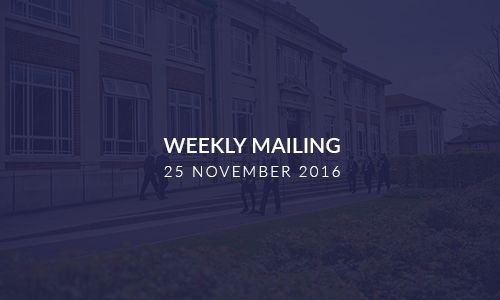 Dear Parents / Carers
I am pleased to update you on events that have taken place this week and to let you know about some of those that will take place in the near future.
Ms Jo Butler
Headteacher

SCHOOL NEWS

Parent Governor Election Update
We have received four nominations, for the one vacancy on the school's governing body, being Massimo Bonaddio, Gareth Edmunds, Hannah Russell and Henrietta Wilson. Click here to read about the candidates.
Voting slips are being sent out Friday 25 November 2016. The ballot box will be in the main reception from 8.00am to 4.00pm daily from Monday 28 November 2016 until 2.00pm on Friday 9 December 2016 when the count will take place.
Christmas Card Competition Results
Thank you to all the students who took part in "Design the 2016 Cotham School Christmas Card". We were very pleased with the number of entries and the really good designs which made it difficult to choose a winner(s) but here they are:-
Highly Commended:
Gregory Cony 8SME, Amina Birdi 7EM, Roxanna Thomson 7EM, Ruari Halson 8SME, Peter Medus 9SWH, Fern Cory 7GM, Dorian Erlic 7GM
These students win House points and a gift voucher. Click here to see the amazing designs.
The Winners are:
Huge congratulations to Prerana Nerlige Prashanth 7ID for her winning design. I particularly liked the use of the school shield in the middle of the design. Congratulations also to Mackenzie Westlake 8KBO, joint winner with her unusual Christmas tree design which I found quite striking.
Prerena and Mackenzie win House points, a gift voucher and 20 prints of their card for their use. I am sure you will agree it is amazing to see so much talent and thank you to the students for engaging in the competition.
House News
Each House is collecting gifts to support a different local charity during the holiday period. We are collecting gifts for the 0-16 age range. The one thing that all these causes have in common is "providing hope and showing kindness towards others"
Gifts that are donated do not need to be expensive but they do need to be new, in their original packaging and unwrapped.
Each House will have a box in the Hub for students to place their donated gift in.
The deadline for collections is Monday 12 December. The House that has shown that they are the most charitable will be rewarded with treats and time to watch a film in the final week of term.
Click here to see which charity each house is supporting. to see which charity each house is supporting.
Second Hand School Uniform Sale
Good quality donated uniform will be available to buy at the Year 10 Subject evening on Thursday 1 December between 7pm and 8pm. The sale will be in the lower corridor of the old building to the left as you enter through reception. Each item costs only £1 and is a great way to replace uniform in the last couple of years of school. Proceed are used for the benefit of all students.

KS3 INFORMATION

KS3 Information Evenings for Parents/Carers
The information evening on the changes to grading structure went very well. You can see the presentation here.
Unfortunately there were some problems with the google form to record when you would like to attend so please click the link here to record which day you would like to come to.
There will be two further information evenings for parents on Tuesday 29 November and Tuesday 6 December. Parents and carers are invited to attend one of the sessions depending on which date is most convenient for them. The sessions will commence at 6.00pm in the main hall (please access via school reception) and will finish by 7.00pm. The last 15 minutes will provide parents with an opportunity to ask any questions. Please indicate your preference for which date you want to attend by clicking here. The purpose of the evening is to share the changes in the way in which the school will report to parents and carers about their child's progress in each of their subjects and to provide parents and carers with advice on supporting their child's progress.

KS4 INFORMATION

Year 11 - Parent / Carer Information Evening - Helping your child through their GCSEs
Thank you to those parents who were able to attend the session on Monday 21 November. Representatives from English, Maths, Humanities, Science and Modern Foreign Languages gave information and advice on revision in their subjects. The presentation from the evening can be found here. The Year 11 Curriculum Booklet will be available to parents shortly.
Year 11 Mock Exams
Year 11 Mock Exams commence on Monday 28 November. A copy of the exam timetable can be found here. Students have been given a copy of their own individual timetable which details when their exams will occur when a clash exists. We ask all parents to support their children with revision this weekend and to ensure that all students are fully equipped for each exam. A copy of the exam rules can be found here.

PERFORMING ARTS UPDATE

CBBC Voice Over Stars
On Monday 7 November, Year 8 pupils Abdurahman Jama, Umer Hussain and Bilal Malik visited television studios in Bristol to record voice overs for a new CBBC programme that will be broadcast in the coming months. Click here for more information.
Events coming up this term -
Dance Evening 2016 - Tuesday 29 November 7.00pm
Dance Evening celebrates the success of Dance in the school. Performances are from all age ranges, including exam classes, and demonstrate the variety, skill and joy that can be found in Dance. Click here for more information.
Christmas Concert - Tuesday 6 December - 7.00pm
This is always a joyous and exciting event that gets everyone in the Christmas spirit! Click here for more information
Tickets for both of these events are on sale now Via Wisepay at £5 Adults/ £3 Concessions
Cotham Performing Arts Network
Dance Evening Tuesday 29 November, and Christmas Concert Tuesday 6 December
CPAN are looking for any parents or carers of pupils who are taking part in either of these events who would not mind giving up 15 minutes of their time during the interval to help serve refreshments. If you are willing to do so please click here to email us with the event you are able to support. Thank-you!

PE/SPORTS UPDATE

Please click here to view all of this week's result from; Year 7 boys' annual Bristol Schools 5-a-side competition, Year 7 Girls' Football, and Post-16 Netball along with information about all of the Fixtures for the week ahead.
Last weekend an enthusiastic group of Year 12s accompanied by some excited staff ventured to the Quantock hills for the first of many training walks for the Ten Tors in May. Click here for more information

POST 16 NEWS

All Year 11 students intending to apply to North Bristol Post 16 Centre need to have their application in by the deadline next Friday 2 December.
Year 13 Parents' Evening is on 8 December 5.00-7.30pm, please ensure appointments are being made.
Year 13 Mock Exams are running from Tuesday 3 January - Friday 6 January 2017. Tuesday 3 January is an INSET day for some staff but Year 13 Mock exams will be taking place in the following subjects on the afternoon of 3 January - Psychology, Economics, Computing, Government & Politics, and Ancient History.
Year 13 Spanish Cultural Exchange
From 19 - 22 November 16 students and staff travelled to Tres Cantos near Madrid to spend 5 days living with families and immersing ourselves fully into Spanish culture and language. Click here for more information.
Juvenes Translatores Translation Contest 2016
On 24 November 4 year 13 students from Cotham - Betty, Matt, Leo and Zack took part in a European translation challenge organised by the European Commission - They translated texts from French and Spanish into English simultaneously with other young people across the world. We have our fingers crossed that one of them will win the competition and travel to the award ceremony in Brussels in April!
Bright Sparks - School Aged Work Experience Programme
Launched in 2013 our bespoke programme was developed to allow school students from a variety of backgrounds to gain skills and experience by participating in workshops and group projects, presenting to business people as well as experiencing life in a busy law firm. It forms part of our commitment to PRIME to offer fair access to quality work experience. Each summer we provide 24 work experience placements, 12 students per week, aimed at Year 10 to 12. We very much welcome applications from a wide range of schools.
Our dates for 2017 are as follows:
Students will be required to apply on-line via our website and applications are now open and will close on Sunday 29th January 2017. Since the launch of our programme we have received very positive feedback from the students themselves, parents and teachers.
Further information about both programmes is available on our website at: www.burges-salmon.com/about-us/culture-and-values/corporate-responsibility/working-with-schools

CO-OPERATIVE NEWS

Click here to read the Co-operative schools weekly mailing

COMMUNITY NEWS

"Big decisions, tough choices"
As you may be aware the Council has launched a consultation aimed at stimulating thoughts and ideas from Bristol residents on how council services can be run in future. The consultation asks people to consider the ideas the Council is putting forward on making approximately £92m of savings over the coming five years and to suggest their own ideas or amendments. Click here to read more.
Bristol St Andrews Bowling Club
Would like to invite you all to their annual Christmas Concert on Saturday 10 December 7.00pm. Please click here for more information.
Computer Re-use Scheme:
Bristol City Council operates a scheme through the City Innovation Team and local company Byteback where eligible people can get a refurbished Council computer, monitor, keyboard and mouse from as little as £50. The eligibility criteria are quite broad and include families with a child on free school meals. To find out if you could be eligible please click here
Cop Shop
The Police department are running a pop-up 'Cop Shop' on the 1st floor of the Mall Galleries, Broadmead, Bristol City Centre. Near WH Smiths and Boots.
The theme of the cop shop will be crime reduction. Amongst other crime reduction stalls there will be a "Who stole Christmas?" themed crime scene for members of the public to visit and try and solve the crime looking at all the clues. Correct answers entered into a prize draw. Suitable for all ages.
Prizes will also be awarded for winning posters brought along in person as follows
1) Primary Children are asked to design a poster about reducing crime at Christmas. A4 with name, age, school and a contact number on back please. Bring down to the Cop Shop between dates below.
2) Secondary school students are asked to design a poster about internet safety. A4 with name, age, school and a contact number on back please. Bring down to the Cop Shop between dates below.
Other agencies will also be involved in promoting various ways for keeping us safe in our communities.
The Cop Shop opens on Fri 25 November until the 21 December and follows normal shop opening times.
East Group Library Newsletter
Click here to find out what is happening in your local library

RECENT LETTERS HOME

| Topic (week ending 25/11/2016) | For the attention of: |
| --- | --- |
| | Year 9 Students |
| | Year 7 |
All files are in PDF format. You need Adobe Reader to open these files. You can download Adobe Reader for free from adobe.com/reader