Weekly Mailing Friday 2 December 2016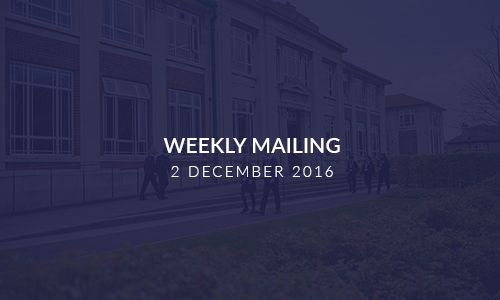 Dear Parents / Carers
I am pleased to update you on events that have taken place this week and to let you know about some of those that will take place in the near future.
Ms Jo Butler
Headteacher

SCHOOL NEWS

Changes to Student Entry/Exit from School
A reminder that students will now be exiting school only from the Cotham Road exit. Parents and carers are respectfully asked not to park on Cotham Lawn Rd and to arrange to drop off/collect children from Cotham Road or Hartfield Avenue. This is due to the increasing problems we are experiencing with traffic congestion and stopping and parking in Cotham Lawn Road at the end of the school day and the health and safety risk this poses to students, staff on duty and to our neighbours.
The Cotham Road entrance/exit was actually designed as the new main exit for students when the school was refurbished a few years ago and we plan to build a new student reception area in the lobby there during Terms 3 and 4.
End of Term Arrangements
Last Day of Term on Friday 16 December
This will be a non-school uniform day for students who should bring their £1 to school in the morning to be collected for charity.
There will be a whole-school House assembly for Years 7 to 11 where House Trophies will be presented.
Students will then be dismissed from school at 12.30pm.
Later start for Students on Wednesday 4 January 2017 (Start of Term 3)
On the first day of Term 3 there will be a late start for all students in Years 7 -12 to allow essential staff training to take place.
The morning will start at 9.45am for these students.
Year 13 mock exams will carry on as normal on this day.
Lost Property
The Lost Property will be available for parents/carers to look through on THURSDAY 8 DECEMBER from 8.00am to 12 noon. Please enter through the Main Entrance on Cotham Lawn Road. Anything not claimed will be donated to local charity shops, and not kept in school.
Please remember to name ALL your child's property so that when things are mislaid their owner can be identified and items returned to them, where possible.
House News
Each House is collecting gifts to support a different local charity during the holiday period. We are collecting gifts for the 0-16 age range. The one thing that all these causes have in common is "providing hope and showing kindness towards others"
Gifts that are donated do not need to be expensive but they do need to be new, in their original packaging and unwrapped.
Each House will have a box in the Hub for students to place their donated gift in.
The deadline for collections is Monday 12 December. The House that has shown that they are the most charitable will be rewarded with treats and time to watch a film in the final week of term.
Click here to see which charity each house is supporting.

KS3 INFORMATION

KS3 Information Evenings for Parents/Carers
There will be one further information evening for parents on Tuesday 6 December. The session will commence at 6.00pm in the main hall (please access via school reception) and will finish by 7.00pm. The last 15 minutes will provide parents with an opportunity to ask any questions. The purpose of the evening is to share the changes in the way in which the school will report to parents and carers about their child's progress in each of their subjects and to provide parents and carers with advice on supporting their child's progress.
KS3 Maths Assessments
Key Stage 3 Maths assessments will commence soon. Details are below;
Year 7 Assessments
French side - Wednesday 14 December
German side - Tuesday 13 December
Year 8 Assessments
French side - Tuesday 13 December
German side - Tuesday 13 December
Year 9 Assessments
Will be after Christmas, teachers will inform them the date of their test.
Assessments are in class and an hour long. Students will need to bring all the usual maths equipment including a calculator. Detailed revision lists are provided on the department website: http://cothamschoolmaths.weebly.com
We would encourage students to work through the list alongside their textbook to help support their revision. In addition, we provide extra support through the Maths Homework Club after school every Monday and Wednesday in A209. Students are encouraged to bring revision along and are able to gain help on difficult topics.

KS4 INFORMATION

Click here for revision techniques and resources for core subjects which is from the Information Evening on 21 November 2016
Year 11 Key Date:
Year 11 Prom will be on 23 June 2017 at Ashton Court. Next instalment of £11.50 is due by 10 February.
Bright Sparks - School Aged Work Experience Programme
Launched in 2013 our bespoke programme was developed to allow school students from a variety of backgrounds to gain skills and experience by participating in workshops and group projects, presenting to business people as well as experiencing life in a busy law firm. It forms part of our commitment to PRIME to offer fair access to quality work experience. Each summer we provide 24 work experience placements, 12 students per week, aimed at Years 10 to 12. We very much welcome applications from a wide range of schools.
Our dates for 2017 are as follows:
Week 2: 3–7 July 2017
Students will be required to apply on-line via our website and applications are now open and will close on Sunday 29 January 2017. Since the launch of our programme we have received very positive feedback from the students themselves, parents and teachers.
Further information about both programmes is available on our website at: www.burges-salmon.com/about-us/culture-and-values/corporate-responsibility/working-with-schools

PERFORMING ARTS UPDATE

Christmas Concert - Tuesday 6 December - 7.00pm
This is always a joyous and exciting event that gets everyone in the Christmas spirit! Click here for more information
Tickets for both of these events are on sale now via Wisepay at £5 Adults/ £3 Concessions
Cotham Performing Arts Network:
Christmas Concert Tuesday 6 December
CPAN are looking for any parents or carers of pupils who are taking part in the concert who would not mind giving up 15 minutes of their time during the interval to help serve refreshments. If you are willing to do so please click here to email us with the event you are able to support. Thank-you!
Dance Evening 2016
Click here to read about the 2016 Dance Evening and to view the accompanying video

PE/SPORTS UPDATE

Click here to view all of this week's results including: Junior Basketball and Year 9 Netball Festival along with information about all of the Fixtures for the week ahead.

POST 16 NEWS

Forthcoming Post-16 Open Events:
Access to Music College (Hengrove) - Wed 7 December 6.00pm and 7.00pm (book place online)
BTEA (Bristol Technology & Engineering Academy) nr Bristol Parkway Station - Thursday 8 December 6.30pm to 8.00pm
City of Bristol College - South Bristol Skills Academy (Hengrove Park) - Thursday 8 December 5.00pm to 7.30pm

COOPERATIVE NEWS

Click here to read the Co-operative schools weekly mailing

RECENT LETTERS HOME

| Topic (week ending 25/11/2016) | For the attention of: |
| --- | --- |
| | Year 9 Students |
All files are in PDF format. You need Adobe Reader to open these files. You can download Adobe Reader for free from adobe.com/reader