Weekly Mailing Friday 9 December 2016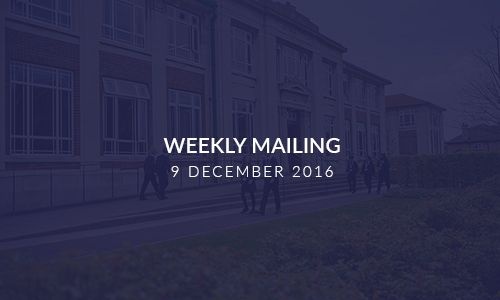 I am pleased to update you on events that have taken place this week and to let you know about some of those that will take place in the near future.
Ms Jo Butler
Headteacher

SCHOOL NEWS

End of Term Arrangements
Last Day of Term on Friday 16 December
This will be a non-school uniform day for students who should bring their £1 to school in the morning to be collected for charity.
There will be a whole-school House assembly for Years 7 to 11 where House Trophies will be presented.
Students will then be dismissed from school at 12.30pm.
Planning Application
Cotham School has been fighting to regain the use of Stoke Lodge Playing Fields, on which we have a 125-year lease, against a Town and Village Green (TVG) Application. The Inspector who led a public enquiry on the TVG in the summer has finally recommended to the Council to reject the TVG application, which goes in our favour. But this is not the end of the process. We would like to ask you to lend your support to our campaign. Please click here to find out how you can help.
Later start for Students on Wednesday 4 January 2017 (Start of Term 3)
On the first day of Term 3 there will be a late start for all students in Years 7 -12 to allow essential staff training to take place. The morning will start at 9.45am for these students. Year 13 mock exams will carry on as normal on this day.
Communication between school and home
My Ed app is available for both Android and iPhone. Please download this app as it enables free communication between parents and the school. Whilst we are only using it for messaging at present, the app is packed with fantastic features which we hope to use further in the future including the ability to view timetables, key dates achievements and reports. Please have a look at this video for more information. If you have any questions about this new method of school communication, or if you do not wish to be communicated with in this manner, please call Cotham School Reception on 0117 919 8000
Parent Governor Election Results
The result are in!
Congratulations to Gareth Edmunds on being elected the new Parent Governor:
Results are:
Massimo Bonaddio - 26 votes
Gareth Edmunds - 56 votes
Hannah Russell - 38 votes
Henrietta Wilson - 23 votes
Thanks to all the candidates for taking part
Feedback
We value your feedback. Please click the link here to tell us what you think about your child's education at Cotham School.
House News
Each House is collecting gifts to support a different local charity during the holiday period. We are collecting gifts for the 0-16 age range. The one thing that all these causes have in common is "providing hope and showing kindness towards others"
Gifts that are donated do not need to be expensive but they do need to be new, in their original packaging and unwrapped.
Each House will have a box in the Hub for students to place their donated gift in.
The deadline for collections is Monday 12 December. The House that has shown that they are the most charitable will be rewarded with treats and time to watch a film in the final week of term.
Click here to see which charity each house is supporting.
School Uniform For Sale
Harris's School Uniform will NOT be in school on Thursday 15th December. They will be back in school, the second week of term, on Thursday 12th January from 2.30pm to 4.00pm to sell uniform.
Second Hand Uniform will be available for purchase on the first Friday of the new term, Friday 6th January, from 2.30pm to 4pm. Money raised from these sales goes into a fund that will be used to the benefit of all students in the school. If you have any good quality used uniform you wish to donate, particularly larger sizes, please drop washed items in to reception.

KS3 INFORMATION

Key Stage 3 Information Evening
Thank you to those parents that were able to attend the KS3 Information Evening which ran on 22 November, 29 November and 6 December. The purpose of the evening was to share the changes in the way in which the school will report to parents and carers about their child's progress in each of their subjects and to provide parents and carers with advice on supporting their child's progress. A copy of the presentation used on the evening can be found here.
Key Stage 3 Maths assessments
Will commence soon. Details are below;
Year 7 assessments
French side - Wednesday 14 December
German side - Tuesday 13 December
Year 8 assessments
French side - Wednesday 14 December (this is a correction to the previous published date)
German side - Tuesday 13 December
Year 9 assessments
These will be after Christmas, teachers will inform them the date of their test. Assessments are in class and an hour long. Students will need to bring all the usual maths equipment including a calculator. Detailed revision lists are provided on the department website: http://cothamschoolmaths.weebly.com
We encourage students to work through the list alongside their textbook to help support their revision. In addition, we provide extra support through the Maths Homework Club after school every Monday and Wednesday in A209. Students are encouraged to bring revision along and are able to gain help on difficult topics.

KS4 INFORMATION

Year 10
Access to Music Work Experience opportunity with Creative College. Click here for more information. If students are interested please see Mrs Arnold, applications need to be submitted by school
Year 11 Prom
Year 11 Prom will be on 23 June 2017 at Ashton Court. Next instalment of £11.50 is due by 10 February
Year 11 - Parent / Carer Information Evening - Helping your child through their GCSEs
Thank you to those parents who were able to attend the session on Monday 21 November. Representatives from English, Maths, Humanities, Science and Modern Foreign Languages gave information and advice on revision in their subjects. The presentation from the evening and the Year 11 Curriculum Booklet referred to on the evening can also be found here.

PE/SPORTS UPDATE

Click here to view all of this week's results including: Cross country, Sportshall Athletics, Basketball, Yr7 Girls 5-a-side festival and Yr9 Rugby, along with information about all of the Fixtures for the week ahead.
Bristol Schools Bouldering Competition Round 2
Click here for more information.
Student achievements outside of school
Congratulations to Erin White who took part in the West Country Gymnastics league competition. Click here for more information.

POST 16 NEWS

Post-16 College Successes
Twelve Cotham P16 students have been invited to interview at Oxford and Cambridge Universities. Their subjects are far-ranging, from History of Art to Engineering, and we wish them the best of luck with their interviews over the next few weeks!
Post-16 Students starring in the Sunday Politics West show Sunday 4 December 2016 and on the radio
Click here to see our Post-16 students taking part in last week's Sunday Politics West show when the sugar tax on fizzy drinks and sweet items was being discussed. The Post-16 Centre appears at about 41 minutes into the programme. Particular thanks to Maria Imran and Theo Davies. On Monday 5 December, Theo Davies, one of Bristol Youth Council's mayors was on the BBC Radio Bristol Breakfast Show and you may have also spotted the students on Points West, BBC.
One on Monday 5 December when the Youth Council met.

COMMUNITY NEWS

Click here to find out more about the Bristol Pound Christmas market, which takes place on Saturday 10 December.

CO-OPERATIVE NEWS

Click here to read the Co-operative schools weekly mailing.

RECENT LETTERS HOME

| Topic (week ending 25/11/2016) | For the attention of: |
| --- | --- |
| | Year 9 Students |
All files are in PDF format. You need Adobe Reader to open these files. You can download Adobe Reader for free from adobe.com/reader