Term One at Cotham Post 16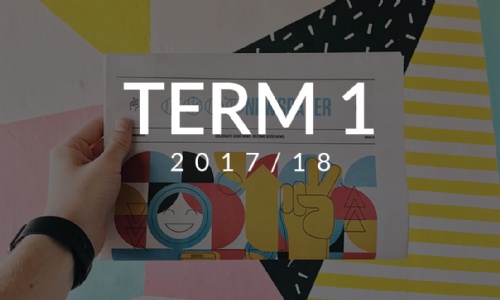 Term one was very busy for staff and students at the Centre. We welcomed back our Year 13 students, as well as inducting our new Year 12 cohort. The induction programme gave new students a chance to navigate the support, resources and facilities at the Centre, as well as enjoying a few 'getting to know you' activities. Later in the term, this was followed by the launch of our 'Social Club', a mixer event for those new to Cotham School. 70 students joined together to make new friends and get quizzing! For any parents who missed the event, the slides from our Year 12 parent induction evening can be located here.
We also launched this year's Core programme for our Year 12 learners, starting with BBC journalist and presenter Susannah Streeter, who spoke to Year 12 about her career journey. She gave the students advice about which degree courses to choose, how to present effectively and how to be resilient in the face of adversity. The students asked lots of intelligent questions, and Susannah's advice on presentation skills was well received by our Student Vice President candidates who made speeches to their peers after her talk. We also welcomed a representative from the Teenage Cancer Trust who came to to break down myths about cancer and teach our Year 12 students how to protect themselves against it where possible.
We are also delighted to announce that the final members of this year's student leadership team have been elected. After a rigorous week of interviews, hustings speeches and campaigning, Ezzat Elnagmi (Vice President) and Romi Bhakerd (Leader of Outreach and Communications) now join the existing student leadership team. We look forward to seeing the change they will enact, in representation of their peers, over the course of the academic year.
As students hit the ground running with their studies, we have also seen a range of additional learning opportunities launch. In performing Arts, music theory classes and the Cotham Chorus choir are now in full flow. Our 2017-18 enrichment programme was also launched, with dozens of opportunities available for students to sign up to, ranging from sports to mentoring programmes. All of our students commit to at least one hour per week of enrichment to bolster their personal development.
As our students look ahead to the future, we are also delighted to announce that aspiring Year 13 Medicine students Muna Jama, Ardo Hassan and Maria Imran have been accepted onto the incredibly competitive Bristol Scholars Programme. Upon completion of the programme, they will receive an offer at a lower level than other students, along with bespoke tutoring and a bursary to support their learning.
We also extend our warm congratulations to Cotham alumni student Chlo Winfield, who won the Emma Humphreys Memorial Prize. Chlo was one of the founders of our RESPECT Project and she received the award at the Feminism in London Conference. The prize is awarded for raising awareness about violence against women and children.
Finally, we would like to offer a reminder to our parents about two important websites. WisePay is the Online Payment Service at Cotham School which allows you to pay for trips and visits as well as to add credit to your child's Cashless Catering account. If you have any queries about your account please contact the support team by email. We also encourage you, if you have not already done so, to visit www.myfreeschoolmeals.com to check if your child is eligible for Free School Meals and to contact Ms Webb Dickin directly if you are interested in applying for the Post 16 Bursary.
We offer our congratulations to our students for the successful start they have made to this academic year and are very much looking forward to what term two will bring.