Term Six at Cotham Post 16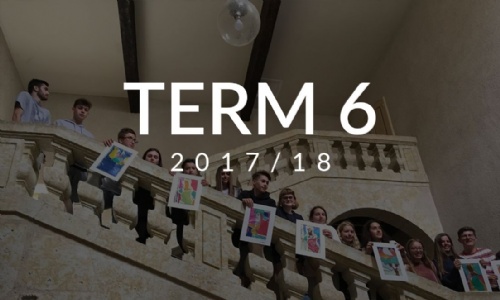 Term six at Cotham P16 has rewarded our year 12 students for their mock exam endeavours with a wide range of enrichment activities.
While the trip was technically at the tail end of term five, this term we celebrated the return of our Year 12 French students from their cultural exchange visit to Auch, South West France. All students who took part gained significantly in confidence as they embraced the idea of total immersion by speaking in French from the moment they touched down in Toulouse, to when they left to fly home. All of them made a very positive impression on the French families and teachers. We are excited to be partnered with this school and are looking forward to welcoming them back in October, providing them with the full Bristol immersion experience!
In other MFL achievements, students Maisie Pearce, Eddie Groves, Sasha Kay, Isabel Everington, Chloe Aspin, Jack Clarke and Emily Galliford attended a 6th Form MFL social at Clifton College earlier in the term. They joined in with enthusiasm and proved themselves to be fluent, confident speakers of French in what could have been an intimidating environment for some!
The travel continued with our Visual Arts students who went on a four day trip to the beautiful city of Venice accompanied by Visual Arts staff. The students enjoyed soaking up the Italian culture and visiting galleries such as the Peggy Guggenheim, Palazzo Grassi and the Gallerie dell'Accademia to gain inspiration for their new upcoming projects.
A thank you must also go to all family, friends and staff that supported and attended the P16 End of Show. It was a fantastic exhibition that highlighted the hard work and talent of our Year 13 students across a range of creative disciplines. We wish all our Visual Arts leavers the very best of luck with their future careers and hope that the creative skills they have developed will be a strong foundation for whichever path they choose to take.
On a final trip note, congratulations to our Year 12 biologists for a productive and enjoyable field trip to Slapton. All students rose well to the challenges faced and their teachers feel confident that these efforts will have a very real impact on their biology progress over the next year.
The Year 12 Futures 18 conference was, once again, a fantastic opportunity for students to explore a huge range of Post 18 progression opportunities and to access advice and resource to help them to achieve their ambitions. Speakers from a wide range of local and national services, as well as universities came to talk to students about next steps. Our thanks to parents who attended the Parent Engagement Group meeting to support this event. If you were unable to attend, the presentation slides can be found on the NBP16 website. Following on from this meeting, if any parent or student has any questions regarding the Student Disability Allowance please email kemptc@cotham.bristol.sch.uk - this is a pot of money available to support students with any medical, mental health or Specific Learning Difficulties (e.g. Dyslexia) as they progress into higher education.
Evolve came in to deliver a Core Programme session to Year 12 students called "I'm the one you want" and gave some fantastic, practical advice around making an impact on prospective employers and universities with a personal statement. We hope that all students who have engaged with this programme this year have found the sessions enriching and valuable.
Finally, we offer our congratulations to our newly elected Student President and her team! Svenja was elected by the student body to her new post and will be supported by committee leaders Ellie, Izzy and Abeir. We look forward to recruiting our Vice President and remaining committee leader from our new Y12 cohort in September.