Term One at Cotham Post 16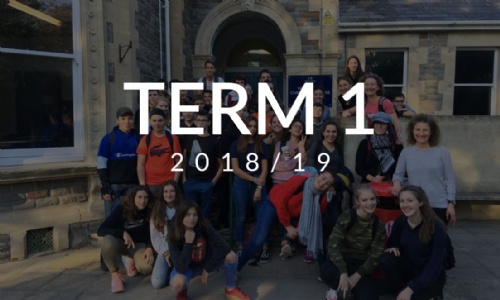 This term we have been thrilled to welcome our new Year 12 students to Cotham School. 205 new students joined us at the start of the year, some from Cotham School and many from schools around the city (and the world!) Students enjoyed a week of induction activities, including 'speed friending' and a session on building resilience, as well as induction to a range of P16 resources including IT and the libraries. This was followed by a social mixer for all students new to Cotham, who competed in a quiz. It is extremely important to us that our students are fully supported in the transition to post sixteen, so we were delighted to get feedback from our new students, which included this:
"My family and I have been blown away by what a fantastic Sixth Form Cotham has been so far - I've felt so welcomed and everyone is so friendly and helpful! [...] I was so nervous about starting Sixth Form and it turns out I had no need to be - right now I honestly feel the happiest I have felt in years and feeling settled at school has had a massive role to play in that."
At the start of term, we also launched our enrichment programme to Year 12 students. All of our students take part in at least one hour of enrichment per week, and this year we have a broader range of activities on offer than ever. This includes participating in project groups like Authentic Biology and Young Enterprise, as well as various pursuits in sports and the performing arts. We also have our largest ever number of students signed up to do classroom support, mentoring and reading buddy schemes with students in the lower school.
There has also been a great start to subject enrichment, with our Year 13 French students welcoming their exchange partners from Lycée Agricole Auch Beaulieu-Lavacant for the return leg of their trip. Students spent a day exploring Bristol together (including the harbourside and a round of mini golf) before returning to school for some quizzing and some Pieminister pies!
Core Programme this year has been packed with exciting opportunities for Y12 students. Ex-student and YouTube influencer George Thompson came in to share advice with our students, from his study of Tai Chi and Taoist philosophy, on how they can "love their learning". We have also had talks from Dynamic Adventures on learning in the outdoors and a special session as part of our celebrations for Mental Health Awareness Day, with many of our staff and students showing their support by wearing yellow.
This term we also saw students go head-to-head to represent the Centre in student politics. Our congratulations to Zahid who, after a well fought campaign, was elected by his peers as Student Vice President. Congratulations also go to Abdifatah who takes on the role of Leader of Outreach and Communication. They join Svenja, Abeir, Ellie and Izzy to make up this year's Student Leadership Team. All students are encouraged to sign up to committees and get involved. Further information is on the leadership board in the canteen.
It has also been a busy term for our students thinking about their futures. A coach full of students attended the UK Apprenticeship and University Search Fair at Ashton Gate at the start of October, where they were able to explore a range of possible pathways and talk with local and national providers. We have also seen our Year 13 students busily sending off their UCAS applications, with a record number this year submitting applications to Oxbridge universities and medicine courses. Students will gain support next term at a regional mock-interview event to prepare for the next stage in the process.
Finally, a huge thank you to our students who supported us with our Open Evening events at the end of term. An enormous number of ambassadors braved the cold to don their purple t shirts and support at the event. They were praised widely by our visitors as the best possible advert for the Centre.
As always, we wish our students a restful half term break. Please encourage them to look out for the wellbeing bulletin, being emailed to them at the end of term. Pressures can build as winter sets in and it is important that all of our students know what help they can access should they need it.