Term Two at Cotham Post 16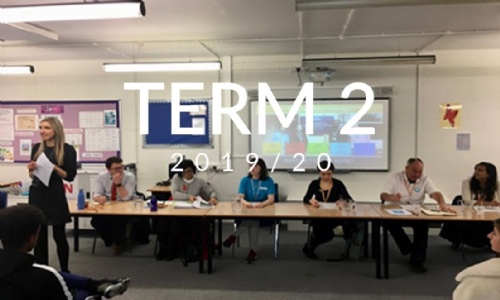 Two terms in to the academic year, our Year 12 students are now fully into the stride of P16 learning. It was a pleasure to meet with so many parents and carers during our Family Consultation Day last month. We have received some very positive communications from parents and students that they are pleased with the transition and that they are enjoying their lessons. We are pleased that the importance of student wellbeing has been clearly noted by our newest students, especially at what can be a difficult time of year for many. Please remind students to check their emails at the end of this week for our termly Wellbeing Bulletin, full of links and resources which may be of value over the break.
It has been a busy term for our Core Programme, starting with a session on Positive Body Image, which taught students how to look after each other and have positive mental health. We were also lucky to host a brilliant session run by the Future Quest on 'Money Management'.
In November, we hosted our first STRIDE lunch of the year, which was an opportunity for students to show teachers and senior staff members their folders and work, allowing them to voice their thoughts regarding their learning and support at the NBP16 Centre. As always, our students were clear and insightful in their reflections, which will feed directly into the development of their learning experience. You should, by now, have had the opportunity to review current progress with your son/daughter by talking through their most recent progress report. If you have any further questions regarding progress, or support available, please contact your son/daughter's tutor for support.
On the 28th of November we held a brilliant Hustings at Charnwood House lead by student ambassadors and chaired by Marianne Cross one of our year 13 students. This was in preparation for the General Election on 12 December. At lunchtime the room was full of students and staff who watched as the 5 parliamentary candidates James Cox (Lib dem), Thanham Debbonaire (Labour), Neil Hipkiss (Brexit), Suria Aujla (Conservative) and Carla Denya (Green) were questioned about topics that were particularly relevant to our students: Brexit, Immigration, Education and the Environment. The students were fantastic and had some excellent questions to ask the panel.
Finally, a big well done to all of our Year 13 students who have submitted a university application via UCAS. This is a lengthy and challenging process and we commend our young people for the effort they have invested in researching their choices and polishing personal statements. Offers are already rolling in and several students have been invited to interview. We collaborated in a city-wide preparation event this term to give a mock interview experience for all students who expressed an interest.
All that remains is to wish our students a restful break. We know our Year 13s will be busily preparing for mock exams early in the new year. However, we urge them all to remember also to take time for rest and recharging over the next two weeks.