Term Four at Cotham Post 16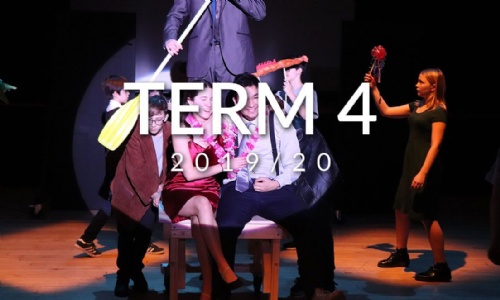 Term four at Cotham Post 16 was certainly a term of two halves. Before talking about the latter half, we wanted to celebrate some of the brilliant activities and achievements of our students at the start of the term.
We cannot talk about this past term without giving huge praise to the Post 16 students who took part in the smash hit school production of 'Our House'. They finished each performance to roaring applause from the crowds and showed commitment and dedication to every part of the production. It was an especially emotional experience for many of the Year 13 students involved, who had been taking part in school productions since Year 7 and were taking their final bows.
The start of term was busy with speakers as part of Year 12's Core Programme. The first, a popular talk from Project Trust about how to plan for a full and productive gap year. Watch a short video presentation here for more information. Students also took part in a workshop with PWC to explore ways to develop their employability and problem solving skills.
The term also brought great success for our Foundation Year students. As part of NBP16's commitment to developing work experience opportunities for all of our students this year, a work placement phase was launched as part of the Level 2 Business Administration course. We could not have been more thrilled with the feedback from employers, who universally commended the young people taking part as mature, hard working and confident. See pictures below of some of them hard at work!
Term four is always a busy term for our Year 13 students when it comes to the submission of non-examined assessment (coursework). The quality or project work this year was exemplary across courses. We must pay special recognition to our talented Film Studies students who have produced final work to such an incredible standard that some are now being submitted to the 2020 Moving Image Awards. You can view one of these films in full here.
The week commencing 16th March brought about huge changes, not just for our students, but for the nation as a whole. We were exceptionally proud of the resilience and maturity shown by our students as they adjusted to these dramatic changes. Our special commendation goes to our amazing Year 13 cohort who found their school careers at a sudden and unexpected end after so many years of hard work leading up to their final examinations. Year 13 came together on their final day to comfort one another and say their goodbyes, with a promise that we would host a proper send-off for them as soon as government guidance allows for this.
The last two weeks of term were a period of adjustment as our Y12 students adjusted to the new rhythm of online learning and Y13 waited eagerly to find out how their A Levels results would be decided. Despite these uncertain times, we were incredibly proud of all of our students for finding their way through this and supporting one another remotely, whilst ensuring they were following government guidance on the lockdown measures.
The Easter break was always going to be a very unusual one, feeling quite different to the break we had all planned for. Nonetheless, we were glad that the timing of this gave our students an opportunity to put their mental health first and focus on this as the 'new normal' settled in. Resources were shared with students for supporting mental health and wellbeing, as well as our top picks for enrichment / volunteering opportunities and a guide for keeping young siblings busy (with many of our students taking on an increased caring role).
Students and parents are encouraged to keep a close eye on emails for further updates, as we have them. Wishing you all the very best of health.