Term One at Cotham Post 16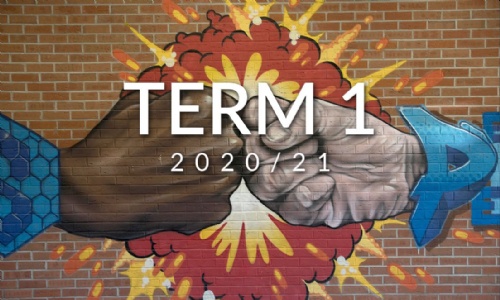 This term we have been thrilled to welcome our new Year 12 students to Cotham School. 217 new students joined us at the start of the year, some from Cotham School and many from schools around the city (and the world!) We made sure to welcome all students back on site with a carefully planned induction day to make sure they were kitted out and confident to start their post 16 learning. If you missed it, you can watch our Y12 induction parent/carer video update here. We have also been incredibly proud of the way Year 13 have risen to the challenge of their return to school and conducted themselves brilliantly in lessons and beyond. Our Y13 parent / carer video update can be viewed here.
At the start of term, we also launched our enrichment programme to Year 12 students. All of our students take part in at least one hour of enrichment per week, and this year we have made sure that the offer is still broad and relevant, whilst keeping things safe for everyone involved. Students have opportunities to get involved in First Aid, sport, Authentic Biology, Respect Ambassadors, online courses from Future Learn and Eton X and even a range of new student-run activities launched including dance, 3D game design and film club!
Core Programme this year has had to evolve a little with the times! All year 12 students have been signed up to Votes for Schools which will give them a weekly session on some of the biggest issues facing society today. They will have the opportunity to engage interactively in these sessions, using their vote to affect real change.
This term we also saw students go head-to-head to represent the Centre in student politics. Our congratulations to Kadija who, after a well fought campaign, was elected by her peers as Student Vice President. Congratulations also go to Harry who takes on the role of Leader of Facilities and Resources and Mariam who takes on Co-Leader of Equity and Diversity. They join Sami, Soha, Sophie and Kaushiki to make up this year's Student Leadership Team. All students are encouraged to sign up to committees and get involved. Further information will be coming out next term.
As well as dealing with all the changes brought about by the COVID 19 pandemic, we are also working closely with our students to move forward on our commitment to make the NBP16 centre and antiracist space. You can read a summary of our work to date here. Of this work, we are most proud of our students who gave their voices to help us understand what they believe our antiracism work needs to look like, all year round. For the last week of term we are handed over our Twitter, Facebook and Instagram accounts to 'share the mic' and amplify the voices of our amazing students.
Finally, a massive thank you to all our brilliant students who helped us to put together our virtual Open Event. It was a huge amount of work and we were so happy that our students (Year 12 and 13) stepped up to support and get involved, making sure that new students get a proper feel for life at the Centre. You can watch the Open Event film here.
As always, we wish our students a restful half term break. Please encourage them to look out for the wellbeing bulletin, being emailed to them at the end of term (you can preview a summary of this here). We understand that the current context will bring many pressures and worries, so this is a reminder of all the support they can access. We would also encourage you to keep an eye on our weekly careers bulletin as there are a HUGE number of exciting opportunities currently available. You can view this here.