Term Three at Cotham Post 16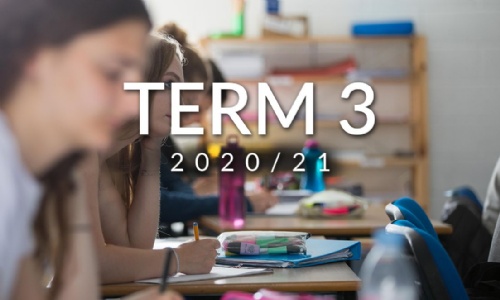 This term has been a lot quieter on site than we planned! After the announcement of national lockdown and school closure in the New Year, our brilliantly resilient students made the transition to remote learning and we have been exceptionally proud of the way they have handled themselves throughout. A particular well done to those students who sat BTEC exams during the first two weeks of term and to all those who have self referred for academic mentoring, accessing the help on offer to adjust to these new learning patterns.
The feedback from Post 16 teachers about student engagement in their online lessons has been glowing and was reflected in a really positive online parents evening for Year 13 students. Nonetheless, we really miss having our students on site and look forward to welcoming them back when it is safe to do so!
Despite things being so quiet onsite term has been a busy one for all things future planning. We have been very impressed by the maturity of the large number of students in Year 13 who submitted their university applications by the end of January, showing fantastic ambition and aspiration in their choices. We were also pleased to see so many students (and their families) tune in to our Student Finance Webinar, co-hosted by the Widening Participation team at Bristol University. For anyone who missed it, the webinar can be viewed here on our website. It's not only our Y13 students who have been planning ahead, with 22 of our Year 12 students attending this year's Oxbridge Conference online last month.
There have been lots of individual achievements this term, with special congratulations to Charlotte who was successful in gaining one of only 20 places in the National Youth Dance Company. We wish Charlotte the best of luck for the first residential, taking place over half term. Successes are not only limited to current students, but we also congratulate former students Renwar and Sam who were featured this month by Bristol Live for their new business venture The Oat Float (@oatfloatbristol). We are looking forward to seeing the float up and running and are hoping they will stop by and visit us at Charnwood when restrictions allow!
The Cotham Post 16 Student Leadership Team have been busy this month planning ways to keep our students supported while at home. They have been discussing how to mark important events for our community, like Holocaust Memorial Day and LGBT+ History Month, as well as sharing ideas and resources to help our students manage their workload and wellbeing. And it's not just our student leaders who have been pursuing enrichment opportunities during lockdown, with a record number of students registering for allied healthcare work experience as well as a range of work experience opportunities in other sectors, shared weekly with students through our P16 Work Experience Bulletin.
Core Programme has continued online this term through the Votes for Schools programme, with topics explored like 'Will learning ever be the same again?' and 'Is misinformation a significant threat to public health.
At this time in the term we would usually be issuing our end of term Wellbeing Bulletin. Given our current context, this resource has been replaced by our assembled Top Tips for Managing Wellbeing During Lockdown. We encourage all our students to review this resource carefully as it covers a range of topics and ideas to help manage in these unprecedented times. We would also encourage you to keep an eye on our weekly careers bulletin as there are a HUGE number of exciting opportunities currently available (many that can be accessed online and for free). You can view this here.
All that remains is to wish our students and their families a well deserved half term break. Stay safe.