Term Five at Cotham Post 16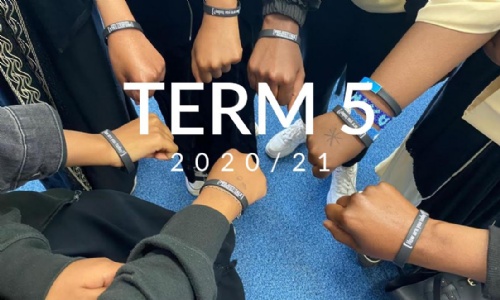 This term has been an especially busy one for our Year 13 students and those on our Year 12 Foundation course. We continue to be exceptionally proud of our students as they navigate the final phase of their Post 16 education and undertake summer progress assessments to help inform their teacher assessed grades. It has been a very long term for them, but we were really happy to have the chance to say goodbyes at the Covid-safe leavers event, hosted by the Student Leadership team.
Our Year 12 Foundation students ended their course with a bang, competing in a Dragons Den style event to launch a new soft drink. The competition was fierce and students pitched impressively. It was a close run race, but the winners did themselves proud with their 'Fruity Fizz' pitch and claimed a trophy for their efforts!
This term our Year 12 students have been given their mock exam timetables and are now looking ahead to their first proper exam hall experience, having missed out on sitting GCSEs in 2020. Study Skills workshops have been running throughout this term to help our Year 12s develop their assessment preparation skills. These have included themes such as 'Knowledge Organisers' and 'Managing Procrastination'. Students are reminded to also make use of the Post 16 Assessment Support Hub, which contains a huge range of resources and materials produced by staff at the Centre to support.
Core Programme has continued online this term through the Votes for Schools programme, with topics explored like 'Do we underestimate the impact of local elections?' 'Will the high street bounce back after the pandemic?' and 'Should we be allowed to travel this year?'. Several global organisations engage with the student voice created by this each week and we are proud that our students are being heard in such important national and international conversations.
We have seen student activism extend well beyond Core programme again this term, with many taking on an active role in information sharing and fundraising in response to the evolving picture of the Isreal-Palestinian conflict. As ever, we have been exceptionally proud of our students for engaging actively in discussions and action around a topic which can feel very complex and emotionally charged for so many. In support, we ended the term with a focused 'Big Question' looking at the conflict in more detail and developing vocabulary around the issue. The resource shared with students can be downloaded here.
Further to this, our Respect Ambassadors have continued developing their work this term in response to the issues which have been brought back into the spotlight via the press coverage of the Sarah Everard murder and the Everyone's Invited website. This term the Respect Ambassadors received training from PROJECT:TALK from Bristol University. They were taught active listening techniques, rules about confidentiality and role played to practice. The Respect Ambassadors are looking forward to being able to use their enhanced skills as they continue to build their profile over the next term and looking ahead to the easing of Covid restrictions allowing work with the lower school to resume.
This term our Year 12 students attended the launch of UniFrog, a database full of Post 18 opportunities including apprenticeships and University courses. It allows students to compare options, helps them to make the best choices and submit the strongest applications. This was launched during Core Programme, but students who weren't able to attend were sent a Loom by Ms Musynska to show them how to get started.
As we look ahead to next term and our Futures Conference, we have shared an increased number of opportunities for students to engage with in support of future planning. One Such event was the 'Girls + Maths = Change online event that took place at the start of May, hosted by Pioneer (a non-profit organisation that aims to nurture girls' passion for Maths beyond the school curriculum). We were pleased to have several of our students join this event, hosted by Morgan Stanley, in order to build their confidence in pursuing the subject at university and beyond.
With so many opportunities available, it is worth students (and parents and carers!) regularly checking our Careers Bulletin, which is updated and shared with students weekly, via their school email. A reminder that one such event, taking place during half term (1 June from 9:30-13:00) sees the University of Bath holding a UCAS Application Conference. This will cover personal statement writing, choosing the right course and information about how UCAS works and the overall application process. There are limited spaces so please book using this link if interested.
As always, we wish our students a restful half term break. Please encourage them to look out for the wellbeing bulletin, being emailed to them at the end of term (you can preview a summary of this here). We understand that the current context will bring many pressures and worries, so this is a reminder of all the support they can access.