Term One at Cotham Post 16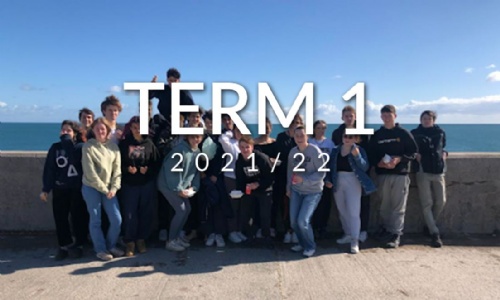 We have been beyond excited to see life at Cotham Post 16 return to something closer to 'normality' this term. With renovations in Charnwood to both Upgrade and the Post 16 Study Cafe,
the student community here (all 424 and of them!) have settled into the academic year with energy, enthusiasm, maturity and focus.
The big excitement of the term was the recruitment of our fantastic new student leadership team. As ever, we were blown away by
both the quality and integrity of applications. A large number of students put themselves forward for positions, working through a rigorous process of applications, references, interviews, campaigning, hustings speeches and the final day of balloting. More than 70% of the student population cast their votes and we were thrilled to
announce Abdi as our new Student President, aptly supported by his new VP Will. Congratulations also go to Lola and Charles (Lead Respect Ambassadors), Kadija and Muna (Co-Leaders of Equity and Diversity), Abdi (Leader of Learning and Wellbeing), Frankie (Leader of Events and Charity) and Hemlata (Leader of Facilities and Resources). The students are looking forward to recruiting their committees next term and starting to make their impact on the NBP16 community.
There are a huge number of student achievements to celebrate this term, including Tom Who competed in the 2021 School Games. After overcoming huge challenges in the run up to the event, including a road traffic accident during training, Tom got a 4th in the Team Sprint (managing a PB on his time and missing 3rd place by only 0.1 seconds). He also secured 4th in the Madison and the mixed team finished 5th overall. In other cycling successes, we wish the best of luck to Jayden who is going to participate to the "Ride for their life", a bike ride that will start from London and will get to Glasgow for COP26. In other student achievements, congratulations to Hemlata for her ongoing excellence in environmental advocacy work. You can hear her radio interview on BBC Sounds here (from 34 mins in). Finally, congratulations to Lucas who has received such commendation for his HE+ project that he has been asked to present this at Cambridge University in November. Finally, congratulations to the 21 students who have now submitted early UCAS applications with hopes of studying at Oxford or Cambridge University, and/or pursuing pathways in medicine, veterinary or dentistry. We are keeping everything crossed for you!
This term we also saw the launch of our enrichment programme with a HUGE range of opportunities open for students to pursue this year. We have four new student-run enrichment courses running, alongside a wide range of other opportunities. You can learn more about what is on offer here.
The geography team kicked off of the year with their residential field trip to Slapton. It has been such a boost for staff and students to see field trips up and running again and we are so pleased that our geography students got the chance to extend their learning in a practical, functional and professional environment.
A huge thank you to the number of students who turned up on a cold October evening to support our Open Event for prospective students. The event was a huge success and this was in no small part down to our Post 16 students who came to greet our visitors, guide them through the site and share their learning experiences. The NBP16 community is completely unique and it is our incredible students who make it this way; in fact, we had so much engagement from students that we ran out of ambassador t-shirts!

Finally, we want to thank our students for their positive engagement in some important work this term, further developing the safety and inclusivity of our space. All students engaged with a workshops on the topic of sexual violence and harrassment in September, delivered by the Bristol Univeristy Law team. The real impact was felt when such a large number of students then signed up to be Respect Ambassadors and we look forward to supporting them in their ongoing work in this important area. What's more, we have enjoyed some superb student-led sessions to celebrate Black History Month and have used this time to gather a range of student voice and ideas around developing these values beyond this annual event. You can read more about our equity and diversity work, with an October 2021 update, here.
All that remains is to wish our students a well deserved half term break. We look forward to our Futures Launch with Y12 next term and would encourage students to make sure they keep an eye out for the weekly Post 16 Futures Bulletin, which is emailed to them directly but can also be accessed here at any time. This break will be an important opportunity for our students to get some rest and take time for self care. We encourage them to have a look through the ideas and resources in our end of term Wellbeing Bulletin, which will be emailed to them today and you can preview it here.