Term Five at Cotham Post 16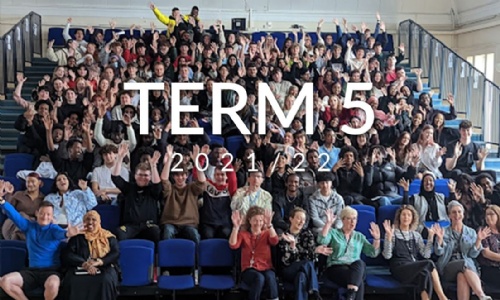 It has been a short but busy term at Cotham. Term five started with our brilliant Year 12 students sitting their mock exams. We were exceptionally proud of how they handled themselves through this experience after a very unusual experience of GCSE assessment. The level of industry and focus in Charnwood was really noticeable as students got themselves ready for this experience and worked closely with staff to access support where they needed it.
Core Programme this term has been filled with discussion and reflection as we had visiting speakers from Stand Against Violence who came to our students to talk about the signs and realities of domestic violence, as well as support systems available. Later in the term, students also engaged with a session exploring Neurodiversity and the celebration of difference. Look out for more on this topic in the coming months as we continue our work to celebrate difference and diversity at Cotham Post 16.
George Thompson (ex Cotham student) has delivered a six week mindfulness course to students this term, with great engagement and attendance. Lots of students have embraced the opportunity to take a moment for reflection and meditation, especially those with exams this year. To find out more, have a look at his Youtube page with over 180,000 subscribers. In addition, we have seen great engagement from Year 12 in the enrichment programme, with congratulations to 12SPA for the overall best engagement this term (and a champions' breakfast as their reward).
Another fantastic student project came to an end this term. 6 students from Year 12 have participated in a doctoral research
project funded by the Economic and Social Research Council and led by a previous teacher at Cotham (Harriet Hand) who now studies as a postgraduate researcher at the School of Education at the University of Bristol. Titled: Stirring up new ideas, this was a transdisciplinary, participatory and experimental research project to explore mapping as a tool in the practice of everyday creative thinking among 16-17 year old learners. For six weeks during March and April, the students worked as co-researchers, exploring mapping techniques in a bespoke space in the Watershed. You can view a short film about the project here.
Towards the end of term, we saw our Year 13 students out in style with a Leavers assembly on 20 March. It was brilliant to see the whole year group come together to celebrate what they have achieved and to say their goodbyes ahead of exam season. You can watch the farewells from the staff here. As exam season is now well underway,
we wish all of our students the very best of luck. We have no doubt their hard work will pay off and we are all still here to support throughout the process. We look forward to celebrating with you all on results day in August. Don't forget that there is a significant amount of information and material available to help students with there revision on the NBP16 Assessment Hub
We wish our students a restful half term break. Please encourage them to look out for the wellbeing bulletin, being emailed to them at the end of term (you can preview a summary of this here). This time of year can bring extra worries around exams for Y13 and progression for Y12, but there is lots of support available. In addition, loads of opportunities for work experience, summer schools and internships are now being advertised, so keep checking the Futures Bulletin for exciting opportunities now open for applications.