Term Six at Cotham Post 16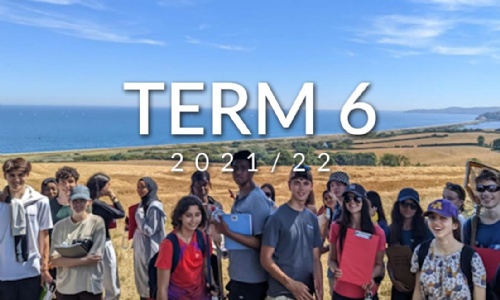 As we melt into the summer break, it is important to reflect on a term which has been jam-packed with student achievement.

Firstly, huge congratulations go to Abdillahi and Ilyas, who took part in the European Youth Basketball Cup in Barcelona. Not only did they gain a place in the tournament, they took on the USA in the final, AND WON! This is the most prestigious youth basketball tournament in Europe and features teams from all over the world. Congratulations Ilyas and Abdi - we could not be more proud.
Extra curricular achievement reached far and wide this term, culminating in the sensational Cotham production of Carl Grose's offbeat music 'Dead Dog in a Suitcase'. Congratulations to Harry, Charles, Asha, Kai and Amelia who delivered stand-out performances in their lead roles.
Course linked achievements also provided great cause for celebration with the end of year exhibition for our art and photography students drawing big crowds. The standard of work on display was exceptional and we are thrilled that so many of our talented artists are going on to continue their studies in this field next year. We also saw our biology students undertake their field work in Slapton during one of the first residentials we have been able to run in Post 16 for a while. Students thrived in the hands-on environment, giving themselves a brilliant grounding as they move into the second year of their studies.
This term we also saw our Year 12s draw their attention to the future with our annual futures conference. The conference focused on P18 plans and covered a variety of options including, university, apprenticeships, employment and travel. The students were brilliant and it was fantastic to see so many of them getting excited about opportunities open to them after they leave us. We were so pleased to be able to deliver this event face to face as students have had an online version for the last couple of years. From September, we will be launching our new student hub which is a central space for students to access all of the information and support around Post 18 options. In the meantime, the Futures Bulletin is packed with summer opportunities.
We also had a brilliant morning with Year 12 off timetable looking at a range of personal development areas linked to their futures. Students engaged very positively in a group session focused on the way we learn. As well as looking at study skills and stress management, students also explored neurodiversity and what inclusive learning looks like. They then moved on to tutor seminars where they engaged further with the Cotham School Respect Project to explore topics of gender expression and body image.
The Respect Project is just one of the many ways that our student leadership team has brought energy and debate into our community this year. In September, we look forward to launching the election process to find our new team. We encourage all students to consider getting involved, as there are a wide range of opportunities, including for those who prefer making their noise behind the scenes.
As always, we wish our students a restful summer break. Please encourage them to look out for the wellbeing bulletin, being emailed to them at the end of term (you can preview a summary of this here). We are exceptionaly proud of everything that has been achieved at Cotham P16 this year and look forward to continuing those successes in September, with lots of exciting plans afoot for the next academic year.