Term Three at Cotham Post 16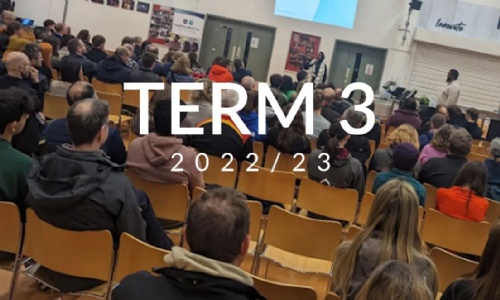 Term 3 has been another busy one at Cotham, with a large number of student achievements to celebrate. Notably, we congratulate our brilliant Year 13s who have been flooded with offers this term from universities and apprenticeship providers. After so much investment in the application process, it is fantastic to see their hard work and commitment paying off in this way. Particular congratulations to our five students who have secured offers to study at Oxford or Cambridge after a gruelling series of applications, interviews and admissions tests.
Moving into this next phase of life can feel very daunting, but we had brilliant engagement with our Year 13 Futures morning at the start of February, where students participated in sessions around student finance and budgeting for independent living. We also had some brilliant discussion groups to explore issues around sexual harassment and gender
based violence; we were incredibly proud of the level of maturity, engagement and insight shown by students throughout. Thank you to parents and carers who came to our student finance evening this term. All resources are now available via the parent engagement section of our website.
Another huge Year 13 achievement this term that deserves to be acknowledged is the incredible maturity, resilience and industry with which our Y13 students faced their mock exams in January. It must be acknowledged that this year group, who were unable to experience external examinations for their GCSEs, have shown great resilience and we were exceptionally proud of the way they carried themselves through this experience. The important thing for all students to remember is that mocks are a learning experience and the feedback from teachers, alongside how students act upon this, are the most important elements.
For our Year 12 students, mock exams are now not far away and will be taking place from 24-28 April. Students will receive
their timetables next term and can start planning revision schedules. An important reminder that support with organisation, revision and a wide range of other study skills can be sought from our brilliant Academic Mentors in Upgrade. We also encourage Year 12 to familiarise themselves with the assessment support materials on the Upgrade page of our NBP16 Hub, which contains a huge bank of bespoke resources and information, put together by NBP16 staff and students, to support the assessment process, including managing anxieties. A reminder that all students eligible to use a reading pen for exams can borrow one of these from Ms Beaver for any in-class assessments to practise using them.
There are so many individual student achievements to recognise. Notably we offer our congratulations to our Spanish and French debating teams who took part in a debating competition with a number of Bristol schools this term. Both teams made us exceptionally proud, with the French team taking the win on behalf of NBP16.
We also proudly congratulate Y12 student (and Vice President) Eleanor for her successful run in 'There is Nobody Else in The World' at the Bristol Old Vic. We also celebrate our brilliant chess club (now one of the best attended enrichment groups) who have been triumphant in competitions this term.
It has been another busy term for the celebration of identity. The P16 PRIDE group planned and delivered a fantastic assembly to students to celebrate LGBTQ+ History Month and we also enjoyed a range of celebrations for World Hijab Day.
A huge congratulations to our foundation students who successfully completed their work experience placements during the last week of term. Students secured placements in a range of different settings including and we look forward to hearing all about their experience when these students return to us next term.
Core sessions this term have provided a range of opportunities for Year 12 students. In January they participated in a session on volunteering delivered by the Raphael Centre. The aims of the session were to explore the value of undertaking volunteering alongside studies and the wide range of opportunities available in Bristol. The session also covered how volunteering hours can contribute to the Duke of Edinburgh Award. Later in the term there was a session which provided an opportunity to explore the idea of mindset: a habitual or characteristic mental attitude that determines how you will interpret and respond to situations. Looking at the research of various psychologists, including Carol Dweck, the session looked at the differences between a fixed and growth mindset and how to be in control of your own 'mastery'. The final session of the term was delivered by the brilliant Making Generation R. They support injured veterans to take their inspiring stories about overcoming adversity to schools, frontline workers and military organisations across the UK. Here is a snippet of what students experienced in the session, which focused on resilience.
All that remains is to wish our students a well deserved half term break. With futures on the mind, we would encourage students to make sure they keep an eye out for the weekly Post 16 Futures Bulletin, which is emailed to them directly but can also be accessed here at any time. This break will be an important opportunity for our students to get some rest and take time for self care. We encourage them to have a look through the ideas and resources in our end of term Wellbeing Bulletin, which will be emailed to them today and you can preview it here.