2017 Authentic Biology Symposium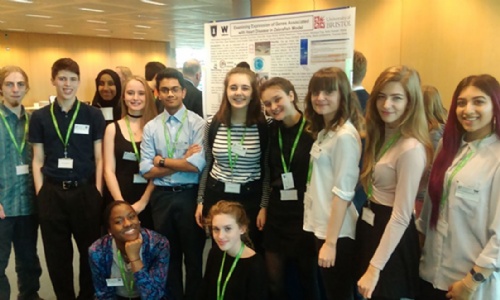 On Tuesday 21 of November, twelve students from Cotham School made their way to Euston Road, London to present their research at the 2017 Authentic Biology Symposium. Over the past year our students have been working with the University of Bristol's Biochemistry Department researching the expression of genes that are associated with Heart Disease.
In the Wellcome Trust Headquarters, against the back drop of the Shard and the London Eye, our students presented their research to nine other groups of post 16 students who each had completed their own research project.
Following the presentation, our students were questioned on their research techniques, the significance of their findings and the challenges they faced during the process. The four speakers, Poppy Winfield, Atchchuthan Kanagasabai, Ardo Hassan and Maria Imran, were well rehearsed and answered all of the questions confidently.
Over lunch the students mingled with staff and students from other schools. Then finally the day ended with a number inspiring talks from several guest speakers, most notably from Professor Sir Jim Smith, director of the Wellcome trust.
The students that worked on this incredible project were Poppy, Eden, Eden, Eve, Peter, Monique, Alice, Angel, Atchchuthan, Cecily, Jed, Shardai, Imoleayo, Maria, and Ardo.
Well done