Year 8 Enterprise Day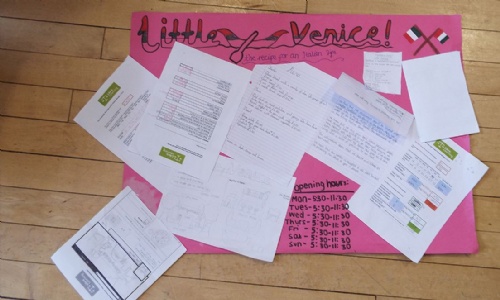 On Tuesday 1 May, all Year 8 students were off timetable for an Enterprise Day, during which they worked in teams to come up with ideas for a new restaurant. Using skills learnt in the Year 7 Skills programme, to which they added financial planning, marketing and menu creation, they rose to the challenge and came up with a wide range of imaginative bids.
In the afternoon, the winning proposal from each tutor group was presented to a panel of judges composed of businesswoman Jackie Matthews, Governor Delroy Hibbert and our own Business Manager, Suzanne Priest. Mrs Matthews gave feedback on her observations from the morning, noting mature team-working, creativity and thoughtfulness, which showed in the range of diets provided for and proposals for fair wages and profit-sharing with charities, whilst Mrs Priest gave feedback on the business side of the winning proposals.
Congratulations go to Abdi, Hatty, Katilyn and Fin from 8EM who won the financial backing of Mrs Matthews for their Italian restaurant Little Venice.
We hope that some of our Year 8 students will be inspired to become successful entrepreneurs in the future!