New Cultural Exchange Visit to Auch, South West France 16-20 May 2018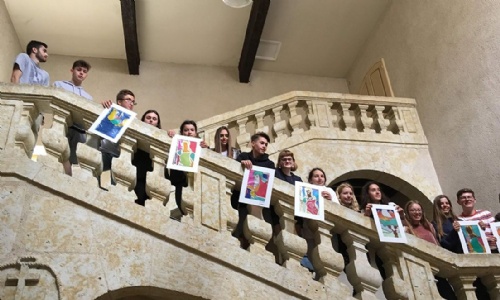 On Weds 16 May, 8 students from Year 12 took part in our first visit to Auch in France for 5 days of total immersion in French language and culture. Our partner school is very different to Cotham, being a rural agricultural school where students board during the week because the majority live in villages across the region.
After a very quick visit to La Ville Rose - Toulouse - we drove to Auch and settled into our bunks in the dorms at the school. After breakfast in the cantine with the rest of the school, we walked for an hour through fields to the centre of town and had a very interesting tour of the town and cathedral in French and learnt about the town's claim to fame - le Mousquetaire d'Artagnan! Each student made a stained glass window with their French partner which was a great ice breaker. We were all made to feel extremely welcome by the Headteacher and staff, with games organised by students and a presentation of foie gras and other specialities produced by the school before all being taken out for a three course dinner at a local château!!
On the Friday, students attended lessons and took part in a visit to an essential oils producer with their partners, while the teachers helped students in the English section prepare questions for a visit a local sheep farm! All VERY different to Cotham.
At the weekend, all students were with their partners and families and there were trips to markets, the mountains, the Atlantic coast, farms and local festivals all with amazing food and very very warm and welcoming families.
All students who took part have gained hugely in confidence as they embraced the idea of total immersion by speaking in French from the moment we touched down in Toulouse to when we left to fly home. All of them made me extremely proud, and made a big impression on the French families and teachers. We are so excited to be partnered with this school and are looking forward to welcoming them back in October and providing them with the full Bristol immersion experience… A huge merci to all families involved.
Clare Swayne