Statement from Cotham School on Stoke Lodge Playing Fields ​​​​​​​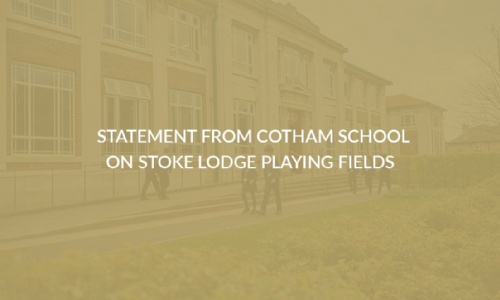 I am delighted to say that we are now in the process of getting back to using our playing fields at Stoke Lodge and I am now able to let you have more details about how we plan to manage and share our playing fields.
It has always been our intention to share the playing fields with local sports groups, the University and members of the public when not in use by the school. This is how we plan to do this:
There will be no public access to the playing fields during school or agreed sports club/group use.
We will have remote controlled gates, and other gates that are locked and unlocked by staff and users.
There will be CCTV on site.
Outside of these times members of the public will be able to use the playing fields area for appropriate activities.
Dogs will not be allowed onto the playing field area.
The plan is to improve the standard of the pitches and there may be times when some areas cannot be used by anyone (including the school).
Once the site is ready for school and sports group use we will establish a user group including sports clubs, the University and community groups.
The success of our vision of sharing our playing fields will depend on us trusting members of the public who will use the playing fields. We hope that we will not be proved wrong in having this level of trust and optimism.

For more information click here to access the Frequently Asked Questions that are also published on the school website.
Please accept our apologies for the technical difficulties that have delayed the sharing of this week's mailing until today.
Kind regards
Jo Butler
Headteacher