Little Shop of Horrors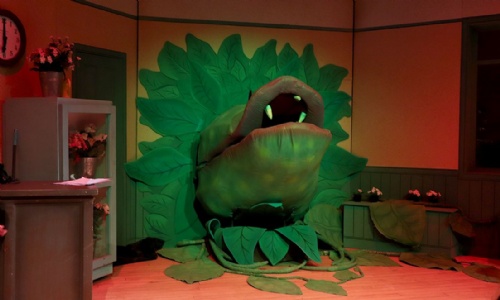 Last week saw a cast of students from Year 7 to Year 13 perform to approximately 600 people over 4 nights in this year's whole school musical, Little Shop of Horrors. It was a great week with the students upping their game night after night. It would be wrong to mention any individual performer as they were all ace but a special mention must go to Esther Weisselberg and Peggy Edwards from Year 13 who both assistant directed/produced. The performance would not have happened without them.
The performance was thoroughly enjoyed by members of the audience, "It was excellent".

"I was fortunate to attend the Production of the School Play last Thursday Evening. I was very proud of my Granddaughter who took part but would like to thank everyone involved for all the effort put into produce such a professional performance. I really enjoyed the evening."

One member of the audience has also said "Please may I congratulate everyone (staff,students, others) on the fabulous performance of the play"
Photos are soon to follow. Don't forget to look out for the Performing Arts Summer Sharing coming up in June!