National Careers Week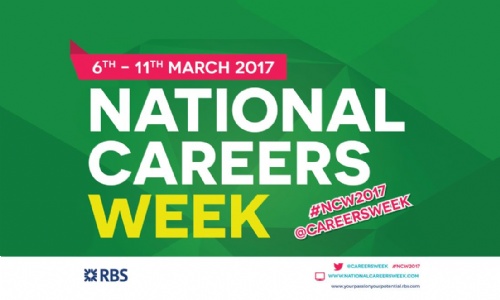 As part of National Careers Week Careerpilot is encouraging young people to find out more about their future options.
Complete their online Treasure Hunt http://www.careerpilot.org.uk/for-advisers/other-free-resources/national-careers-week-2017-treas/ to learn something new about yourself and your future aspirations - and there's a chance to win a £10 Amazon voucher!
Have a look at some inspirational stories from Success at School who have interviewed pilots, nurses, game developers, designers, even dog groomers and everyone in between. They tell us what it's really like to do their job – the ups and downs. See their 60 second Interviews and find out more on their Career Zones pages: https://successatschool.org/careerzones
Not just doctors, nurses and midwives...
If you're interested in working in healthcare, there is a huge range of careers in the National Health Service. See https://www.stepintothenhs.nhs.uk/ for some ideas that might interest you.
More of a creative soul?
This is the website to inspire your future: http://creativeskillset.org/creative_industries - explore the job roles.
You've heard the future is digital but what does that mean in terms of your perfect job?
Here are 2 quizzes that might help you find out...
http://www.bubble-jobs.co.uk/career_portal/digital-career-finder-quiz/ and https://www.thetechpartnership.com/tech-future-careers/quiz/
Prefer doing something useful, practical and team-based? Your future might lie in Engineering - there are so many possibilities with so much potential to rise to the top...
http://www.tomorrowsengineers.org.uk/students/career-finder/