DigiMakers 2017 - @Bristol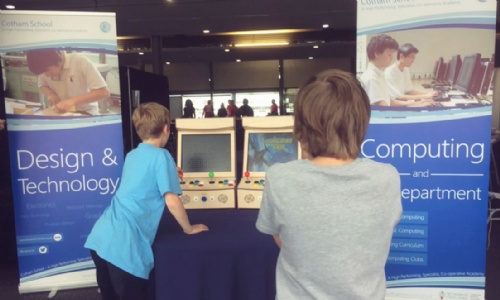 Saturday 3 June saw staff from Cotham run a workshop with students invited to attend from schools across Bristol and the South West. The workshop was funded by the Royal Academy of Engineering (http://www.raeng.org.uk) and developed by the Bristol STEM Teachers Network (http://www.stembristol.co.uk). It is also available as an after school workshop for Bristol secondary schools.
Led by Mr Lawrence from the Design & Technology department the students spent the morning building a desktop arcade cabinet with fully functioning PC inside and a retro style control panel with arcade style buttons and ball top joysticks.
After lunch the students, led by Mr Watts from the Computing department, were taught how to program games using GameMaker, creating their own style PacMan game which they then put on their cabinet ready to play.
Below is a time lapse video showing the build and programming process filmed by one of the students on the day and now that the cabinets are complete we hope to hand them over to the schools so others can start programming even more games to run on them.