Open Evening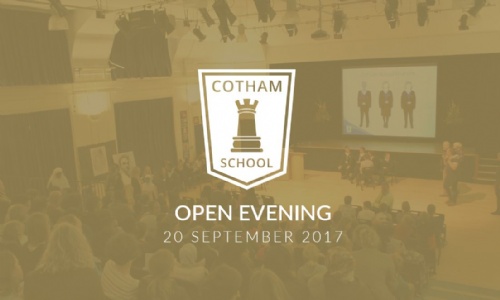 The school opened its doors to prospective Year 7 students and their parents and carers on Wednesday 20 September for our annual Open evening.
We provided a real 'Cotham experience' for visitors and the programme included tours of the school, expertly delivered by Year 8 volunteers, our Year 11 prefects and Sixth Form Ambassadors. Presentations in the Hall included a Headteacher's address, anecdotes and insights from our new Year 7 students and a Samba Drumming performance. Visitors to the school also enjoyed a tasty array of snacks and refreshments in our dining room to showcase the quality of our school meals.
All of the students who represented the school did a fantastic job; many visitors expressing how impressed they were by their enthusiasm and pride in their school and their achievements:
"My daughter and I wanted to thank you for a wonderful open evening that we came to yesterday. We were so impressed by the warmth and openness of your teachers and really appreciated the conversations with the SENCO and Head of History about dyslexia support. Your school comes across as bursting with energy and enthusiasm!"
The Year 7 speakers in the hall who spoke so clearly about their new school deserve special credit. After only two and a half weeks they were confident, a real credit to themselves and showed that they have really become part of our Cotham School community.