A Level Results 2016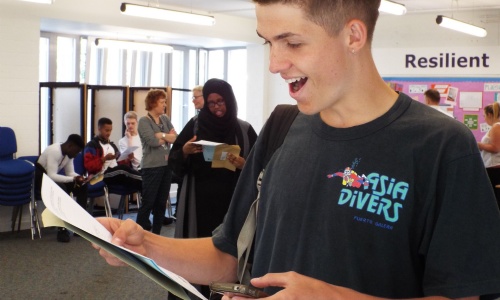 North Bristol Post 16 Centre goes from strength to strength with outstanding A level, Pre U and BTEC results.
Congratulations to all our students as they use their results as a stepping-stone for their ambitious futures.
Marian Curran, Director of the North Bristol Post 16 Centre, commented about this year's A Level results: " We have once again enjoyed scenes of elation and happiness here today as students received their results. We are very pleased to see the percentage of students achieving the highest grades is above the national average. This is true not only at A*-A grades, but also at A, B and C grades. We are particularly proud of our students who have overcome personal adversity to achieve great success. Their hard work, commitment and determination has paid off and the vast majority of students have gained places at their first choice University.
I am proud and humbled by our students' achievements and also delighted for their families who have supported them throughout their Post 16 journey and staff at the Centre who have worked tirelessly to make these achievements a reality.
Our students can be very proud of their excellent results across a whole range of courses offered at the Centre. In the context of the well-documented and greater challenge in A levels and BTECs, to have held our strong position and seen an increase in the highest grades is truly outstanding. We are equally proud of the fact that we support a very broad range of students, including those with modest starting points, making these outcomes and the progress our students make, all the more impressive."
In over 29 subjects there was a 100% pass rate, 38 students achieved A*-A's in 3 or more of their A-levels and 9 students will be taking up their offers of places at Oxford and Cambridge and 11 students, some of whom are from our partner schools, will begin courses in medicine, dentistry and veterinary science. A large proportion of students have successfully secured Russell group university places. This year we have also continued to see a rise in the number of students achieving outstanding results, who have been successful in securing places on competitive and highly prestigious Apprentice schemes, examples of these are with Bishop Fleming and the BBC. Students were also highly successful in their BTEC courses, securing a 100% pass rate with over three quarters of grades at Distinction* and Merit. These results demonstrate that the Centre is continuously providing high quality education and teaching to students in Bristol and the wider Bristol area and more importantly that students feel challenged and supported to achieve their very best. We are particularly pleased that students from partner schools (Fairfield, Henbury, Orchard School and Oasis Brightstowe) have done so well this year.
In Further Maths, Chemistry, Economics, French, German, Mathematics, Ancient History, and in our performing arts and arts based courses the results were brilliant with over 60% of students gaining A*-B grades. Mathematics and science represent 1 in 3 of all entries. The results in these subjects were a real strength of the centre, reflecting the specialisms of the two schools.
We want to congratulate all our students and wish them well as they take up their next steps at university, employment, begin their gap year and their future careers. Our students achievements are supported through comprehensive information, advice and guidance and an enrichment programme, which develops broader skills to enable our students to be successful citizens for the 21st Century.
North Bristol Post 16 Centre will have over 850 students next year, and students are taught at both Cotham and Redland Green learning communities, which are located a quarter of a mile apart. Both learning communities offer a wide range of A-levels and level 2 and 3 courses alongside many opportunities for extra-curricular activities and leadership development.
This is a comprehensive sixth form Centre with a reputation for excellence; students who attend the Centre come from a wide range of schools. Students attending the partner schools of Cotham, Fairfield, Henbury, Orchard School and Redland Green are guaranteed places. However, we also welcome applications from the wider Bristol area, demonstrating our commitment to developing partnerships and links in Bristol and the wider community.
For students who are looking to apply to North Bristol Post 16 Centre for September 2017, our main Open Evening will be on Thursday, 13th October 2016 from 6.30pm to 9.00pm and a subsequent Information Evening is on Wednesday, 3rdth November 2016 from 7.00pm. For further information please go to our website (www.nbp16c.org.uk).
"Cotham students have worked exceptionally hard to achieve a really great set of results and they fully deserve their success. We have an extremely comprehensive Post 16 provision here but our students make great progress whatever their starting points. We are all very proud of their many and varied talents and accomplishments." Ms Jo Butler - Headteacher