Sigma News
Sigma Festive Round up.
This term has been very busy for The Sigma Team. We have been fundraising for our Charity, The Rainbow Centre for Children and are delighted to have raised over £850 with our cake sales, The Smartie Tube Tutor Challenge, Christmas Hats and raffle and the non-school uniform day.
Thank you to the brilliant Sigma Prefects Ishba Mahmood, Frankie Bonaddio, Mathilda Edmunds and Anas Mohamed who have worked so hard this term organising the fundraising events.
Congratulations to the following students who are our Sigma High Flyers this term with the most Cotham Manners House Points
Jasmin Nunn 7 BAK
Hassan Habib 8SL
Sabrina Sharif 9ACL
Amelia Allen 10MAH
Patrick Humphreys 11JLL
The Houses held their first Inter House Bake Off competition. Thank you to the the students who represented Sigma House
Team Sigma
Yr7 BSA Ilhaan Ali
Yr8 ID Kai Sudbury
Yr9 AF Jana Al Masri
Yr10 MAH Louis Hawkins
Yr11JLL Luca Pritchard
Congratulations to Luca Pritchard 11JLL who was the winner of The House Bake Off.
Santa Dash. Congratulations to Nyheam Kefentse 11RG who came in first place for the students.
Sigma Superstars, this is awarded to students who are polite, helpful and show acts of kindness in school.
Congratulations to our fantastic Sigma Superstars.
September Abdi Hassan 8ID
October Abdishakur Abdillahi 8SL
November Waqar Younis 11JLL
December Eleanor Barrett 7BAK
The Houses held a fundraising event for Mogadishu the Capital of Somalia who were hit by a terrorist attack . We created memorial boards and asked students to make a donation and then pin a ribbon to the board to remember those who were affected.Together we raised £200.36 for the appeal.
In January we will be setting a new Tutor Challenge in line with our House responsibility – The Environment. We would like Sigma students to bring in Christmas cards/ greeting cards so we can recycle them for The Woodland Trust. This will go towards points for the Woodland Trust, Green Tree Schools Award Scheme. We currently have our Bronze Award and working towards our Silver.The tutor group who brings in the most by weight will be the winners.
Next year our team of Sigma Tutor Reps and Prefects will be working towards new projects that will support the school environment.
Tutor groups have been voting for their representative for the School Student Council. Tutor Reps were invited to stand for election in their year groups.
Congratulations to the following students, they will represent Sigma on the Student Council.
Year 7 Jasmin Nunn 7BAK
Year 8 Rosa Evans 8SL
Year 9 Harry Giles 9ACL
Year 10 Aineias Arango 10 MAH
Year 11 Sophie Morgan 11JLL
We would like to thank everyone for supporting us and wish you all a happy holiday.
The Sigma team
---
Santa Dash
Sigma Prefects took on the challenge of the Santa Dash!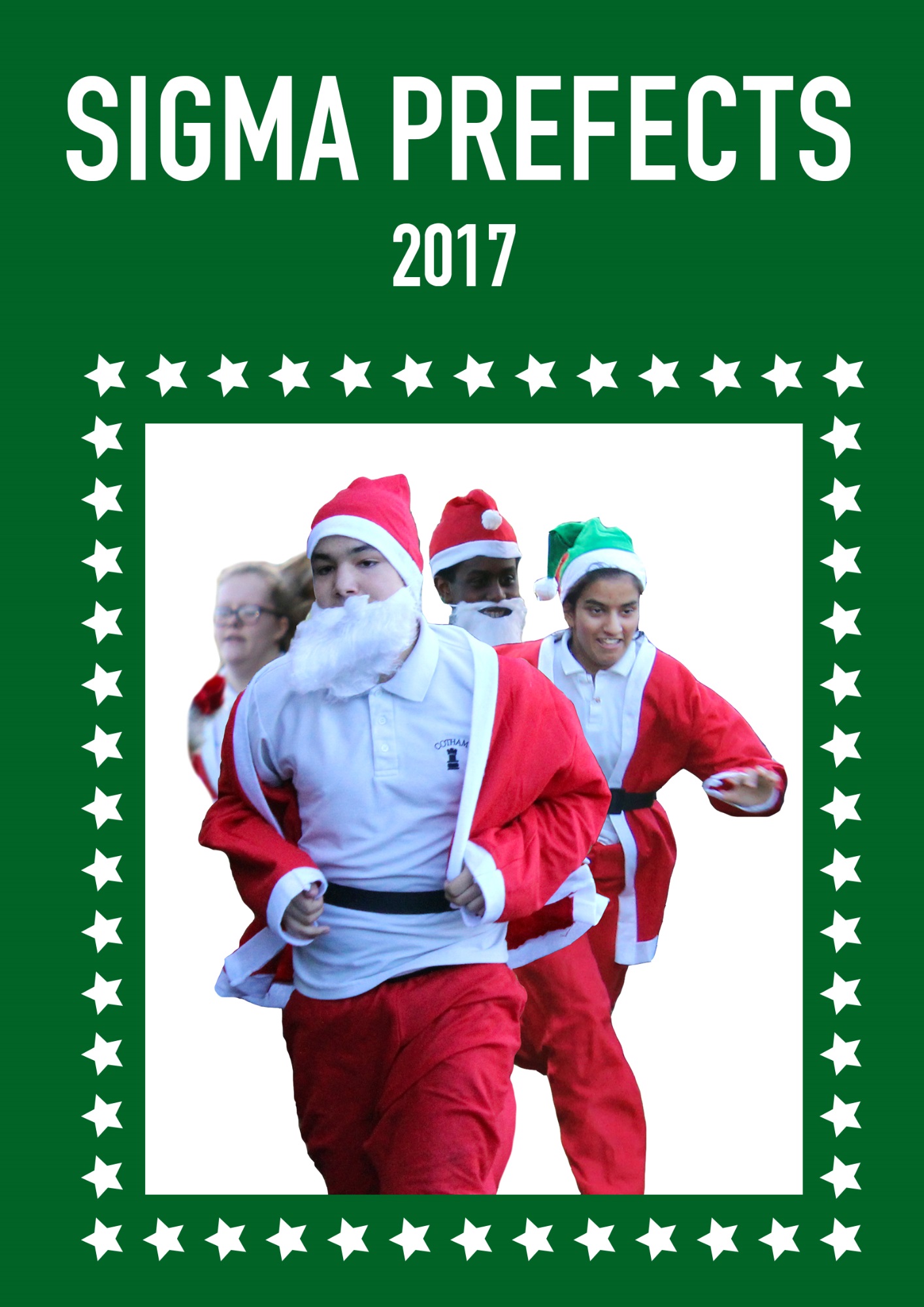 Eggcellent Work
Hana Al Masri 7BSA has been creative with egg boxes and created this wonderful Christmas Tree. Well done Hana, eggcellent work!