Sigma News
Sigma roundup
Our House assembly focused on National Careers Week. We were very lucky to have Correll Johnson, Production Technician Assistant and Darrel Lambert, Junior Production Coordinator from Icon Films who are an award-winning production company. From Animal Planet US' highest-ever rating series, River Monsters, to Emmy-nominated actor (Charles Dance) narrated Savage Kingdom, for National Geographic, they deliver high-end factual content for the UK and international market. We were shown a short film of what they worked on and then we had a Q&A from the Prefects, Louis, Aineias and Paulo. Questions varied from what skills and qualifications they needed, what they enjoyed about their job and what advice would you give to people of our age who have no idea what they want to do when they finish their education. A huge thank you to Correll and Darrel for giving up their time to come in and share their experiences with Sigma. The students really enjoyed it.
Sigma celebrates
We celebrated the success of our Charity Swimathon. Team Cotham Oscar de Havilland, Max West, Rufus Buchan, Jonathan Roche, Harry Giles, Liang Hu and Zuheib Said Obsi swam an incredible 462 lengths between them and raised an amazing £280 for The Rainbow Centre for Children. Well done team Cotham you were amazing!
Click here to read the thank you letter from The Rainbow Centre for Children.
We had our very first Head of House award, this award was proudly presented to Moneeb Khalil 8BAK for Diligence and for being a fantastic Sigma Student. Great listening skills, working on task, polite, supporting others in his team.
We celebrated all things Sigma and awarded our first Environmental Friendly Student award. This was awarded to Kushal Vijay 8BSA. Kushal has really taken the Sigma house role of recycling seriously and with great passion. He is supporting the Walkers Crisps campaign and the Sigma clothing drive.
Sigma Recycling to raise money for our House Charity.
We will continue to fundraise throughout the year with our recycling schemes.
Sigma have signed up with Walkers to recycle any brand of crisp wrapper.
We have a recycling BOX for your empty crisp packets. Please bring them to Mrs Arnold in the Food Office. Once we have 400 we will send them back to Walkers to be recycled.
We are continuing with our Clothing Drive. We are collecting clothes, shoes and bags to recycle. Please drop them in to school. We will then sort them and arrange for a collection from Bristol Textile Recycling.
Sigma Year 7 Robot
We are pleased to announce that the winning Sigma Robot is now on display in the canteen. It looks amazing all sprayed in the house colour Green!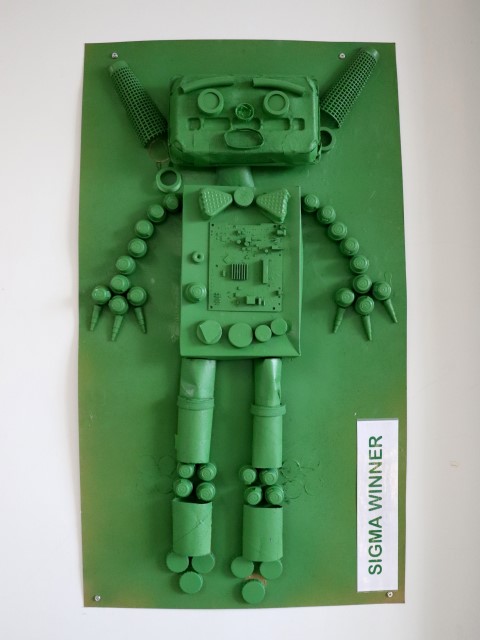 House Events
House Disco – Friday 22 March 5-7pm
Tickets now on sale £3 from Wisepay and Mrs Arnold.
All money raised will be split between the four houses.
Easter raffle
Tickets will be on sale Monday 25 March in the hub. Draw to take place on Wednesday 3rd April. Lots of Easter treats to win, tickets 20p.
Easter Bake Sale Thursday 4 April
All cakes and cookies 50p.
All money raised for the Easter events will go to our House Charity.
Airbus Community Award
Please show your support for Cotham School Sigma House Charity, The Rainbow Centre for Children, by collecting tokens featured daily in the Bristol Post. The "Airbus Community Award" tokens are featured in the Bristol Post newspaper daily until 18th March and we are collecting votes for The Rainbow Centre for Children, a local bereavement Charity that supports children, young people and their families suffering from the loss of a parent or sibling. They are one of 30 charities hoping to gain a share of the £20,000 prize, the charity who receives the most votes will win £7,000. Please collect up your token votes and at the end of the voting period (March 18th is the last token paper) gather all your votes together and either take them into the registered group, The Rainbow Centre, 27 Lilymead Av, Bristol, BS4 2BY or post / deliver them in one package along with one completed voting form to Bristol Post, form and address can be found in the paper with the token. Or pop them into our school collection box at the Reception and they will be passed on to the charity. ALL VOTES NEED TO BE IN BY MARCH 19, THANK YOU "