Sigma roundup
Please enter an introduction for your news story here.
We have had an action packed term in Sigma. We have been busy fundraising for our House Charity The Rainbow Centre for Children. Sigma Prefects Louis, Paulo and Aineias have been busy promoting and organising events.We have had an action packed term in Sigma. We have been busy fundraising for our House Charity The Rainbow Centre for Children. Sigma Prefects Louis, Paulo and Aineias have been busy promoting and organising events.
House Disco
The House Disco was a huge success, year 7 & 8 students danced the night away. There were great moves on the dancefloor, glow sticks lit up the room and the tuckshop and juice bar were enjoyed by all. DJ Miss McDonagh was busy taking requests all night. The disco raised an incredible £396 and this will be split between the four house charities.
Sigma Easter Eggstravaganza
Raffle
Our Easter egg raffle was a huge success. We had over 50 eggs donated to us to raffle off. We were selling tickets at 20p right up until the draw. The crowds gathered in the Hub. The Perfects were amazing, Paulo was on the microphone warming up the crowd who were all waiting to see if they had that lucky number. Paulo added a fantastic amount of humour to each ticket as it was called. Aineias and Louis worked tirelessly pulling the numbers out of the box and handing out the eggs to the excited winners, this included students and staff. There was a great atmosphere and everyone enjoyed it. The raffle raised over £60 and we would like to thank everyone who donated and bought a ticket.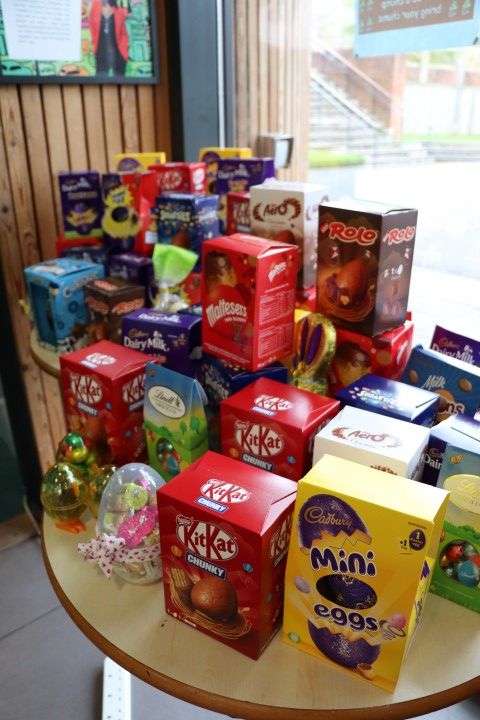 Easter bake sale
It was a great day for Sigma as we welcomed back Abir, our house captain. Abir was back at school and worked hard selling and organising the cake sale.
Our Easter bake sale saw large crowds gather in the Hub to buy the fabulous tasty chocolate Easter Nests that were all hand made by the Sigma team and tasty cupcakes made by the canteen team. We would like to thank Waitrose for donating the ingredients and Mrs Haskins Cotton and the wonderful catering team for supporting us by baking Easter cakes for us. We have raised over £100!
This academic year we have baked cakes, eaten cakes, swam, danced, bought raffle tickets and had non-school uniform days. We everyone's support so far this year, we have raised the grand total of £2000. This will go to our House Charity, The Rainbow Centre for Children. Thank you to everyone who has supported us.
Sigma Superstar
We would like to present this month's Sigma Superstar to Fenn Elloitt 11MAH. Fenn has shown that he is a talented poet and has written an amazing poem White Noise. Congratulations Fenn.
Our next inter house competition is open to all years across the school.
Inter House Competition - Design a recycled bottle sculpture.
Design a sculpture made from disposable water bottles, all you need to do is design a sculpture that connects people with the issue of marine plastic pollution
You can paint, draw or event construct your design, but it should connect people to the issue, their actions and the oceans. Your design could say something about the problem of waste plastics, or the environmental impact, it could show a solution or highlight the statistics. The choice is yours!
Please attach a picture of your sculpture design - you can draw it, design it in a computer package or even build it yourself. Just be sure that your pictures are clear and annotated if necessary.
Please send your entries to Mrs Arnold arnoldl@cotham.bristol.sch.uk
Closing date for entries is Friday 26th April.
We will have prizes for the top 5 entries and the overall winner will be Cotham Schools entry into a National Competition sponsored by Robeco in partnership with City to Sea.
National competition Prize
Your Sculpture built and displayed in the City of London during plastic free July
Water fountain for your school or location of choice fountain
£1000 donation to a school project to improve the environment at the school
Gardening club and Bird nesting boxes.
Next term we would like to start a gardening club. We are hoping to get the Herb garden replanted and planters with summer flowers. If any students are interested in being involved please see Mrs Arnold. We would also welcome any donations of plants, herbs and seeds. If you would like to donate please contact Mrs Arnold.
We have an empty wall in an area where we would like to encourage wildlife and would like to put up some bird nesting boxes. If there are any parents/carers who have any knowledge on how we can set this up, please contact Mrs Arnold.
Over the next two terms we would like to organise more Inter House competitions, a Cotham bake off, school fete and a fun run, details to follow.
We wish everyone a restful holiday.
The Sigma team.