Omega News
Omega House Winter Term
This term Omega house has had several awards and many causes of celebration. Students have continued to act and behave in an inspiring way, and a true reflection of what we would expect from Cotham students.
Doughnut challenge
Students were challenged to eat a doughnut without using their hands as fast as they could, over two days we had three winners, and managed to raise over £42 for our house charity 'Jessie May'.
Penny pick-up
Run each term, students were encouraged to put any coins they found on the floor in charity pots and the tutor group who raised the most for 'Jessie May' won pizza.
Last terms winners 7JBR – raised over £100
This terms winner will be announced soon.
Omega Legend
This term we have had some very impressive Omega legends,
September: Thomas Tucci 8GC – for the highest number of achievement points that month, and being a polite and very generous student.
October: Jaden 8GM – for an impressive number of achievement points and brilliant work.
November: Rachel Adams 7JBA – for continued hard work and always smiling.
House points
This term Omega have had some very impressive scores from a large number of our students below are just the top 30 students from this term. A massive well done to them all.
Jaden Harcom-Tabbiruka 8GM88
Rachael Adams 7JBA84
Yahye Aidid 8GM83
Mahgoub Mohamed 8GM71
Milla Waite-Taylor 7JBA71
Esme Williams7JBA67
Laura Bird 7JBA66
Elliott Kellett 7JBA66
Ella Robertshaw 9KBO64
Salma Abdulle 7JBA63
Sarah Abourgebah 8GM60
Tamzin Harris 9JSB60
Rufus Buchan 7JBA55
Lily Caine 7JBA54
Phoebe Robertshaw 7JBA54
Hatim Almutairi 8GM53
Annabella Okatan 8GC53
Roe Adam 9JSB53
Ethan Toncini 7JBA53
Esme Russell 9KBO52
Samsam Hassan 8GC51
Jacob Lench 7JBA51
Sion Mowatt 8GM51
Khalid Ali 7JBA49
Katherine Dennis 9KBO49
Hector Sturrock 8GC49
Arran Kinnear 8GM48
Ines Pires 9JSB48
Nawaal Said 7JBA48
Madeleine Spilling 8GC48
Christmas Tree
This year we decided to have individual house Christmas trees that were decorated by students from each house. The omega students dusted off their origami skills to produce an eclectic but no less lovely tree.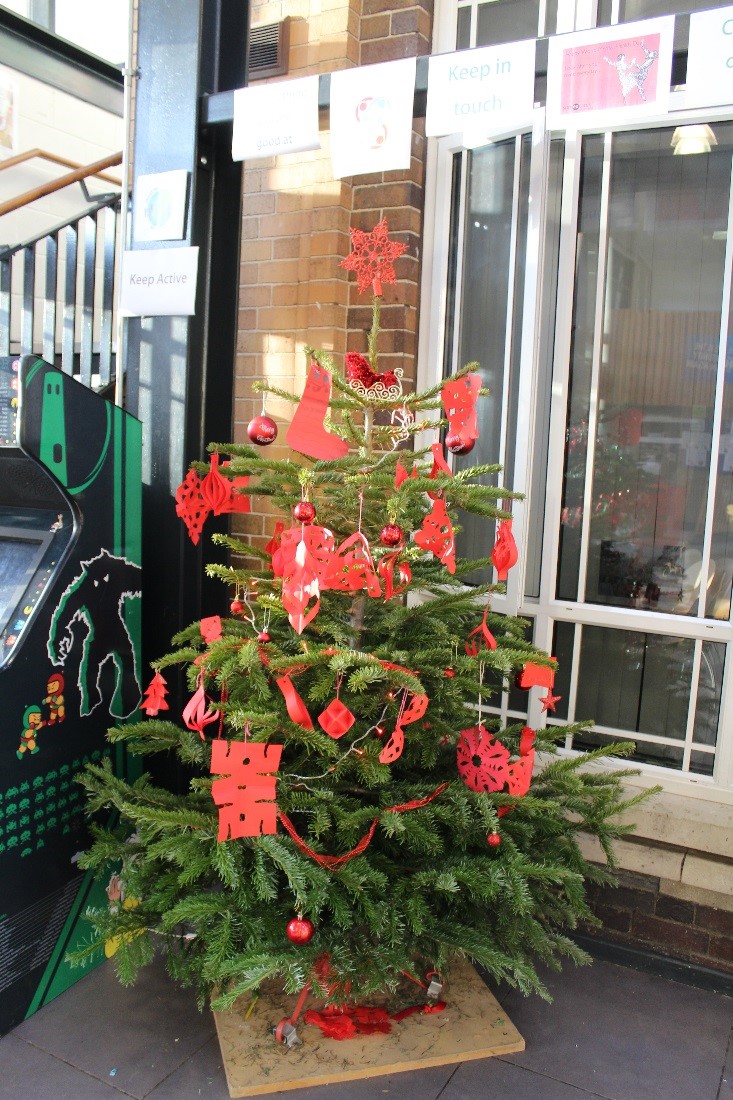 Jessie May
Our house charity this year is the Jessie May foundation that helps terminally ill children in and around Bristol. They provide skilled nurses and carers to go into family homes and help out, providing not only some entertainment and excitement for the children but also some much needed rest for the families and parents of the children.

This term we were very proud to host two representatives in our house assembly and present them with £323 from our penny pick up challenge and our Donut eating competition.
This is not even including the money we have raised from non-school uniform days.
There will be much more to come.
Santa Dash
On a crazier note a whole school competition pitted teacher against teacher and student against student in a mad Santa themed sprint around the school grounds. Although weary, wet and muddy we had three triumphant teachers:
Thomas Slane
George Cawse
Kelly McDonagh
And three exceptional students:
Nyheam Kefentse
Rahel Jafar
Alex Durrani
Thank you all for a brilliant term, have a well earned break and I will see you all in January.
Best Wishes
The Omega Team
Mr Barber – Head of House
Lexi Prosser – House Captain
Dee Gray – Prefect
Zia Kuyper – Prefect
Larry Magonyozi - Prefect