Gamma News
Welcome back! Gamma is delighted to be welcoming three new Year 7 tutor groups for the first time ever- 7CBR, 7RA and 7JPG. All three tutor groups were introduced to the House system in our first assembly last week which concentrated on the importance of Cotham manners. We are very proud to continue encouraging our students to be polite, show respect and to keep trying when they face failure.

Gamma tutor reps had a meeting before the assembly to discuss what Cotham manners meant to them. The reps from all year groups came up with 8 main ideas that they would like the House to focus upon over the next few weeks. We are planning to reward students further in our next assembly to see who has gained the most Cotham manners house points.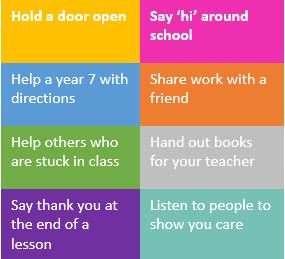 For the first 3 weeks of school, the following Gamma students have been recognised for their outstanding politeness. All won a £5 voucher for their efforts-

Natasha Henderson
Luca Felix
Rowan Kelly
Khalid Farah
Frank Lowery-Pearson

Gamma is also extremely proud of this terms House Champion Angela Lin who has consistently been praised by her teachers for her wonderful attitude. Angela has won a Gamma trophy, £3 on her lanyard and a certificate. Furthermore we welcomed our new prefect- Hannah Foster! After some in depth interviews it was decided that Hannah would be a credit to the Gamma House leadership and all the other prefects look forward to working with her.

Gamma is continuing with the focus of teaching and learning by re-launching the School newspaper next week. Our first meeting will be at Monday lunchtime on Monday 8 October. If anyone is interested in a career in journalism this would be a fantastic way to get involved. We look forward to seeing you there.

Spookfest will be returning in its full scary glory on the 25 October with apple bobbing, toffee apples and a possible sliming of teachers! More information to come soon.

Thanks to everyone for their hard work this term, we look forward to seeing it continue!