Delta Download 04/05/18
Delta Download 04/05/18
Our House Assembly this week was jam packed full of exciting news about events, rewards, charity activities and prefect news.
Delta Prefects 2018-19
In House Assembly we said thank you and farewell to the 2017-18 Delta Prefect Team. Mahad, Amira and Rochelle, who have done a fantastic job in representing and leading Delta. The new Delta Team have some enormous shoes to fill! Thank you to Mahad, Amira and Rochelle for your enthusiasm, organisation and determination, you will be missed.
The recruitment of the new team of Delta Prefects was turned into an enormously difficult challenge for Miss McDonagh because of the quality of the applications received and interviews the candidates gave. I am confident that the 2018-19 team has the desire and skills to ensure that Delta House is the best house and their initial enthusiasm has already inspired me to ensure this happens. A huge congratulations to Istahil (our newly appointed House Captain), Harry, Siobhan and Falah (our Prefects). I am looking forward to working with you all.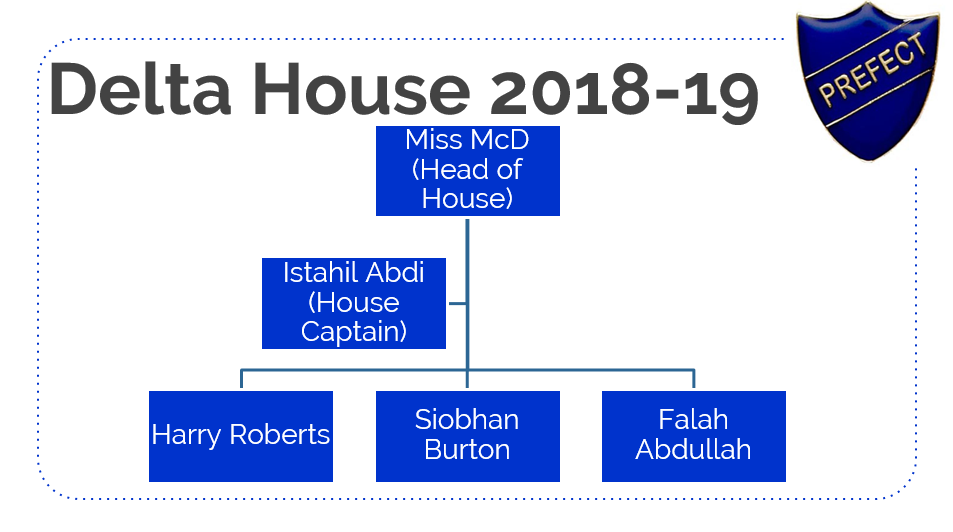 Meaningful May, the 'Delta Way'
Inspired by the work of Action for Happiness, Miss McDonagh lauched the 'Meaningful May, the 'Delta Way' daily challenge during house assembly. Thank you to Mike, Katilyn, Liam and Iola for getting involved so quickly! Your responses made me smile, so keep them coming!
Miss McD and Mo Farah
In house assembly Miss McDonagh shared how Mo Farah inspired her whilst she was out running listening to him on her app and whilst she thought she was beginning to feel a bit jaded, she heard Mo say to her two simple words 'finish strong'. This inspired her to launch the 'Finish Strong - Delta Tutor Challenge'. A huge well done to 7KM and 7PPR for rising to the challenge straightaway!
Delta Dazzlers
There are two Delta Dazzlers who shine brightly each and every day. Our first Delta Dazzler is a 'big name' as Mr Dignan would say. This person always says hello. He has an innate ability to build rapport with peers and staff. He is a credit to our house and is in Miss Bird's tutor group.
Keni Wilks, you are a Delta House Dazzler!
Our second Delta Dazzler demonstrates the Delta House values of kindness, hard-work and doing their best in everything she does. This person is constantly smiling, she has bucket loads of enthusiasm and she has also won a BAFTA national 'selfie' competition! I am lucky to teach you and I cannot wait to see your Genius Hour project! Amelia Spooner, you are a Delta House Dazzler!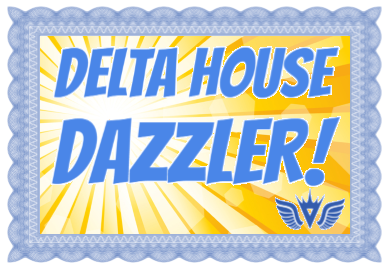 House Heroes
In house assembly we welcomed 19 new members to the Delta 100 Club. This really is a fantastic achievement and I am immensely proud of each of these students. On more than 100 ocassions this year a member of staff has noticed them do something brilliant. Our new Delta 100 Club Members are: Liang Hu, Joshua Davies, Abdirazaq Ibrahim, Reuben Myers Insole, Orla Bates, Lola Eden Beaver, Fadumo Ismail, George Knight, Zakaria Yonis, Akram Jama, Belal Naimi, Sumaya Sharif, Khadra Cilmi, Lula Allwood, Iola Budden, Daniel Burd, Henry Flint, Abdi Fodey and Brianna Petgrave. To say well done the new Delta 100 Club members were treated to a donut, drink and an extended break. Keep up the good work team and see if you can get to 200 by the end of the year!
Tutor Group Award
There is one tutor group in the entire school who have won the attendance draw more than any other, winning it 10 times already this year! 10 Smashing, Brilliant and Awesome! Being present is key to success and to say well done to 10SBA they will receive a pizza treat! Keep it up!
House Council Meeting
We want to build a sense of momentum in Delta House to help demonstrate that student voice is being listened to and acted upon. In order to make this happen, the House Council will now meet every Tuesday Week B during afternoon tutor time in B002. This will help us to move forward with student input on the behaviour and rewards system.