Delta Download
Delta Download 05/10/18
Our House Captain Istahil began the first House Assembly of the year by welcoming our returning Delta students and by extending a particularly warm welcome to students in 7DS and 7RBI as they attended their first Delta House assembly. Istahil outlined who the prefects are for 2018-19 (Harry Roberts, Siobhan Burton and Falah Abdullah) and went on to share what our House Priorities are for the forthcoming year, which are outlined below.
In Delta House everyone will:
Demonstrate our house values consistently (be kind, be diligent and be your best)
Have an opportunity to make a contribution towards revamping our whole school rewards system
Play their part in fundraising for our house charity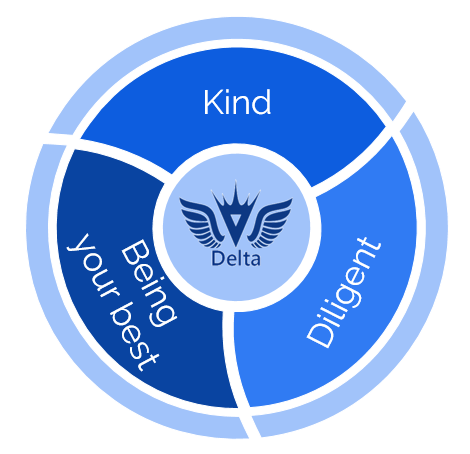 Delta House Reps 2018-19:
Congratulations to our newly appointed Year 7 House Reps, Samira Marsal and Barney Davies in 7DS and Theo Bradwell and Nadra Jama in 7RBI. They will join the following students in being the voice of Delta students for this year.
Year 8: Abdi Fodey, Sumaya Sharif, Jess Lucas and Emma Chandler
Year 9: Wilf Davies, Brianna Petgrave, Jaheim Atkins and Amina Birdi
Year 10: Walter Penny, Muna Abdi, Finn Davies and Kashygha Wray
Year 11: Archie Rose, Emile Eden Beaver, Harry Roberts and Istahil Abdi
The work that begun in term 6 around our whole school rewards system has been continued in our initial house meetings, with students devising a Google Form that will be shared with and completed by all students so that every student across the school has an opportunity for their voice to be heard.
Latest House Event: The Delta Dunk!
On Thursday 25 October, the following members of staff have agreed to take part in the halloween themed 'Delta Dunk' challenge! All in aid of our house charity, Off The Record. However, before these lovely people get dunked, there is some serious fundraising to do! Delta House Reps will be leading the way in trying to raise as much money as we can so we can dunk as many members of staff as we can! Miss Allender, Mr Morton, Mrs Goddard Jones, Mr Cawse, Mr Slane, Miss McDonagh, Mr Lawrence and Mr Emery have all agreed to be dunked and we're fairly certain that there will be some other 'big names' being announced shortly.
Delta Dazzler for September 2018:
This student has made a magnificent start to his time here at Cotham, already being known for demonstrating the Delta House values and securing a whopping 46 house points! Louie Chittenden you have made the Delta House squad incredibly proud of you! Well done and keep up the truly awesome effort.
We are looking forward to the upcoming year and with the fantastic team of prefects, Delta House are determined to make a positive difference to our school community.
Delta Squad
Istahil, Harry, Siobhan, Falah and Miss McDonagh